Monday Comment: Monterey 12.1 still AWOL; M3 chips and Other Rumors; iPhone Security - Pegasus and AirTags
By Graham K. Rogers
---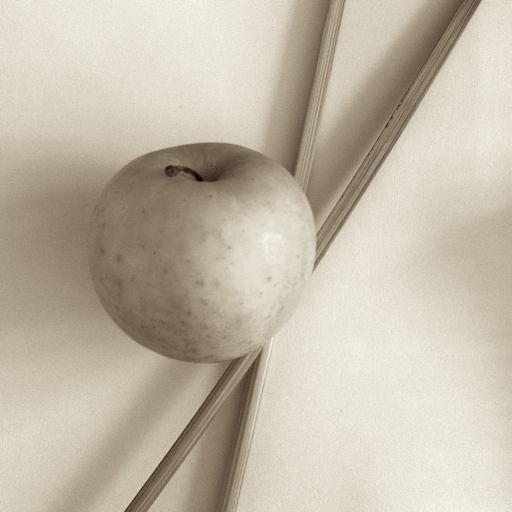 With devices that will not work, I am exasperated by the wait for the first update to Monterey. Rumors appear about M3 chips and 3nm fabrication. Every year when iPhone sales are flying someone steps in to spoil the party. Pegasus caused a stir and Apple is angry. AirTags useful for loss, but less for theft.

Like a lot of users who updated to Monterey, I am waiting for the 12.1 update. It has been a long wait, exacerbated because my webcam will no longer connect with Monterey the obvious suspect (before and after, black and white, on then off). A nice Bluetooth speaker also fails to connect, although I can still use that with the iOS devices. Joe Rossignol (MacRumors) comments on the "promised features such as SharePlay and Universal Control" that are due in Monterey, but I would just like the items we already use to work. He puts forward a list of dates for the first update to Apple's operating systems, from 2015 to 2020, with the December releases from 5 - 14. So, this week or next week? Far too long with the broken USB connections: an interim release might have helped.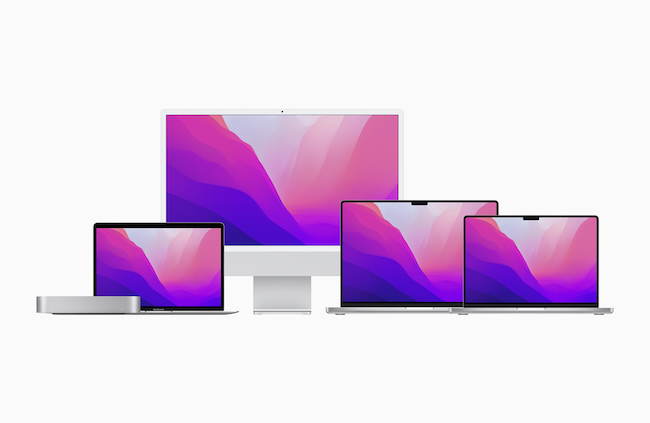 M1 Macs - Image courtesy of Apple

Before the most recent Macs were announced with their M1 Pro and M1 Max processors, we were regaled with how Apple's new Macs would have the M2 chips. These are still to come, but that has not stopped some insisting that Apple is readying the M3 for upcoming devices. Knowing Apple and the long term development plans they have this is not a total surprise. Michael Simon (MacWorld) links these 2023 chips to the TSMC 3nm fabrication that has been aired since the 5nm M1 was announced.
That sent Intel into a tailspin as they were still locked into 7nm chips and the best they could hope for in the immediate future was 5nm. They sacked the CEO (not always a wise move) and the new one oversaw a series of ads ridiculing Apple's approach, although most reviewers, including some with some real technical know-how were impressed with the first (and subsequent) devices from Apple, and nodded with some approval at the roadmap. There were a couple of naysayers, particularly in the financial field, with one comparing the M-1 chips that were already in existence, to those that Intel was still yet to release, without taking into consideration any future M-series developments. Part of this finance-angled review looked at what had been written by experts such as AnandTech, but dismissed them to make the Intel case stronger. The comments by readers who had met the writer before were more enlightening.

I have often mentioned the way some Wall Street commentators are quick to find problems for Apple, and even a dark lining for an otherwise silver cloud when a new product is announced. It was clear to me in 2012-13 how pressure was being brought to bear on the share price by investors such as Carl Icahn and others, trying to force it down, perhaps to buy shares and make a tilt at the company. That time was an exception and Apple weathered the storm, only to face almost the almost annual, "but. . ." from pundits. The Macalope often has some sharp comments for these and has the view that these are just attempts to push down the shares, this leading to profit when they rise again. I often refer to the 10-year share price graph, which shows an almost-inexorable rise.
That is not to say that Apple will never be at risk as there are plenty of examples of golden companies that are not what they used to be: Rolls-Royce; General Electric; Pan-Am; Xerox; Kodak; Yahoo; BlackBerry; Enron; the steel and railway industries; and many more. I took some of those from a blog by Katrina Aslaid (Valuer).
Recently a number of commentators reported that there was a strange coincidence regarding Apple and reports on the iPhone that seemed to occur every year. A device (say the iPhone 13) was released, it lifted off worldwide, then problems that seemed to contradict the sales information available began to appear. The first item I saw was from Jonny Evans (Apple Must) whose headline commented that "The annual AAPL iPhone 'pump 'n' dump' season has begun". He notes, about the reports coming from anonymous sources, breathlessly cited by pundits, that "We have no way of verifying these unattributed claims. . . ."
This was followed on Friday by Michael Simon (MacWorld) who wrote, "Barely a week after Apple sold more devices than we can possibly count over the Black Friday-Cyber Monday frenzy, Bloomberg is spreading gloom and doom regarding iPhone sales." They often do. Mark Gurman in particular may appear to be a friend of Apple, but headlines mean hits.

For the last few months, we have been aware of malware that was secretly installed on several iPhones and Android devices worldwide as well as Blackberry and Symbian, that spies on the users. Pegasus from NSO is installed through a message, which does not even have to be read (Bhanukiran Gurijala, Scientific American) in some cases. Apple was not happy and is suing the Israeli company (John Naughton, Guardian; Rex Crum, Seeking Alpha; and others). Jaron Schneider (PetaPixel) has an interesting take on the use of Pegasus from the point of view of photographers and the way that many images were included in stolen data and used against people. I particularly like the quote from Ivan Krstic, Apple's head of security engineering and architecture: This is Apple saying: If you do this, if you weaponize our software against innocent users, researchers, dissidents, activists or journalists, Apple will give you no quarter."
Early in November, the USA put NSO, the developer of Pegasus on its blacklist, which will make it difficult to sell to any but rogue states (and will probably help Apple in its lawsuit), while this month it is reported (Reuters) that a number of state department officials working in (or concerned with) Uganda, had their iPhones hacked. NSO claims it has no idea who did this, but they seem to be prevaricating here. Either they sold Pegasus to someone in Uganda - and their insistence that they only sell to governments, would point a finger at the Ugandan authorities - or they didn't sell and the genie is out of the bottle. There was no comment from anyone in Uganda.
It is also reported by Reuters (Panu Wongcha-um and Fanny Potkin) at the end of November that Apple had "issued alert messages . . . to at least six activists and researchers who have been critical of Thailand's government", although it is not clear in the Apple warning if Pegasus had been used. The article notes that "Internet security watchdog group Citizen Lab identified in 2018 a Pegasus spyware operator active within Thailand."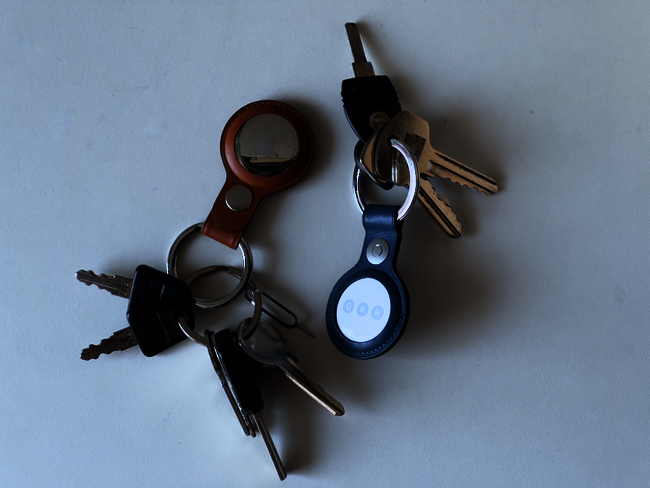 Although I bought 4 AirTags and a couple of straps and keychains, I have only deployed 3 so far. Two keychains (office and home) and the third in a bag where it can be hidden. Most of the articles that I thought I might use these on, like backpack or cameras, have no place to conceal the AirTags. It is all very well to lose items like keys and be able to find them with the help of others, but when something is stolen, the first thing a thief will do is remove the tag if it is visible and the device is lost forever. A smart thief would find the tag and lose it within minutes, especially if they had an iPhone that showed them they were being followed by a tag.
I also thought about the use of the AirTag to track luggage through an airport, particularly when the bags appear on the carousel. This is nothing new and when I had some Estimote Bluetooth beacons back in 2014, I was able to do just this as my case came on to the delivery belt at the airport. I had some fun with what was then a new use of technology and eventually passed these on to some students for use in a project. Like a number of uses for technology, such as QR codes, I introduced these to the university I work at, but few could see the potential. Now, we are overwhelmed with QR codes and with the Bluetooth at shopping malls I sometimes spot messages on the iPhone so I know my location is being tracked.
There is a footnote to this as police in Canada are warning that some owners have had their cars tagged while out and about, allowing thieves to track them to their homes where the theft of the vehicle is carried out much more easily (for example in the dead of night). I was reminded of the Nicholas Cage movie, Gone in 60 Seconds. My own experience of car theft when in the police is that an owner's prize possession can be taken in a really short time: multi-storey car parks used to be the favorite location. I guess that the use of AirTag technology makes even this easier. The MacDaily News item has a number of useful links to videos as well as some security suggestions.

Kodak Alaris announced a new single-use camera loaded its its Tri-X 400 black and white film. According to Stephen Dowling (KosmoFoto) this joins a number of other disposable cameras in its range. Ilford, which focuses only on B&W films has a couple of disposable cameras available and I tried these recently. There was also a resuable camera, but this has now been updated and I bought a couple of these from CameraFilmPhoto who can deliver from Hong Kong to me in a couple of days.
When there are current concerns about the environment, the disposable camera does nothing to help with the amount of plastic it contains, so this move by Kodak Alaris, while welcome because it expands the use of cheap film cameras to potential new users, has a question mark above it. At least with a reusable camera there is a reduction in dumped plastic.
AGFA also produce disposable cameras that are priced by CameraFilmPhoto at around 380 to 500 baht (most are marked Sold Out). There is also a Sold Out reusable AGFA. The Harman (Ilford) reusable camera is shown as just under 2200 baht while the reusable Harman is Sold Out.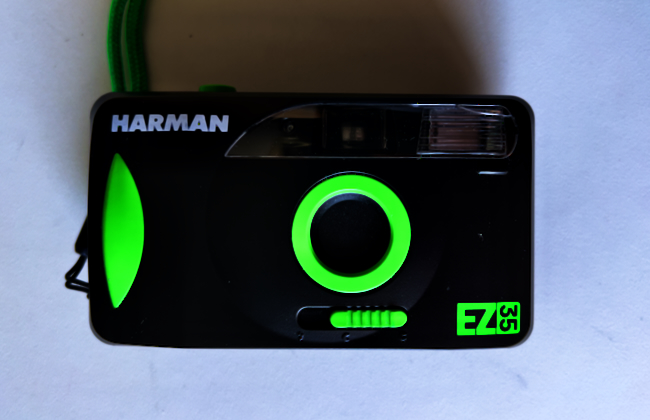 Ilford's Harman reusable film camera

As the Bangkok malls are a little more open now I wandered into Siam Discovery but was disappointed to see that the Lomography films section was a little light on products. I did eventually find some 120 films, and there were a few more 35mm available. Of the 120 selection, I saw two types of color film, but was more interested in the Lomo purple. I bought 2 rolls for 1100 baht - 550 per roll. At Camera Film Photo it is about 450 baht a roll but then there is shipping to add on. I shall load this in a Hasselblad magazine so I can swap easily rather than be tied down to a complete roll.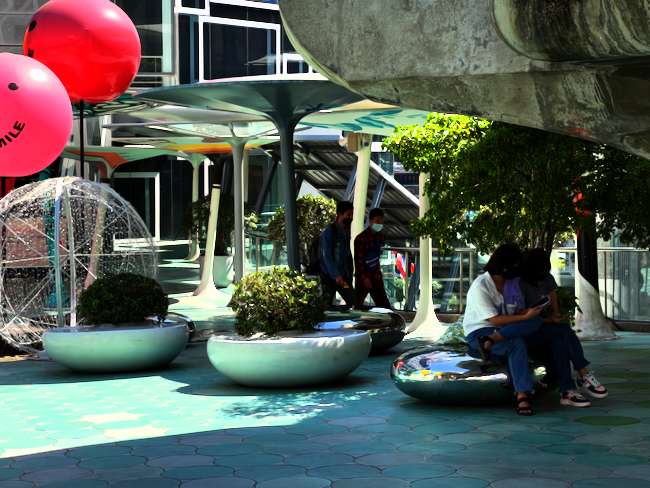 On my way to Siam Discovery I took some photographs - film and digital - as I walked from the BTS Station, past BACC and Mahboonkrong. As I did not have my Nikon, I used the iPhone with some good results, but took an accidental photograph of one of my fingers. I would normally dump this, but it was interesting to see how well in focus this was when it can only have been a couple of centimeters from the iPhone lens.

After reading a good review I went looking on Netflix and iTunes for a documentary on some of the last German survivors of the Nazi regime: Final Account. Those interviewed had all been active participants, mainly because they had no choice as teenagers: how do you say, No, to such a régime. The interviews on camera were all in German with quite good subtitles.
One of those, Werk, who had taken part was interviewed at the notorious Wannsee villa with a group of modern German youth who were critical of him. It was clear that he was one of the few who was truly ashamed, not of his country but of what he was ordered to do in the name of the nation. Unfortunately, some interviewed did not see the errors, with one still believing that Hitler was right. The contrast with what Werk had admitted could not have been clearer. It would be far too easy to take the same path.
Graham K. Rogers teaches at the Faculty of Engineering, Mahidol University in Thailand. He wrote in the Bangkok Post, Database supplement on IT subjects. For the last seven years of Database he wrote a column on Apple and Macs. After 3 years writing a column in the Life supplement, he is now no longer associated with the Bangkok Post. He can be followed on Twitter (@extensions_th)