Saturday Notes: Apple Finances, plus the Second Store in Bangkok; Early Decisions on Internet use, Good and Bad
By Graham K. Rogers
---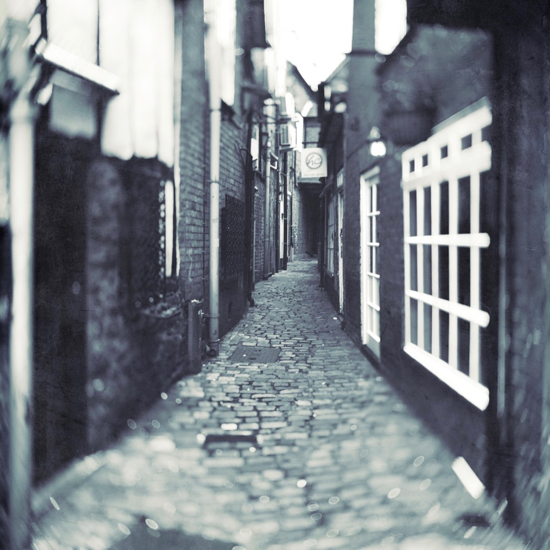 Apple reported its finances this week and the COVID-19 problems with so many working at home have helped sales considerably . The second Bangkok Apple Store is now open but with restricted admission. Early decisions on the Internet by a bunch of graduates are still helping, while political decisions on competitiveness in the UK, means that broadband there is still limping. Or limp.

Apple produced its financial report this week which was quite good in the current circumstances and beat the street who are pretty much always wrong anyway. I really don't think Wall Street - that looks mainly for short term wins - has ever understood Apple. The basics are contained in the press release, but here is the core:
Apple today announced financial results for its fiscal 2020 third quarter ended June 27, 2020. The Company posted quarterly revenue of $59.7 billion, an increase of 11 percent from the year-ago quarter, and quarterly earnings per diluted share of $2.58, up 18 percent. International sales accounted for 60 percent of the quarter's revenue.
Mike Peterson (AppleInsider) and others comment on the new growth records seen from from wearables, Macs and iPads. The last two probably saw this growth because of the number of people working or staying at home in many countries. Note also that the balance of sales for the USA and international is 40:60 which suggests that there is still room for growth in countries outside the USA.
Perhaps not surprisingly there was no prediction for the next quarter, which is usually the largest because it includes the holidays of Thanksgiving (US-only), Christmas (some countries) and New Year (worldwide) although there was a note from Luca Maestri that the iPhone 12 was to be delayed for a few weeks until October. However, DigiTimes, the well-known rumor mill, insists it is on track for September (Stephen Warwick, iMore). It is like guessing whether Dr Fauci or Donald Trump is more likely to be right. We will see if Apple or DigiTimes is correct. The October release could well push back other product releases, both software and hardware.
With iOS linked to the next iPhone, and Big Sur including code specifically written for the next generation of Macs with their Apple Silicon, there is a cascade effect. The usual process is that iOS is released after the iPhone announcement and just before the phones go on sale. A few days later the next version of macOS is put out and this would coincide this year with the new Macs; but we are not living in normal times.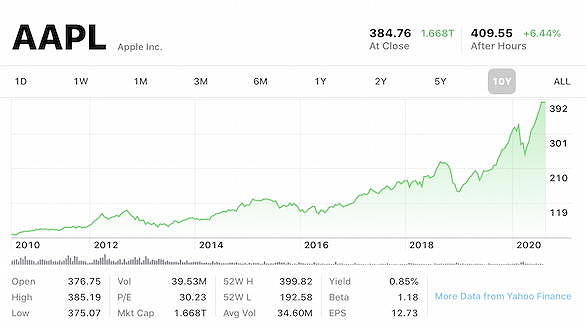 With the way the shares of Apple have been rising over the last couple of years, despite one or two setbacks, and the chickens in the analysts' barrel trying to pull them down, the rise in the last 10 years has been impressive. If one looks at the whole history, the rise since 2004 has been obvious. Even the major dips that had investors in a panic are insignificant when the whole picture is examined. The price as I put this page online is shown as $425.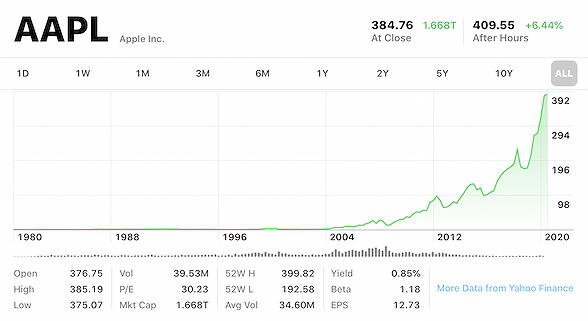 There was also the announcement that Apple shares would be split on a 4 for 1 basis:
The Board of Directors has also approved a four-for-one stock split to make the stock more accessible to a broader base of investors. Each Apple shareholder of record at the close of business on August 24, 2020 will receive three additional shares for every share held on the record date, and trading will begin on a split-adjusted basis on August 31, 2020.
This is not the first time that Apple has done this, with the most recent being the 7:1 split in 2014. This means that the price for an individual share will fall to around $80 on today's prices, so these will be more accessible to investors. Bear in mind that when the iPhone was announced in 2007, the shares hit $200, so one of those shares (with the price just under $385 today) would have had a value of $2693.32 today if there had been no split, so this action makes sense if new investors are to be attracted. According to Apple Investor information, the stock had also been split 2:1 in 1987, 2000 and 2005.

Some news appeared at the end of this week about possible future uses of the iPhone as a payment device. Mark Gurman (Bloomberg) reports that Apple has acquired a company called Mobeewave Inc., "a startup with technology that could transform iPhones into mobile payment terminals". The rumoured price was $100 million.
[The ]technology lets shoppers tap their credit card or smartphone on another phone to process a payment. The system works with an app and doesn't require hardware beyond a Near Field Communications, or NFC, chip, which iPhones have included since 2014.

With the iPad seeing increased sales and some new chips on the way, the device is likely to become more powerful in the future. Omar Sohail (WCCTech) has suggested that Apple could be preparing a version of Final Cut Pro for the tablet device. With Adobe also expanding its suites to the iPad, this could make some sense for those who want to make movies in the field. This is just a rumor currently, and the iPad does have iMovie, so we shall wait and see.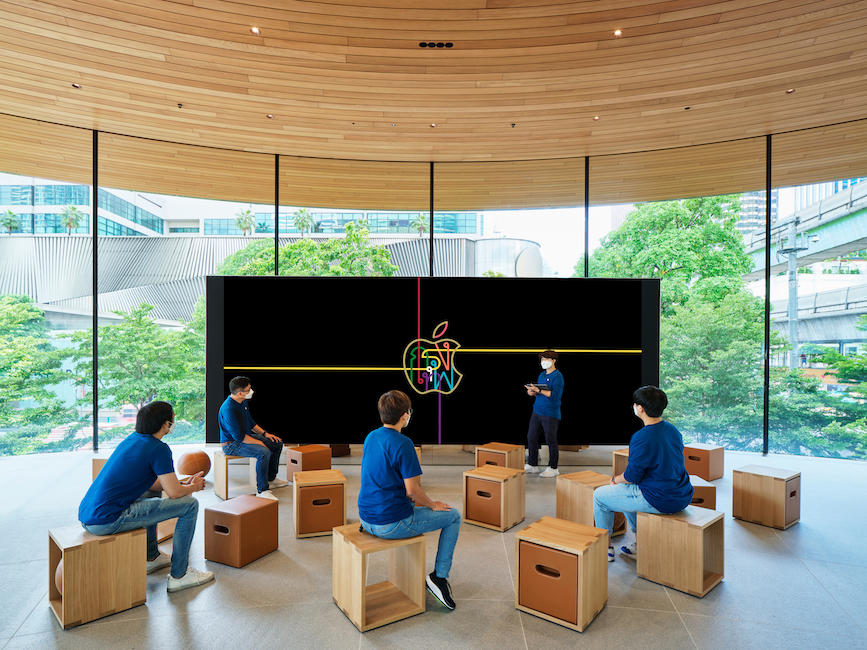 Apple Central World - Image courtesy of Apple

Last week I took some photos of the new all glass Apple Store at Central World which at that time was still covered but had just had some colored Thai characters added to the outside. Apple announced that the store would open this Friday (31 August) and there are some nice photographs with the press release. I have downloaded a couple. It is fairly easy to judge that this is smaller than the Icon Siam store, but the location is going to make it more accessible. With the current COVID-19 situation, visitors will have to make reservations and I would anticipate large lines, particularly on opening day, although these were controlled to restrict the number admitted at any one time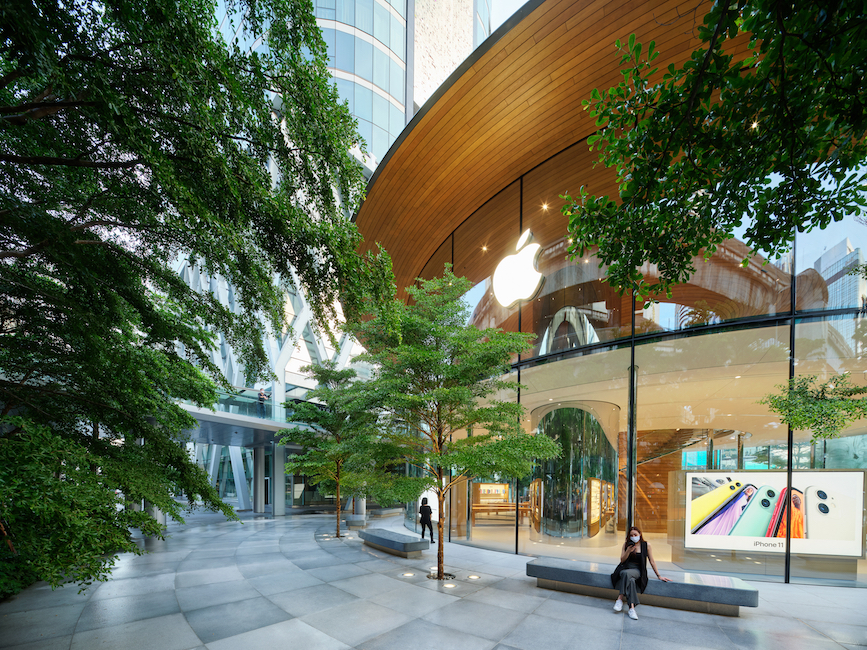 Apple Central World - Image courtesy of Apple

Tim Cook sent a Tweet of congratulations and mentioned he had looked round the place when he was in Bangkok in December. I walked past on Saturday and there were already people lining up outside. I took no photographs of my own (enough online already) as my most pressing task was fresh bread.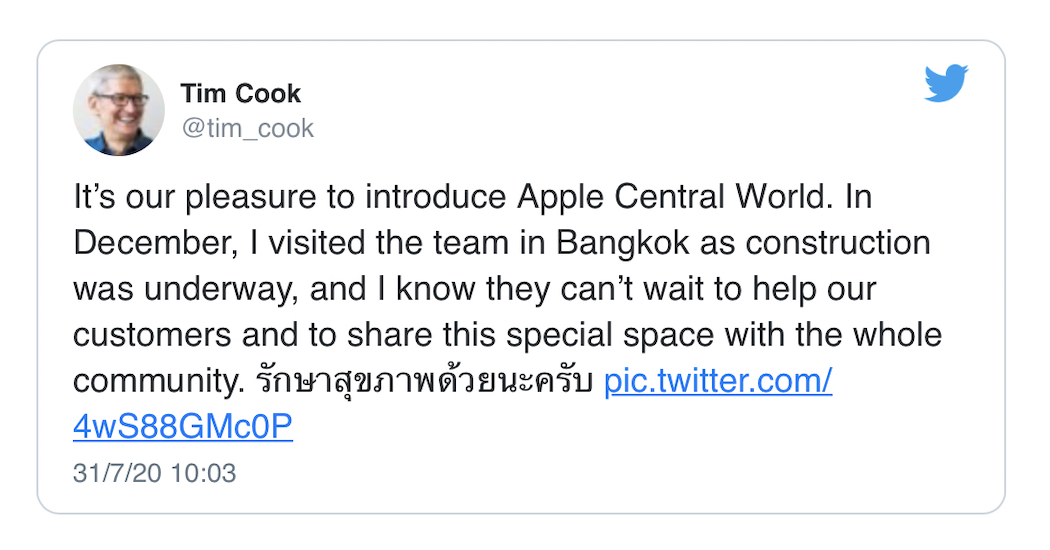 I mentioned a couple of days ago that I had problems with the synchronization of my Nikon D850 using the SmartBridge app and Bluetooth. Later I was using the iPad Pro which runs iPadOS 13.6. When I attached the Apple Pencil - which I had been using for 15 minutes or more - to the top edge of the device, instead of a notification of charge, there was a note that it failed to synchronize and I should restart the iPad if it persisted. I did restart, but when I started to use the Apple Pencil. Nothing happened.
I looked in the Bluetooth settings and saw that it was not connected. When I tried to make the connection, I was told to attach the device to the iPad, although it already was attached. I had to take it off and put it back on again before a note came up, "Apple Pencil". It was then paired and connected properly.
This seems to suggest some flakiness with Bluetooth at the moment as a couple of devices including the AirPods once or twice have not connected and I have had to resort to Settings and Bluetooth to make it right.
As a check, I picked up my B&O headphones that were sitting on a table. I usually connect these to an iPad or Apple TV, but sometimes the iPhone. They were not initially recognized by the phone but after a short while there was a warning that they were unable to connect: try bringing them closer. Like the camera, they were right next to the iPhone. I made a couple more attempts and then began to think about how I was using the iPhone.
The blue indicator was shown at the top left of the screen as a couple of apps were working through Bluetooth. One was a COVID-19 contact app that I had been trying out: no infected contact so far, but I was not surprised as few people would be using this specific app. I made that inactive but the blue panel still showed. That was because SnapBridge was still active.
I had another go with the camera, but nothing had changed, so I made that inactive as well. Only then was the iPhone able to connect to the headphones. It would appear that background use of Bluetooth in iOS 13.6 has some shortcomings. I should file a report. A reply from Nikon following my earlier request arrived and I tried the suggestions that were made without success so I sent a reply. I was sent an other help message with a detailed list of things to try and things to reset. This is a job for a quiet Sunday.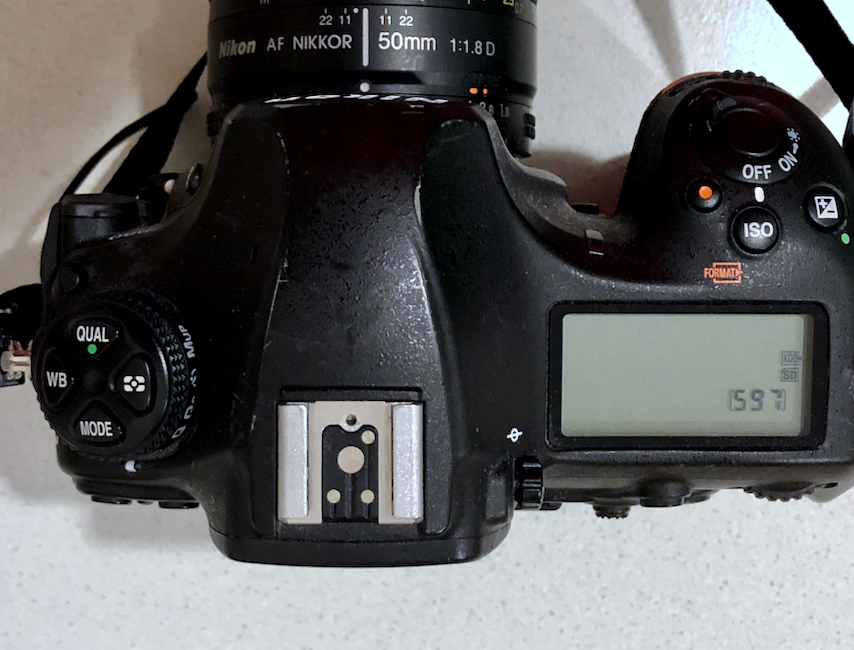 Nikon D850


There were a couple of articles this week on the history of the internet, with Steve Crocker (IEEE), who was one of the original group tasked with creating the DARPANet explaining some of the early decisions. What struck me was that although this has had tremendous implications as the system developed evolved into the Internet, the academics were not really interested. They "initially viewed the ARPANET project as an intrusion rather than an opportunity" so sent along a bunch of graduate students to set up the working group. Apart from an indictment on the indifference, it may have been a lucky decision as enthusiastic graduates were perhaps just what was needed.
The main thrust of the article was the numbering system used for documentation which was called Requests for Comments as they were modest enough not to call them "technical memos "standards" or "orders." Even "proposals" seemed too strong - we just saw them as ideas that we were communicating without prior approval or coordination. . . ." With no internet, these documents were distributed by US Mail.
Within the narrative are some of the critical decisions made by these pioneers and how they affected the initial ideas: device agnostic, nodes, remote logins, protocols in layers; with some of the ideas later taken up by others to become critical in the software we use today.

While these smart guys were opening doors in the USA, Margaret Thatcher was making decisions that would affect the way users in the UK had online access with slow speeds even up to today. The Iron Lady was somewhat fanatical about competition, often to the detriment of British industry, and many decisions made during her time as PM, such as denationalization of services (what MacMillan called, Giving away the family silver) particularly water, power and railways had major effects on Britain. With telecoms and computers Britain was once in the lead although that was squandered for all the wrong reasons. Early work on computers by those following the success of Enigma was scrapped and hidden for security reasons, even though the USA marched on.
It is the early advances on fibre optic cable that is the concern of Jay McGregor (TechRadar). I can remember the BBC covering the way this was being installed in a section of the telephone system in Hertfordshire and how the digital on/off signals would be much faster - and allow more data - than the analogue (waveform) copper cables that could only carry one call at a time. By 1979 Britain had "more fibre per capita than any other nation." By 1990 there were 2 factories in Britain producing the cable, but Thatcher decided that this monopoly on a technology was anti-competitive. My own reaction to that, in the light of how other nations operate, is So what? This truly was a forehead slapping moment.
Instead a local system was shut down, the factories were sold to Fujitsu and HP, "the assets were stripped and the expertise was shipped out to South East Asia" while everyone else in other countries carried on with their own plans. With the break up of AT&T similar delays occurred in the USA and the rest of the western world "just followed like sheep." The UK is now talking about rolling out broadband and the definition of high speed is 24Mbps while I have 50Mbps in my condo in rural Thailand: a Third World country, with better internet than the First World.
The UK has always lagged in this respect - and several others when it convinces itself that it is doing so well. When connectivity (initially with bulletin boards) arrived here in Thailand with 2400bps modems, I went to a computer show in London where an IBM presenter commented that one reason Britain was lagging behind in commerce (even then) was because telephone calls were time-metered, while in other countries there was a single (low) charge for each call. That's a problem with politicians: they think they know more than experts.
Graham K. Rogers teaches at the Faculty of Engineering, Mahidol University in Thailand. He wrote in the Bangkok Post, Database supplement on IT subjects. For the last seven years of Database he wrote a column on Apple and Macs. After 3 years writing a column in the Life supplement, he is now no longer associated with the Bangkok Post. He can be followed on Twitter (@extensions_th)