Tuesday Notes: Big Sur and Apple Silicon; Connections Good and Bad; Popularity of Film Cameras (Edit - text fixes)
By Graham K. Rogers
---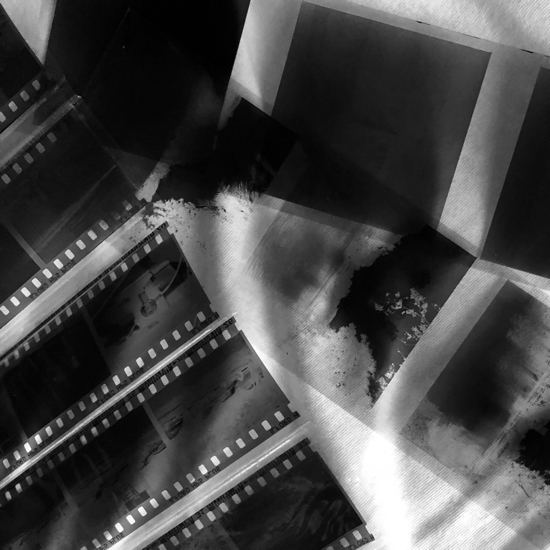 There is still much to be discovered about the new Apple Silicon and when the first Macs with this will arrive. With COVID-19, keeping us entertained is important: the MotoGP season has begun and I am happy with access on iOS, iPads, and AppleTV. Despite access to smartphones, DSLR and Mirrorless cameras, film cameras still appear in the news.

The dust from WWDC last month has now settled more or less, but there is still much to come. We will learn more when the next series of devices is announced: iOS, iPad and Macs. It is the Macs I am particularly interested in as we are about to enter some new territory. I have been down this path before, with Motorola chips, PowerPC with the switch to OS X and then Intel.
I had thought that the real development on ARM chips came with the A5, but while that was a step up, Rene Ritchie (iMore) points out that the A6 saw the move from ARM licensed technology to Apple's own chips developed under an ISA license from ARM. This is why Apple referred to Apple Silicon at WWDC. It is not just a semantic confection, but is real in-house development, building on several years of work, mainly with the iPad devices, but (I am now sure) an eye on the future as a Mac chip.
As Ritchie points out, the arrival of the A7 with its 64-bit architecture that caught everyone by surprise was not simply a way better to handle memory, but future-proofing. And the future is now here with the developer Mac mini running a version of the A12 processor, and the expectation that new Macs will arrive in the next couple of months running a version of the A14 chip and loaded with Big Sur. As long as everything is still under control with my personal finances and the new device is not too high-priced, I would consider one of these units when they are announced.
Apple Silicon - Image courtesy of Apple

The Formula One season finally took off a couple of weeks ago with back to back races at the Austrian Red Bull circuit: the second one was called the Styrian GP. The circus moved on to Hungary next. The same week, the motorcycles started their late season, although the first meeting of the year saw races from the 2 lesser classes who were already in Qatar and not subject to quarantine when the lockdown began there. Four months later the full season begins with the addition of a Moto-E class: electric motorcycles.
With such a long gap, I was wary of the technology so logged on with each of the devices using the MotoGP app, as well as the AppleTV where I was able to watch a warmup session. I was confident that my afternoon would be as normal after I had turned off Notifications for my devices: do not disturb. There was not a single interruption, helped I am sure by the use now of the AIS internet connection I have.
Start of Moto GP race- Screen short from iOS app

As much as I would like to watch Formula One, the setup here is limited. I could watch with a True TV package: they hold the contract for F1 in Thailand and guard it jealously. The same company used to have the HBO contract, but lost that to AIS after - apparently - some dithering over pricing. Everything works by monopoly her, although I now have an HBO app for iOS devices, but this is not on the AppleTV. There is an online Formula One internet service, but users in Thailand only have access to the timing screens and a couple of other services: not the live races.
To watch these, therefore, I would have to pay for the True package that carries F1. I had that a few years back, but with the arrival of AppleTV and Netflix, with viewing on demand, this was a better way for me to consume television. I only used True for F1 and that was costing me a large amount each month, when races only run (in normal years) 9 months of the year. F1 is not as compelling these days as when I watched it before. Indeed, when I first started viewing F1 it was in black and white and the cars had the engines in the front.

While my internet connection at home is fine, I moved to a new office this week and that also meant a different WiFi link. Although the iOS devices connected without much trouble, the two Macs I have (Mac mini and MacBook Air) were not so gracious. One of the staff in the office contacted the IT department and a technician arrived within a few minutes, which itself was a surprise. It was all about proxy servers.
As this connects through the university system and they still have a repel-all-boarders mentality, everything is locked down: I cannot even do FTP, so cannot upload files to my website; and there are often problems sending mail with the iCloud address, or connecting to Apple for updates. Most of the time I wait until I go home or switch to the Personal Hotspot. It comes to something when the smartphone is faster than the office network. Some days I just work at home.
The technician set the WiFi up for automatic proxy configuration, but this now means that the university, unwilling to trust that it really is me using my account, polls the devices regularly and the Macs ask for Keychain access for the specific user account. Each time the polling happens, I am asked to enter details 4 or 5 times: this is not an aid to efficient working. The connection also means that the Photos libraries on the two Macs are not being updated, which is not helpful at all.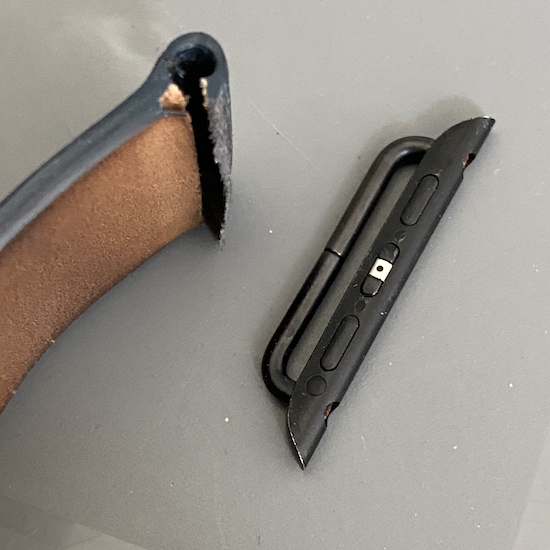 I thought I had lost my Apple Watch last week. I was loaded up with bags when I left a taxi and made a quick visit to a local store before coming home. As I was walking out of the store that my wrist felt lighter. No watch. I looked at the ground, and then went back into the shop, but saw nothing, so began to think that I might have had it come off somehow when I entered the taxi. The chances of getting it back would be slim, but no one would be able to use it as it was linked to my iPhone.
I decided that once home, I would try Apple's Find My and see if the device could be located. I dropped the bags on a sofa when I arrived home and the Watch also fell onto the cushions. Fortunately it must have been caught on one of the bags. Less fortunate was that the band was broken and it looked like that had snagged on the bag.
It was not an Apple band, but one I had bought online, in a nice blue leather. The grey leather one I bought at the same time is fine. Although Apple started off with a good selection of bands, there appear now to be fewer leather ones, and none that I particularly like. I keep hoping they will increase the collection, but this looks as if this is being left to third party suppliers.

There was an interesting note at the end of last week concerning a recall for one of the few film cameras still in production. Nikon's F6 can still be bought at a number of outlets and is shown on the Nikon Thai site too. The camera is unlike the earlier F2 or F3 models that were relatively compact and is a little bulky, looking more like DSLR Nikons I have owned.
Nikon had issued the recall because of a problem concerning materials used which do not comply with EU regulations. The recall applies to those F6 cameras produced or sold after 1999 and there are apparently 159 of them. The idea of a brand new camera in 2020 is rather tempting in a way. A couple of things however reduce the attractiveness for me. It is a 35mm camera, and I am moving more and more towards medium format. The other thing is the price. At 67,900 baht, even though I know it is going to last a long time this is a hobby for me: a quite serious one of course, but most of the cameras I buy are a lot cheaper than this. I am sure however somebody might still be interested. I could buy a used Hasselblad or high level Pentax for that price.
James Madison on fStoppers last week made a plea to Pentax to return to their great medium format cameras and reissue them again. The 645 and 6x7 cameras were expensive at the time they were made, and the few examples found on eBay these days still make high prices. As well as my Hasselblad cameras, I tried a Bronica ETRS that produces 645 output and was not a fan of the smaller images although the camera was fine. I gave it to a student as a graduation gift. My comments on this appeared on the Emulsive site this weekend.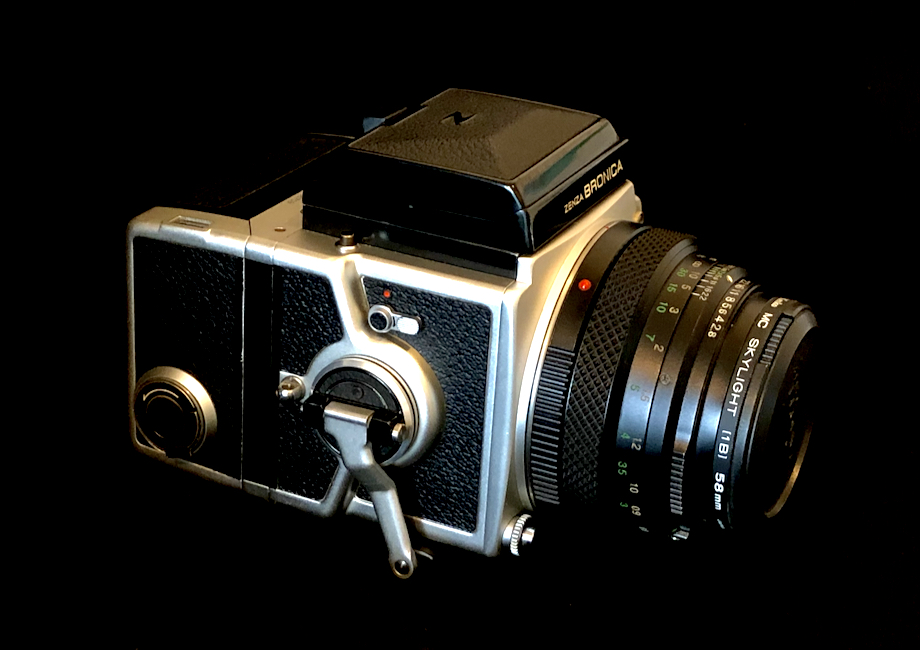 Zenza Bronica ETRS


Pentax had another mention this week regarding its current output on PetaPixel (Usman Dagwood) when comments were made about its future direction. This is important in the light of the recent contractions in the camera industry, particularly following the announcement that Olympus is to cease trading. However, it looks like the Olympus cameras and lenses will continue to be produced, albeit under another name.
Pentax is also carrying on, but rather than switch to mirrorless will continue to make DSLR cameras. They have a loyal user base and this sort of stability is welcome. It works well with my idea that, instead of rushing to produce lots of small, cheap cameras (especially with the widespread use of smartphones), the top end of the market is a better bet for continuity, although the companies that remain will need to downsize. Nikon has already begun this with some factory closures and reductions in manpower in Thailand.
Usman Dagwood also refers to the article on fStoppers and is in complete agreement with that, mentioning the quality of 4 x 5 and (my favorite) 6 x 9. As I have found, with my contacts online and some of my students, there is a growing interest in the use of film, but there are relatively few cameras available, and almost no new ones. Dagwood repeats an idea I put online several months ago, suggesting that this is perhaps a good time for camera makers to return to film.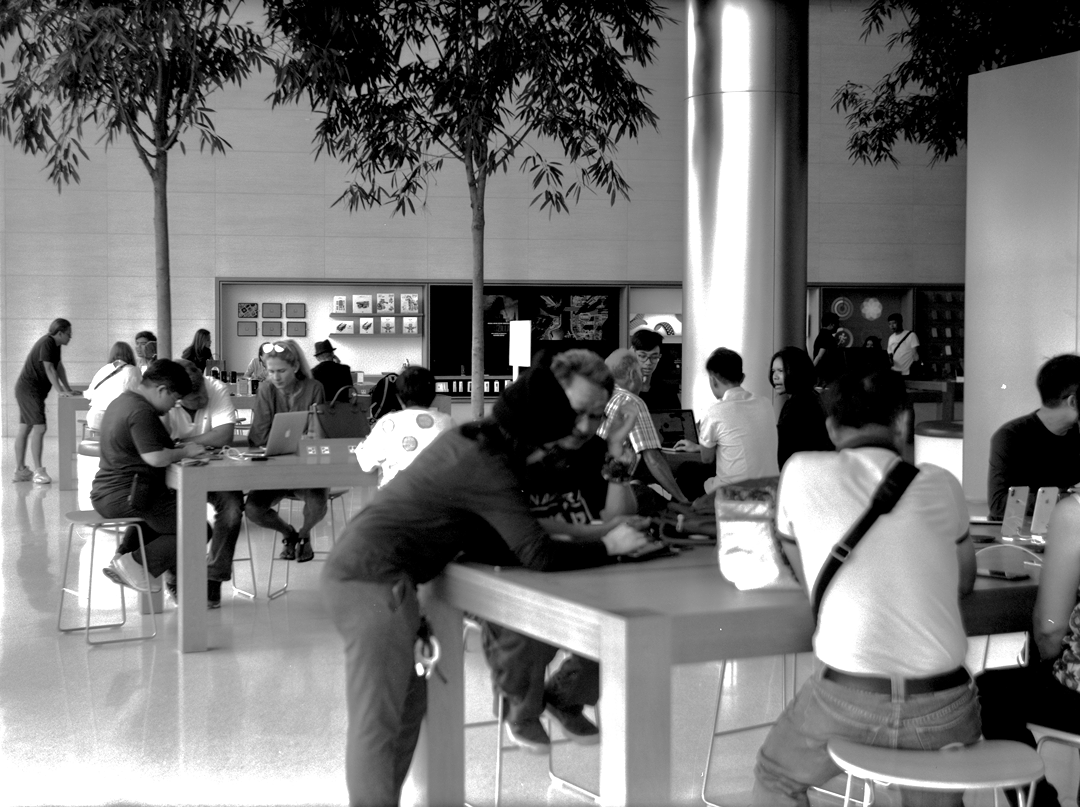 Apple Store Bangkok - 6 x 9 photo from Agfa Record III
Graham K. Rogers teaches at the Faculty of Engineering, Mahidol University in Thailand. He wrote in the Bangkok Post, Database supplement on IT subjects. For the last seven years of Database he wrote a column on Apple and Macs. After 3 years writing a column in the Life supplement, he is now no longer associated with the Bangkok Post. He can be followed on Twitter (@extensions_th)