Thursday Diversion: Where will it all Lead?
By Graham K. Rogers
---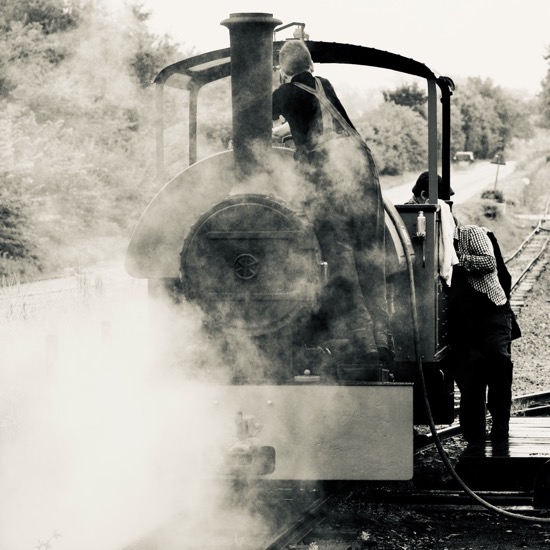 Updates and expansion of Apple TV+ along with the next financial report from Apple on 30 July. There are positive comments about Big Sur and the Apple Silicon Macs. Where will it all lead. Updates to versions of Apple OS this week, but the iOS 14 has shown that some apps are cheating.

There was an update to Catalina this week (10.15.6) although it is considered to be fairly small at 3GB. As well as video optimization, there were updates to firmware as well as some improvement to apps. A fairly full explanation of what was changed iOS available from hoakley on The Eclectic Light Company: a site always worth following. I also found that iOS 13.6 had been released so downloaded that too, starting with the iPad Pro. Ryan Christoffel (MacStories) reports on the new features, including Digital Car Key support (on the iPhone) and changes for News services. There are also updates for Apple TV and for the Apple Watch.

Apple has announced that its next quarterly results (Q3 2020) will be out on 30 July. Unusually, there was no guidance in the last results because of the difficulties of making any predictions on anything right now. However it does seem that the various types of shutdowns and isolation round the world have meant services have performed well and there are hints that notebook computers have also been selling better than expected because of the numbers of people working at home. Some analysts are suggesting we might see a bit over $51 billion, slightly down on last year's $53.8b (Joe Rossignol, MacRumors).

As I check the news each morning over breakfast, I keep noticing the headline, "Apple hits all time highs". At a time when businesses all round the world are being shut down, those who dabble in the stock market - and for good or bad influence the economy - are fairly sure of Apple's stability and promise for the future.
This is no accident. Long time Apple observers will not be surprised by this. While Wall Street is usually concerned by the short term - seasonal gains, end of year sales - anyone watching Apple knows that the company is in it for the long term. The recent related announcements of Big Sur (macOS 10.11) and the move to Apple Silicon (ARM) shows how the company has been working towards this not for one or two years, but probably a lot longer.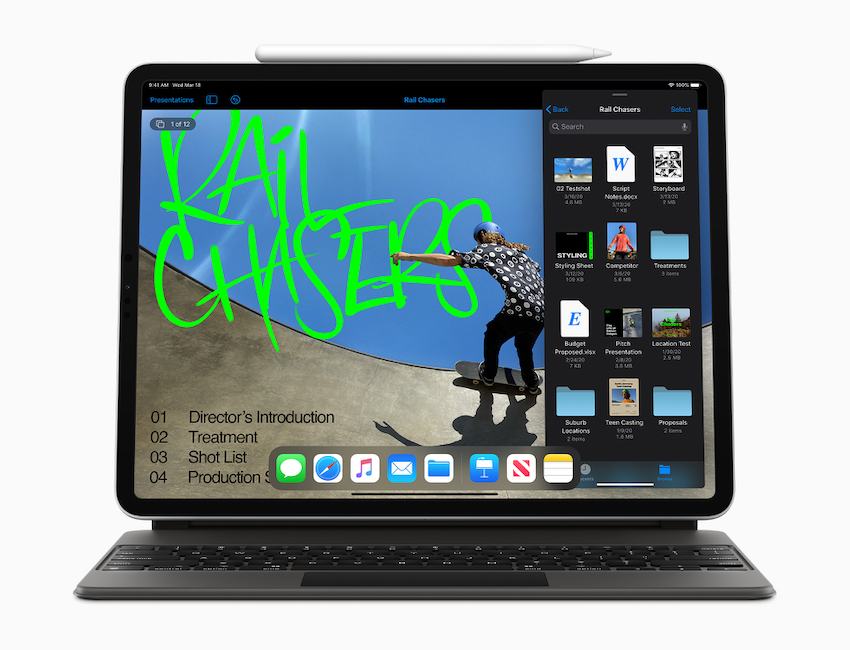 iPad Pro - Image courtesy of Apple

It was obvious with the A5 chips a long time ago in the iPads that there was a basis for using these in Macs, but (like the move to Intel from PowerPC) this was not done until everything was in place (I started to type, "all the chips" there, but the pun would have been too much). As an illustration of the readiness that Apple had attained by WWDC, not only was the Big Sur demonstration run on Apple Silicon, but the developer package included a ready to run Mac mini with a version of the A12 chip. Confidence and the long term come from preparation.
I had a note from a developer on the upcoming improvements to the app he produces. His comment on the Mac mini he has with the A12 chip and its Big Sur installation: breathtaking. That is the hardware and the OS. Even the current (Catalina) version of his app flies.
Jean-Louis Gassée had some thoughts on this silicon move. He suggests that Microsoft could follow suit: from Intel to ARM. I always believed that the ARM, or Apple Silicon move was inevitable from around the time of the A5 chip, as it was clears that the chips would have the necessary power, and (more important) Apple could build in more features that other computer manufacturers (or OS providers) could never have access too: look at the surprise move from 32-bit to 64-bit on the iPhone; that took other handset makers 6 months to start the catch up process.
Apple sort of sidestepped the process in some ways with its W, T and S chips but also developed the Secure Enclave and other special features for A-series processors which was what I had expected. The implications for such a move that Gassée puts forward are that this would be devastating for Intel unless they were able to join the party somehow.

Needless to say, Wall Street has been up and down about Apple this week with the iPhone 12 delayed, or not, depending on whose words one believes. At the beignning of this week, commentators were thrown into deep confusion as the Apple case regarding the $14.9b taxes the Irish Government should have deducted according to an EU Commission, was decided in the favor of Apple and the Irish. Although the Commission intends to appeal (doesn't everybody?) that will add even more to the balance sheets, although it is not entirely clear when (or where).

I watched Greyhound on Friday: the Tom Hanks movie bought by Apple for its TV+ service. Apart from the opening scenes with Krause's lover, it was compressed action all the way with almost no break between one battle scene and the next. As befits the North Atlantic and the naval war with the convoys, the movie was almost drained of color (apart from that early scene), but with the never ending action, that was all we had. Critics have commented on this compression and the lack of character development. it did however prove to be the biggest opening ever for Apple TV+ with 30% of those tuning in being first time users (Evan Sellek, iDownloadBlog).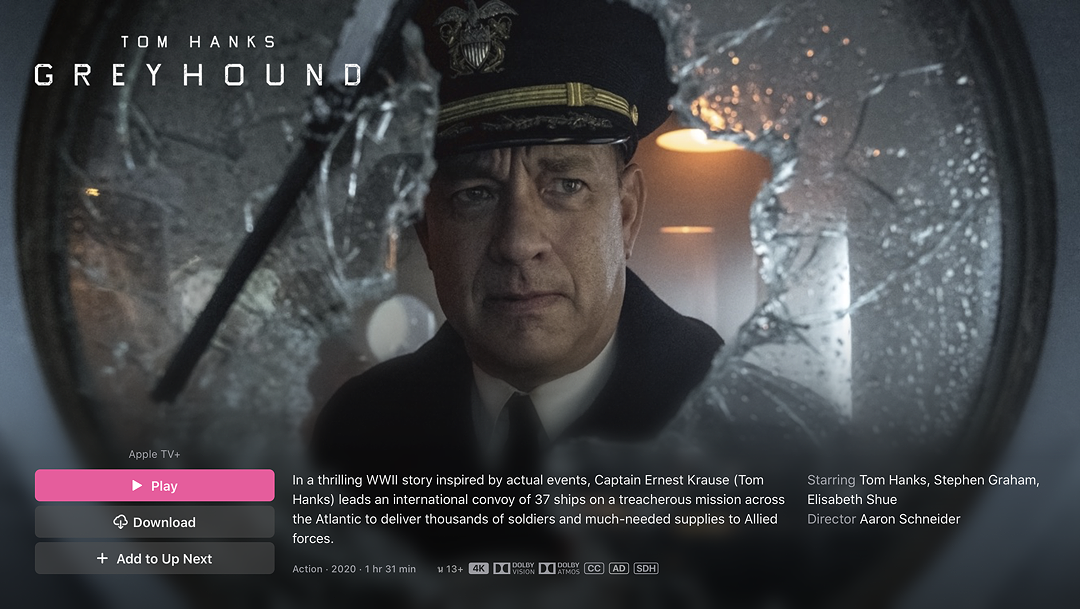 Greyhound on Apple TV+

While watching I was reminded of The Cruel Sea, a 1953 movie based on a book by Nicholas Monserrat (worth reading) in which there was far more emotion and depth of character. Although there were several online comments about Greyhound, the one on the Roger Ebert site, serves me best. Lack of development was particularly mentioned by several sources, particularly regarding the XO played by Stephen Graham whom I remember from that wonderful Guy Ritchie movie, Snatch.
While watching, I thought I noticed a brief sound synchronization problem, but dismissed that as perhaps being a local issue. It was fine before and shortly after, but I was not alone, and Malcolm Owen (AppleInsider) confirms that I was not seeing things. The problem was said to last for about 2 minutes but apparently does not affect all users.
Apple is now said to have picked up the rights for Snow Blind starring Jake Gyllenhall, outbidding others who were interested. This is an adaptation of the graphic novel graphic novel of the same name, Benjamin Mayo (9to5Mac) reports. In the article he also mentions, "This is the third film under the Apple Studios wing. It is currently developing Martin Scorsese's Killers of the Flower Moon in partnership with Paramount, after Paramount balked at the spiralling $200 million budget. Last week, Apple won the bid for Emancipation starring Will Smith with a bid above $100 million." A later note told us that Idris Alba has been signed up by Apple to produce a series of films and TV shows (Chance Miller, 9to5Mac, et al).

As if I needed a reminder, there was an article on MacRumors (Juli Clover) at the weekend, noting that Apple is warning users not to shut the lid on a portable Mac with the camera covered. I did this in one of my moves a couple of months ago putting the Mac safely (or so I thought) in a notebook case and that within a suitcase, all of which went in the trunk of a taxi.
MacBook Pro screen damaged by closing with the camera covered

When I arrived and unpacked there was some nasty damage to the display. I knew it was gone right away and the out of warranty fix cost me 20,000 baht. I had to add another 32,000 to that for a basic MacBook Air as I needed a Mac for teaching. Apple has issued a Support document (HT211148) that specifically deals with this problem and the consequences. Look at the shot above if you have doubts.

Facebook changed its look on the Mac last week to a bland design that slowed me down and made things less easy to find. I switched back on Saturday to what they call the Classic look. That reminds me of other corporations, like Coke who changed their formula in the 1980s and upset many people in the USA where I was studying at the time. A lesson: if it ain't broke, don't fix it. Apple sometimes needs to remember that too.

With the release of the iOS 14 beta for the iPhone, there have been a number of reports that apps have been found cheating. TikTok was top of the list, but that had already been a suspect with its links to China. It was also found that Micorosoft's Linkedin had been copying the contents of the clipboard in a big way. Patently Apple had details of a class action lawsuit filed in California in which it is alleged, "LinkedIn had programmed its iPhone and iPad applications to abuse Apple's Universal Clipboard to brazenly read and divert LinkedIn users' most sensitive data - including sensitive data from other Apple devices - without their consent or knowledge.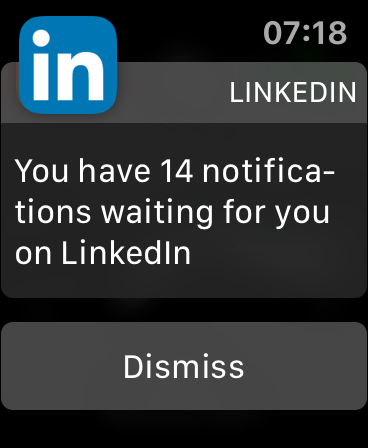 Reportedly, the practice has been ongoing for years." The way this was discovered and the concern many have expressed is outlined in the article, particularly as for those users with more than one device the clipboard is shared, so if I copy and paste something on my Mac, that could appear on the iPhone and then be siphoned off: "LinkedIn has not only been spying on its users, it has been spying on their nearby computers and other devices, and it has been circumventing Apple's Universal Clipboard timeout policy in doing so." While I was reading this online, the AppleWatch sent me a Notification from Linkedin.
There was an interesting take on TikTok by a photo site I monitor. In an article about this, Tihomir Lazarov (FStoppers) outlines the types of data found to have been sent over the network to the servers:
Information about your phone contacts.
Your phone's type, disk space, etc.
Information about what other applications you have installed on the device.
Information about your network (IP, MAC addresses, Wi-Fi access point name), which is a source for your approximate location as well.
The app may check your GPS coordinates every 30 seconds or so (location tracking).
And now the scariest part: the amount of information they can get from your device can be configured remotely (by programmers), which means some may be more spied on than others.
This really IS scary. It seems similar to what Linkedin is alleged to have been doing, until we read the last item. It is no wonder that banks like Wells Fargo have ordered TikTok removed from corporate owned smartphones.

A major step was taken in the UK this week when my family decided that they would finally join the Internet. When my sister told me online, I looked out of the window to see if it was snowing. Although the family has pressured our parents for a long time, my mother was always adamant: We don't want it. I think this was an artificial barrier to avoid joining something she did not understand, even though with an iPhone (which as I guessed had been the catalyst) it was clear there was more that they could do. When I have visited, the poor telephone signals (attenuation) in the street, which is a small valley surrounded by trees caused me problems even reading email; and I had to wait until I returned to Bangkok before all my photos would upload to iCloud.
The location also caused problems with television signals, and on my suggestion (after years of putting up with this) they asked for help. A company relocated the satellite dish and attenuation was reduced as I had said it would be. Now, with the iPhone SE they have, they are beginning to experiment with apps, but to download anything like that means a visit to my sister's house. That, and the potential convenience of online purchasing, have finally pressed the button, although my mother is insistent that it definitely won't be her using it. I have an idea how I might change that.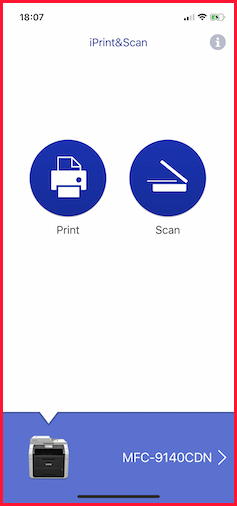 I am moving office this coming week after a change in my job and conditions at the university. For a couple of years if I have needed any printing, I copy the files to the iPhone (or iPad) and use a WiFi-connected Canon printer for output. I do not use the computer as the Canon drivers in Thailand are always one step behind the version of macOS and will not work: iOS works all the time.
Downstairs there is a big Brother laser color printer but I did not know the IP number which I had needed for the Canon. I found a Brother printer app which identified the devices available on the network and linked with no fuss. I printed a test page and the staff down in the office were a little surprised at how easy the setup was. A short while later I did the same for the iPad Pro.
Less successful, at home, my final class online was a disaster. For some reason the Cisco WebEx account failed to link to the online display properly and while I could see a screen, none of my students were able to join, even though we did everything the same as for the previous 10 weeks. At the suggestion of one student, we tried a video conference with LINE and to my surprise it worked, although I was not able to share any of the files or images I had ready.
One of the problems for me with WebEx is that until I join a meeting, there is no way to examine the settings, so everything is being changed at the moment I join, whether it is background (with iOS) or the video feed. I also find that sharing my own screen with students, an essential part of the online teaching process, cuts the video recording, whether it be the WebEx recording, QuickTime or the Finder. There is still much to learn about this and I far prefer a real classroom environment.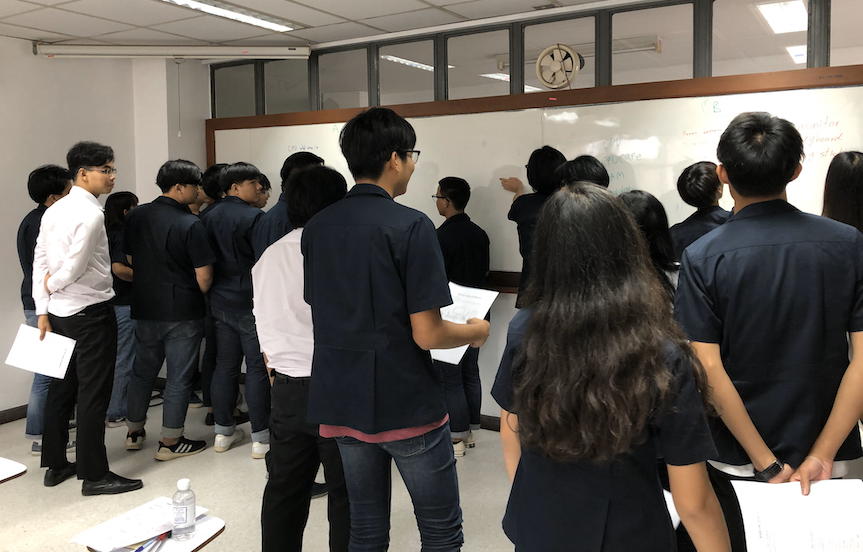 Interacting students
Graham K. Rogers teaches at the Faculty of Engineering, Mahidol University in Thailand. He wrote in the Bangkok Post, Database supplement on IT subjects. For the last seven years of Database he wrote a column on Apple and Macs. After 3 years writing a column in the Life supplement, he is now no longer associated with the Bangkok Post. He can be followed on Twitter (@extensions_th)