Sunday Diversion: Ethical Contact Tracking; TIFF Problems in Photos; Online Shopping
By Graham K. Rogers
---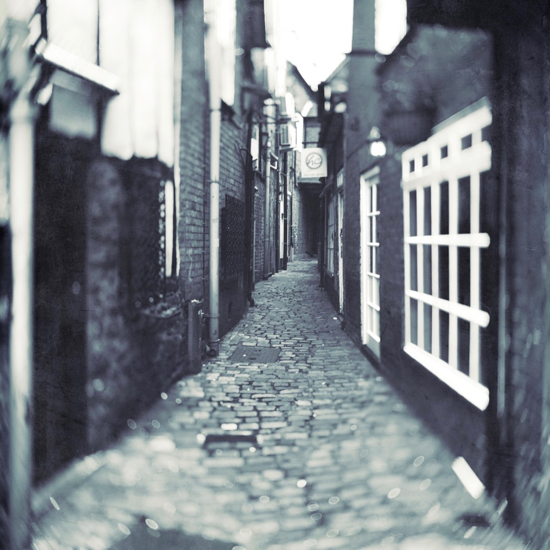 With some stores beginning to open, contact tracking will be important, but the app developed by developers for the UK government has serious shortcomings, perhaps borne out of ideology. My first photo scans with Catalina were fine, but file handling of the TIFF output has some problems.

With obvious changes in the way products are bought, sold, distributed and produced, Apple has apparently shifted some production of its AirPods to Vietnam. I know that some components had in the past been produced in Thailand, for example at Delta Electronics, but Vietnam has been seeing a lot more interest from Apple in recent years. Stores are also being reopened with Austria one of the first, following those in China, and it is reported that some Apple stores in the USA will be opening next week.
I also see that the 4 stores in Switzerland will open 12 May with stores in Germany opening the same day, with Joe Rossignol (MacRumors) reporting there will be enhanced safety measures. I am not entirely convinced opening stores is the right move. Restrictions here have seen comparatively low infection and death figures, while the USA and UK have stratospheric statistics: politics and policy.
Apple Store, Bangkok

There were two rather different endings this week: Little Richard who inspired rock musicians, many of whom recorded his songs, died of cancer. Eric Schmidt who came from Novell, was once CEO of Google as well as a member of the Apple board (allegedly taking some of the information about the iPhone home to Google) has finally left the company (allegedly back in February), which had transitioned into Alphabet along the way. His las job there was Technical Advisor but Richard Nieva (CNET) reports that his influence had waned somewhat. He is now working in government-related initiatives, while I note that his daughter was mentioned a couple of times in Chris Wylie's book in relation to her connection to Palantir.
That has been in the news recently with its connection to the NHS contacts app that has been under development with connections also to Dominic Cummings and others from the Leave Campaign. There was serious criticism over the amount of data that was to be collected and what would be done with it, so when I saw that the British government steadfastly refused to consider the Apple-Google approach, I was concerned. After testing, more problems have arisen and the approach with an Apple-Google linked app is now looking more likely.
Bearing in mind that several of the names were earlier linked to illegal activities by Cambridge Analytica and others, it seemed highly likely to me that this refusal to consider the Apple-Google approach centered around the amount of data to be collected and the ways in which it might be used. In the midst of this speculation about how data might be shared a hefty "note" was put online at the weekend after an analysis of the app and how it handled data: my speculation was on the right track.
Following the rollout of the test app in the Isle of Wight last week, Dr. Michael Veale examined the published data protection impact assessment (DPIA) released by NHSX in relation to their contact tracing/proximity tracing app. The note is in the form of a PDF (available online), and it is clear that few of the safeguards are valid. In a theoretical scenario in the note, the use of a device near an Oyster terminal was put forward - the Oyster Card is a means of payment for transport in London and operates through cards and mobile phones. With that, and other means, it would be possible to link sets of data and create a complete snapshot of a person, much like Cambridge Analytica was able to do with Facebook data. The lessons are not being learned; or rather they are being learned all too well,

Earlier in the week, I picked up a couple of rolls of film and scanned them at home. When I started the scanner software (Vuescan) I saw there was an update which was downloaded and installed. I had not used the application since late February and since that time had also installed Catalina. That introduces two variables into what had been a stable process. The scanning was fine and, as usual, I dropped the first 8 (6x9) images from the Agfa Record III into Photos and all seemed well. The original scans were transferred to a SSD on which I keep all original images.
Hasselblad shots with KosmoFoto Mono 100 film

Later, I wanted to use one of the photos in the Wednesday Diversion so in Photos, highlighted the specific image I wanted and used the key command Shift+Command+E and entered the location. A panel appeared that showed no export had been made: Unknown error (0). I had seen this earlier in an unrelated export of DSLR images I had downloaded to the iPad Pro. At the time I made the export they were not available on the Mac, other than thumbnails. I tried the 8 images later and they exported correctly. I wondered if the images had been sent to iCloud and were not available in Photos, other than the thumbnails.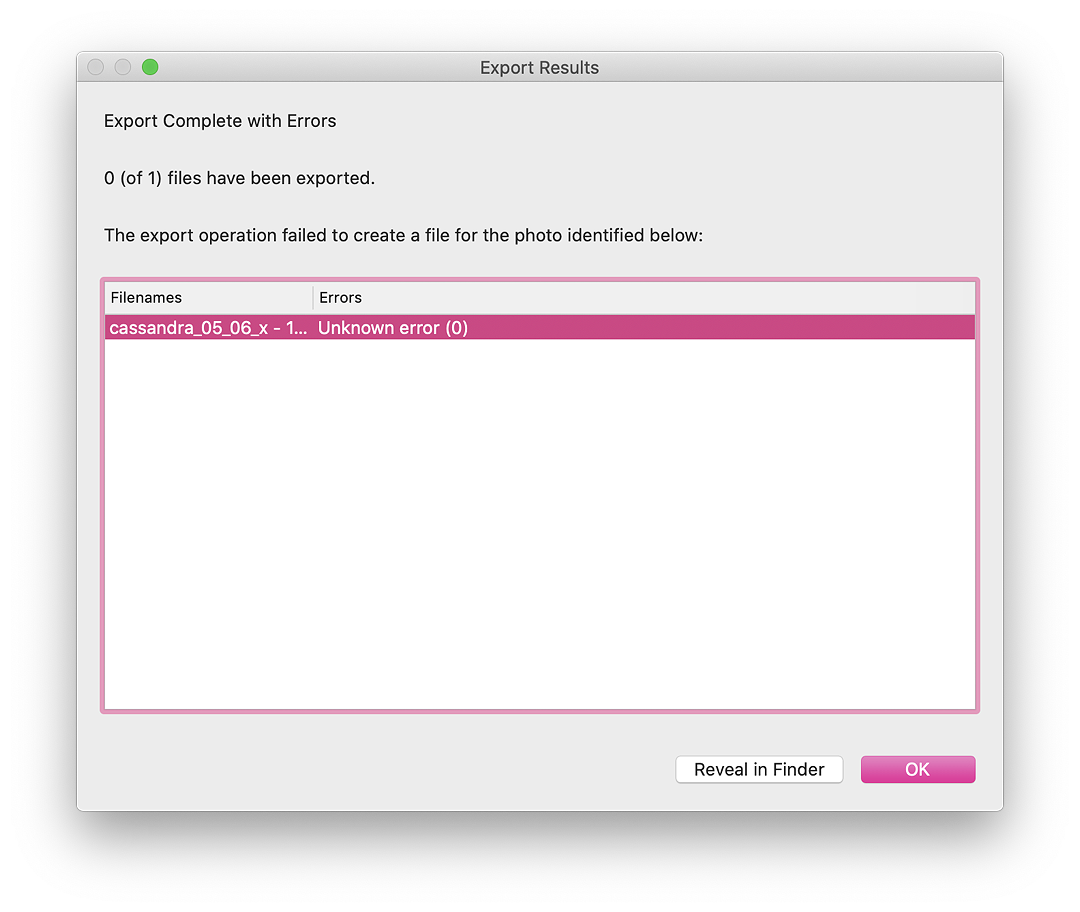 I looked at some of the scans I had made before and tried them. There was no problem exporting either 6x6 or 6x9 images using that key command. However, when I looked at the information in Photos, I noticed that the file sizes were different. The earlier scans had been 16-25MB and 9-10MB for 6x9 and 6x6 images, while now they are 46MB and 29.4MB respectively. Initially I was unsure if this was a change in Vuescan or Catalina, or if I had changed something. TIFF files from before the Catalina and Vuescan updates are fine and will export, whereas those scanned since fail.
All is not lost however. I can still use the File menu in Photos and export an original. That would mean, however, any editing changes would not be shown. I am also able to drag an image from Photos into the Finder, although that is larger than I want (say, for a web page) so needs resizing. The couple I tried are in JPG format, which was not a particular problem. RAW files from the DSLR and images from the iPhone are unaffected, so can be modified and exported as normal.
I dropped a note to Bombrich Software, the developers of Vuescan who have been helpful in the past. The reply asked if I was able to view the TIFF images in Preview. As all were opened after the scan automatically in Preview, that was not a problem, so Bombrich suggested that this is a Photos issue. I filed a bug report with Apple. If I had done that first, I would never be any the wiser as Apple never replies. Just to confuse me, if I edited any of the problem images in RAW Power (which now has access to the Photos library) and saved them, that adjusted image could then be exported from Photos.

The Internet means we are all - or almost all - interconnected these days, both in the ways we can easily communicate to others wherever they are, and how our data may be collected in many ways and a picture of us built, depending on how much of a profile we may have. My mother does not want the internet. At 93 it would be just too much bother (she says) even though all around her people have easier lives with their ways to connect.
The shutdown in the UK has been a good example. My mother has been locked in the house (with its massive garden) for weeks and is bearing up quite well. Instead of sending a shopping list to my sister, she phones her and she has to write down what my mother dictates, reading from a list that she has written down; my sister goes to the shops and then brings the shopping over, leaving it in a porch way so that there is no contact. My mother also phones orders to a delivery service once a week and they bring round fresh produce; and when she had to pay a bill, she phoned the bank who look at a computer screen and make the transaction using the credit card they already have a record of. Not that she uses the internet of course: too much trouble.
I saw information about a gift hamper in a newspaper report this week. There was no link in the article, but it was easy enough to find Old Hall Farm, but the site is not well organized and there was no direct link to the Farm Shop, but that was fixed later when I made a comment in a series of emails about my order. I was able to order a hamper, although I had to enter a new delivery address in the payment method I used. So in 5 minutes, from across the world, I was able to order a gift hamper for my mother as a surprise. I have sent a sarcastic message with the gift about internet use. It arrived Saturday and I was messaged (What'sApp) late in the afternoon.
Cheese Hamper - Image from Old Hall Farm

I also had to make some home purchases recently and with the stores closed, this means online. Both Central Group and The Mall (Paragon) have online assistance and I have used The Mall's LINE presence a couple of times. As well as links to the products on web pages, it is possible to chat to helpers from within the LINE app. There are highly competent and helpful English assistants and I have made good use of this: ordering pillows, and most recently a fridge.
The process is not totally smooth, but this is not unexpected. With the way this works, I found the delays and minor problems acceptable. The assistants have been apologetic when there is a problem, which happened when I bought the fridge as the payment method means switching to an external service and the link was not perfect. Before this, the order was confirmed, we chatted about delivery location and times, then the order was completed by the Mall staff, which is when the connection to a local bank had to be made: there are 4 methods of payment - direct debit using 3 banks and credit cards.
After a confirmation, the button I pressed was supposed to make the link, but it sent me back to the payment confirmation page several times. The staff confirmed that it was working as they had tried, and asked me to keep trying. Eventually, the link connected and payment was made. I will take delivery of the fridge on Monday lunchtime.

There is a rule with motorcycle maintenance: if it ain't broke, don't fix it. The same might apply to many things including the economy (fixed so many times), computers and cameras. I wanted to try something using Manual mode on my Nikon D850, so played about with that, but when I switched back to Aperture Priority, there was a problem with ISO settings. Instead of looking for help I tried many of the settings I was familiar with, but in the end went for Reset All. I had to enter some information although the date, time and time zone were correct. However, ISO remained set, which should have been the clue.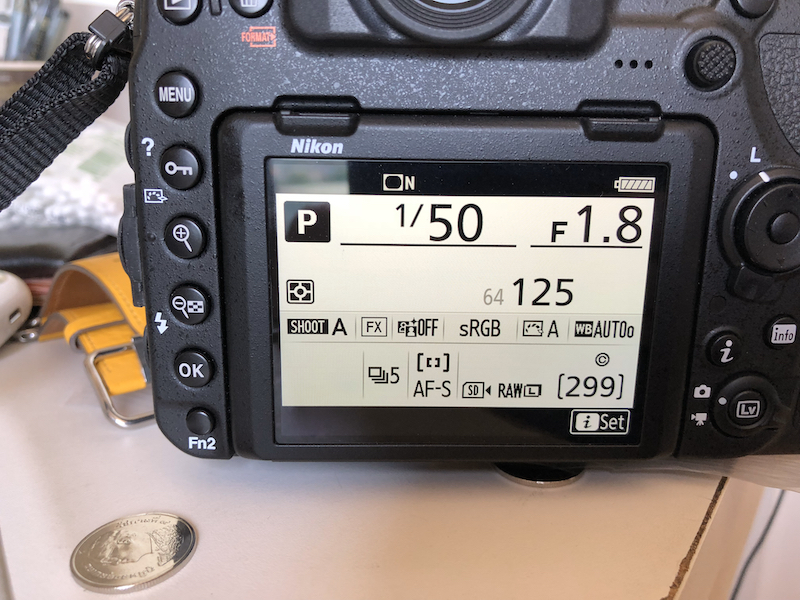 A Google search brought up a page from Photography Life and Nasim Mansurov's walk round the camera. When I looked at the way he had set his camera up, there was the information I wanted: ISO has either fixed or auto settings, with maximum and minimum and once I found that menu, I was home and dry, but suitably annoyed with myself.
Graham K. Rogers teaches at the Faculty of Engineering, Mahidol University in Thailand. He wrote in the Bangkok Post, Database supplement on IT subjects. For the last seven years of Database he wrote a column on Apple and Macs. After 3 years writing a column in the Life supplement, he is now no longer associated with the Bangkok Post. He can be followed on Twitter (@extensions_th)