Focus Shift Shooting and Image Stacking: Learning in Lockdown
By Graham K. Rogers
---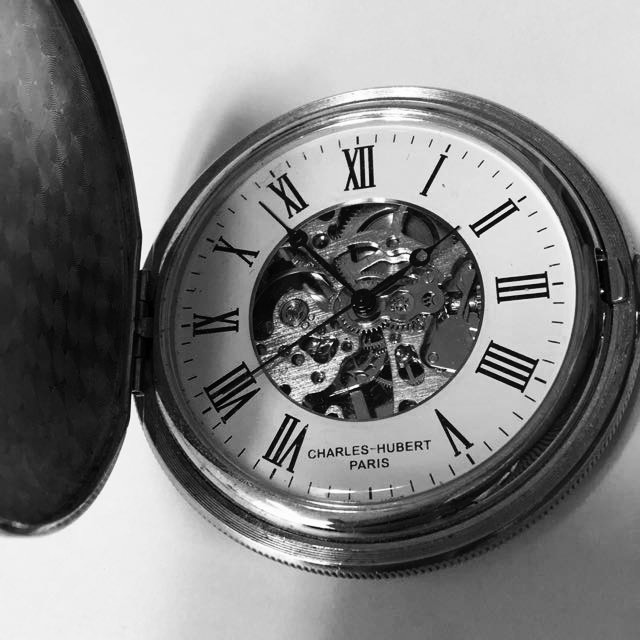 Locked away, I am trying new skills including a stab at macro photos with limited lens options. Focus shift shooting with the Nikon D850 along with image stacking allows a better end to end focus of images when it works properly

Like many, I am locked away for the time being. I venture out only in emergencies, for example when I need food. Most of the time I am working in the apartment. Rather than being quiet, several papers and a thesis have come my way for editing advice. This may take several days, depending on the length of the paper and the number of errors. Academics and graduate students are really not as good as they think they are. I sometimes do my own writing, when the mood takes and time allows. Rother than sticking to a specific schedule, I have a look as things catch my interest.
Photographers are finding that the usual subjects are forbidden right now. We cannot go out and stalk the streets, or wander off into the hills. Instead though, those of us who enjoy photography are limited to walks in the immediate vicinity. It is no surprise therefore that in the last week or so I have seen several articles on macro photography. I have tried this a couple of times with limited success, but when I saw that Nikon had put online its photography lessons, Nikon School Online, I headed for the site as I had seen Discovering Macro Photography, by Joey Terrel listed, and this interested me the most. I will be going back for more.
The whole thing is well worth taking time over. It is broken up into several small lessons and Terrel has a really nice way of explaining things, while his love of the subject comes through quite clearly. Instead of the one hour running time, I kept breaking off and trying things. Of course none of my lenses are macro lenses, so immediately there is a shortcoming. But barriers are meant to be surmounted. I tried a couple of the lenses with limited success, but then remembered that I had extension tubes. I dug these out and tried a couple.
Vivitar extension tubes

The extensions tube I have came in a set of 3: 12 mm, 20 mm and 36 mm. They can be used independently, all three together, or any two at a time. If I understand the physics correctly, they increase the focal length of a lens, so that the normal Focus point is extended and the resultant image is enlarged, but depth of field suffers greatly. This was the point that Terrel made several times in the videos.
As I was watching there were several suggestions that I followed up as they were made, stopping the video to look at the camera, take a couple of photos and even watch a Mike Hagen YouTube video that explains setting up the back button focus. Hagen uses a D500 but the details, including menus are the same for the Nikon D850
Macro images with Nikkor 85mm lens

While I was checking out that video, I also found that Fotodiox has a blog item on macro photography, and this brings in the idea of stacking. This is when a camera is set up to take several photographs of the same subject each at a different focus (the difference is minimal) and then the whole group of photographs is combined, or stacked, into one image that is in focus back to front. The article refers to Adobe Photoshop which I do not use.
I have the Nikon D850 (the article uses a D810). I tried stacking when I first bought the camera in April 2018 and I was working my way through the features. I used a trial version of Helicon Focus then, which is good stacking software. I found out recently that Affinity Photo has this capability too. A quick check online shows that Pixelmator Pro also has this feature and there is an online tutorial.
Also worth mentioning in the light of surmounting barriers, is an item on macro photography that also came out recently, A Guide to Simple, Effective and Cheap Macro Photography (Neil Kohl, Emulsive) that looks at ways to make this work with some counter-intuitive ideas, like turning the lens round and more.

I guess there are two types of macro photography: the artistic type where parts of the image are intended to be out of focus, which highlights the parts that are focused and the combination of background and lighting; and the industrial macro, which ensures that the product being photographed has a sharp back to front image. I know that those who photograph Apple products are in the second group and there was an article (Erin Lodi, DPReview) a few year back about Peter Belanger who does exactly this. When I read the original 2013 article it was the first time I think I had heard of the Phase One camera.
Focus Shift Shooting on Nikon D850

Focus shift shooting does exactly what the name suggests. Normally we focus on a specific point: that is in focus, but the rest of the subject is not. This may be fine in some types of photography, such as portrait, where the right lens and settings keep the subject focused and the rest artistically blurry, but this will not work with the closeness that macro, or product photography demand. With focus shift shooting the camera set up to change the focus point ever so slightly, several times (settings may be changed) so that multiple images of the subject are taken each with a slightly different focus.
For example, the first image will have a sharp image of the front, but the rear is blurry, while the last image has a focused back image while the front is not in focus. The Nikon D850 has several options, for the best output. Fortunately, Nikon has a tutorial page on this, Focus Shift: The basics: Stacking Focus, that explains each of these feature settings in quite some detail.

This time I tried several lens options before settling again on the Nikon 85mm which is what I had used in the initial tryout. My older 50mm Nikkor lens will not work: Focus Shift Shooting is greyed out. I tried the 35mm Tamron, with and without a 12mm extension tube, but the distance was not optimal. Like my other lenses, this is not a macro lens. The Nikon Technical Solutions page refers to two lenses; the AF-S Micro NIKKOR 60 mm f/2.8G ED; and AF-S VR Micro-Nikkor 105 mm f/2.8G IF-ED. The 85mm is not a macro lens (something I had thought about when watching the Nikon videos on Macro photography) but was AF-S and somewhere between the two. I was determined to create something in lockdown time. I also have a Sigma 100-400 telephoto lens which (the Sigma site claims) can be used for macro work, but early experiments were not a success: I will try again.
I used the settings I had initially tried when I first bought the camera, although there were actually 49 images. Some were focused way past the subject camera: something else I will have to learn. In the end I only used 15 of the 49 images. With the way Photos works, all 49 had to be uploaded to iCloud before the deleted images were placed in the Deleted folder so there was a time delay before I was able to output what I needed.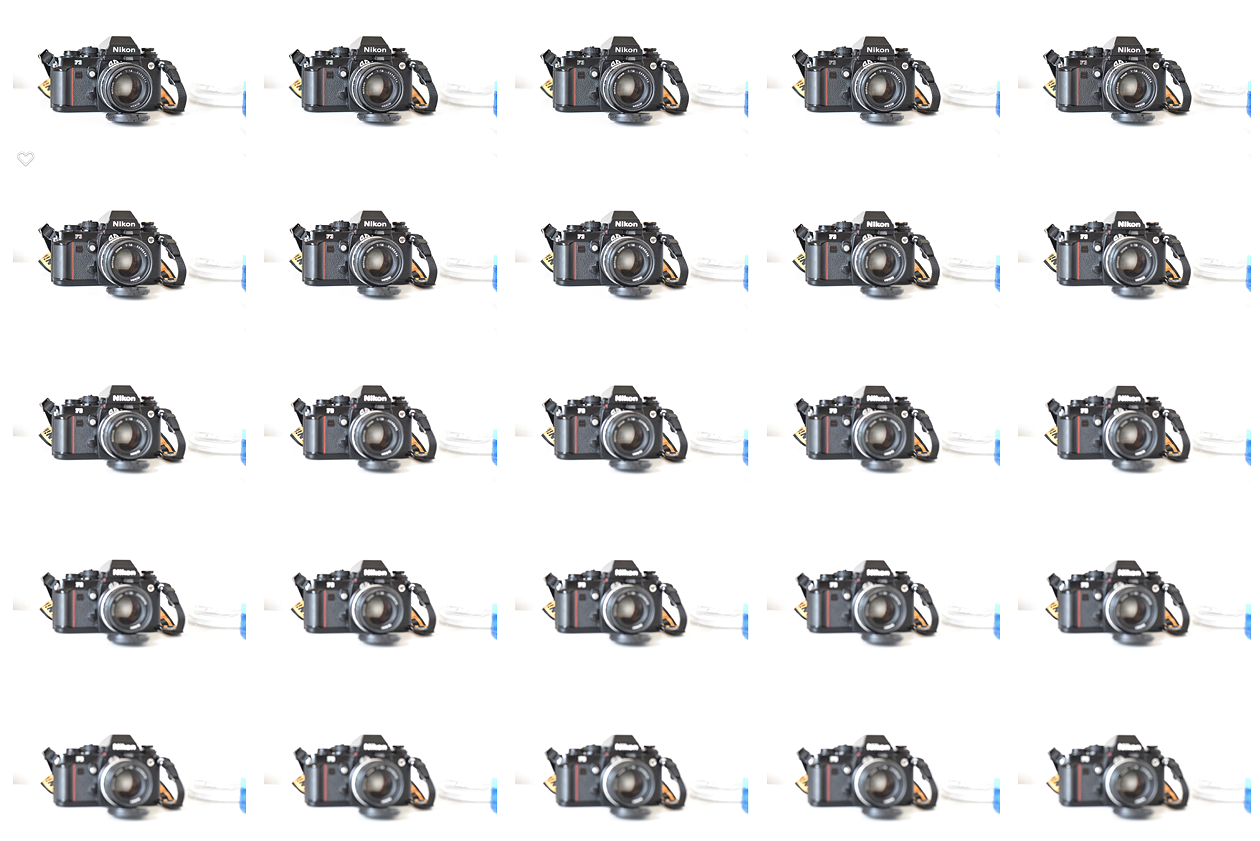 Focus Shift Images

Although I do not use Adobe Photoshop, both Pixelmator Pro and Affinity Photo are able to stack such images using the Layers tools; but the instructions sounded a little fiddly. As I already had it on the hard disk, I updated and registered Helicon Focus. I exported the 15 files, in TIFF format with a width of 1250px. Each image was 7MB. JPEGs would have been quicker. Once exported I dropped the files onto the Helicon Focus screen and they were imported immediately.
Affinity Photo (left), Pixelmator Pro and Helicon Focus

The advantage of this software over working with layers is that the application is designed for one basic (but complex) task and the execution is streamlined for the user. There were three options for processing: A. Weighted average; B, Depth map; or C Pyramid. B had already been selected for me, so with the weight of inexperience, I stuck with that. I also left the slider keys for Radius and Smoothing. This was not a commercial shoot, this was just a look and see.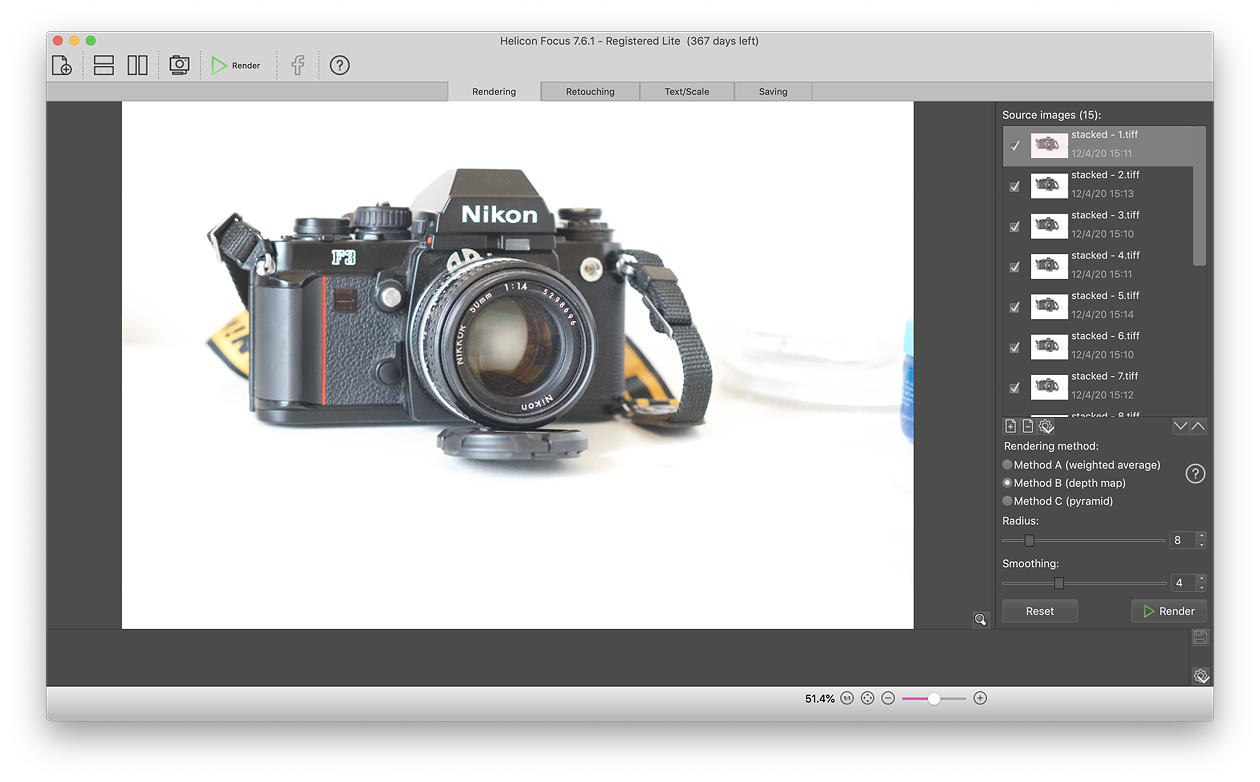 Stacked Focus Shift Images

Rendering only took a few seconds and when complete there was a double image display and tabs were available for other functions: Retouching (I expected to do this in other editing software), Text/Scale, and Saving. With just the wish to see a completed image, I accessed that last tab where there were also several options, some of which would certainly be useful for future work. I simply Saved. TIFF (2 types), JPEG and DNG were options, but I stuck with TIFF mainly to gauge the size differences (if any). The saved image was 7MB and the file name generated also gave information about the processes used: 2020-04-12 15-24-51 (B,Radius8,Smoothing4).tif.
The finished image needed a little editing, but was highly detailed, including (unfortunately) the dust. I also noticed that the lens cap I used as support was not in focus: setting up I had made the lettering on the lens the start point. As this was only the second time I had used this (camera feature and software), I was relatively satisfied with the output as a learning exercise. With a reactivated interest in macro work, Focus Shift Shooting would be of considerable value, as would Helicon for processing the camera output.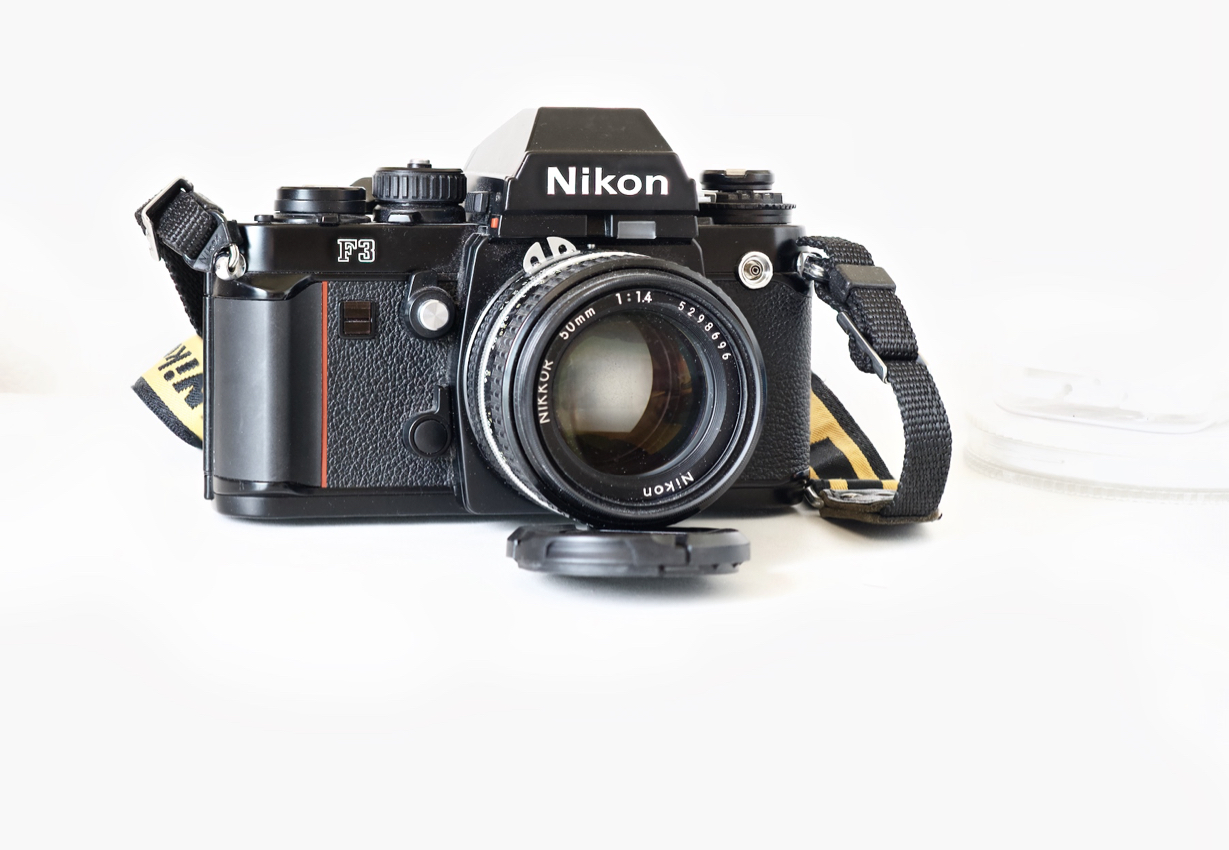 Edited Output from Helicon Focus

I did try the same images in RAW (NEF) format later, dropping 10 files from the original selection onto the Helicon workspace, but the operation could not be completed, as I did not have the required Adobe DNG plugin. I also tried a click-and-drag export from Photos, the image list in Helicon showed these all as JPEG and the resultant stacked image was just under 2.5MB. Quality also suffered with this attempt at a shortcut. As final images are a consideration, I will continue to export in TIFF (or PNG) and process in Helicon, with a final edit of the single image in suitable software as required.
Graham K. Rogers teaches at the Faculty of Engineering, Mahidol University in Thailand. He wrote in the Bangkok Post, Database supplement on IT subjects. For the last seven years of Database he wrote a column on Apple and Macs. After 3 years writing a column in the Life supplement, he is now no longer associated with the Bangkok Post. He can be followed on Twitter (@extensions_th)