Tuesday Diversion: Cancellations by the Score; Digital and Analog, and Pristine Classical; OCR for Notes with Nebo
By Graham K. Rogers
---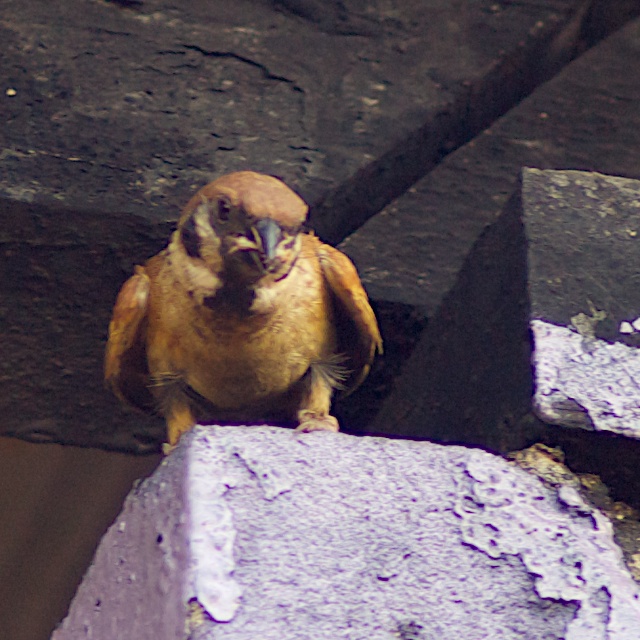 With the spread of Covid-19, some organisers of sporting events, conferences and trade shows are cancelling to avoid putting large groups of people at risk. Our world is digital with analog roots, although there is a return to use of older media in photography and music. I take notes on paper, but I recently found an app that has quite good OCR that will help students, and me.

Apple and others pulled out of the South by Southwest event last week and it was no surprise to see that at the weekend the event itself was canceled. Several commentators are voicing the idea that they feel that it is probable that Apple will also cancel the world wide developers conference (WWDC). I do not suppose there will be any serious criticism if this happens. I am also sure that Apple will make full arrangements so that presentations are available online, and developers are put in touch with the relevant experts. Later news tells us that Santa Clara County, where WWDC is held, are asking organizers of events to consider their plans (Tyler Lee, Ubergizmo).
With South by Southwest now canceled, it may also be that the new opening race for the Moto GP season at The Circuit of the Americas, Austin TX, will also be canceled. One Formula One race in the Middle East will be run, but with no spectators. This will fullfil contractual obligations with the circuit and teams, as well as television (most important for viewers and advertisers). I expect more of the major international series may opt for this solution. Australia has said spectators will not be excluded from their Grand Prix race at Melbourne.
I watched the first meeting of the MotoGP 2020 season this weekend. The main class (MotoGP) was cancelled, but the other two - Moto3 and Moto2 - were able to run as the riders and teams were already in Dubai for testing. The MotoGP personnel would have needed a 2-week quarantine.
It was a shame in many ways as Dorna had taken a lot of time (and money) to improve the visuals on the TV app, although I was not over-impressed with the new music: a hard call anyway as this has to loop for several minutes before anything starts. Graphics on the other hand were superb. One I saw was a little too much with a live display at the side of the screen showing a linear representation of the circuit position along with where the riders were, including how the gaps between groups of riders expanded and contracted. The effort here is commendable but I am not convinced about the effect. This is a long way from a clipboard and two stopwatches of the 1960s of course.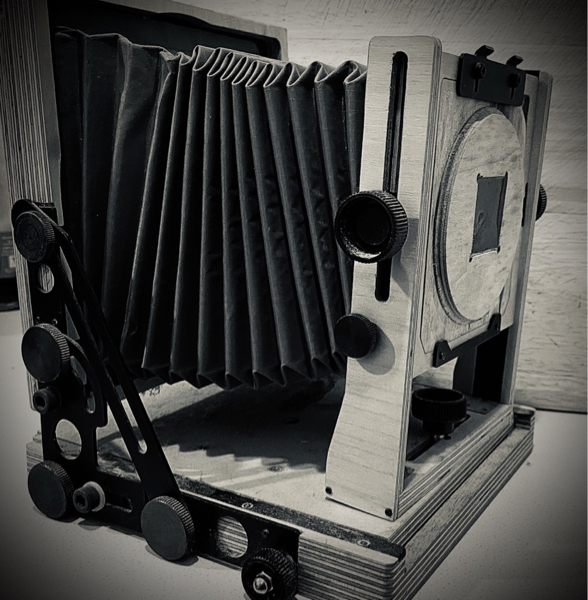 Intrepid Camera

I note that The Photography Show in Birmingham, UK, was still on until an announcement was made on Tuesday. I had seen comments from several exhibitors, like Ilford and most recently, Intrepid Camera announcing their participation. I really must make the effort to find a lens and other accessories for the Intrepid camera that I have. That show is now postponed until September.
It is reported also that Apple has cancelled Today at Apple sessions in some US stores. We hear too that Nikon is delaying the release of its D6 owing to logistics problems in certain manufacturing plants related to the Coronavirus.

We might be in a digital world but analog still features significantly, although the stopwatches have gone. Anyone who reads my items will be aware that I use film cameras more and more these days. There was only film when I first started taking photographs but I loved the arrival of digital photography. It is only now I appreciate the older medium a little more. Of course when I was a teenager all my music was on vinyl. Apart from a few kiddy records which were 78 RPM, my first 45s were bought in the 1960s. The very first record I bought as a teen was "Just One Look" by the Hollies. Years later I saw them live when I was at University at Loughborough. We were all much older by then.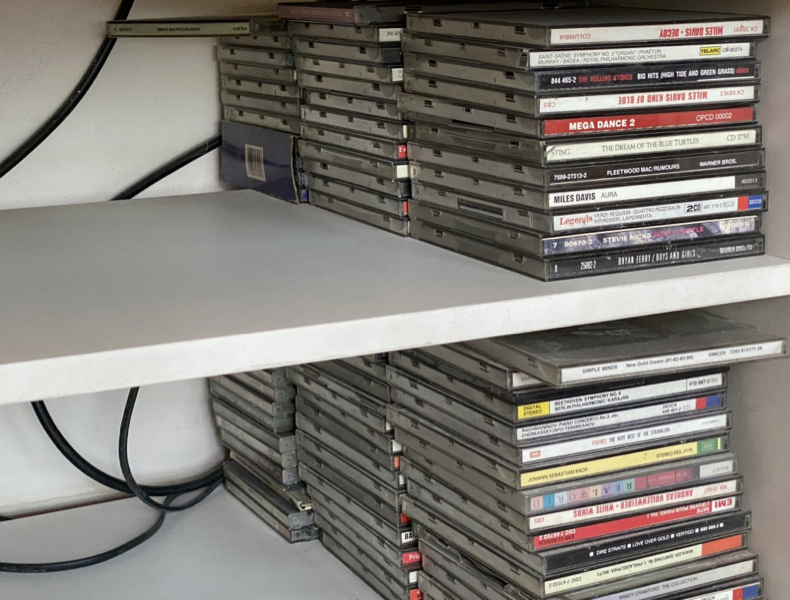 I had a good collection of 45s and 33's but gave these to my sister. Then I put together another collection, mainly LPs, which I gave to a friend from Newcastle when I left for America. There I bought my first CDs, which I still have. I use the music from the CDs in iTunes, but the originals are still here.
I buy a lot of music online these days, and not just from Apple. One of my favorite sources was Classics Online, although they changed their service to a subscription and I moved on. I also discovered Pristine Classical, which takes old tapes, old recordings and old records (often 78s) and digitally remasters the music.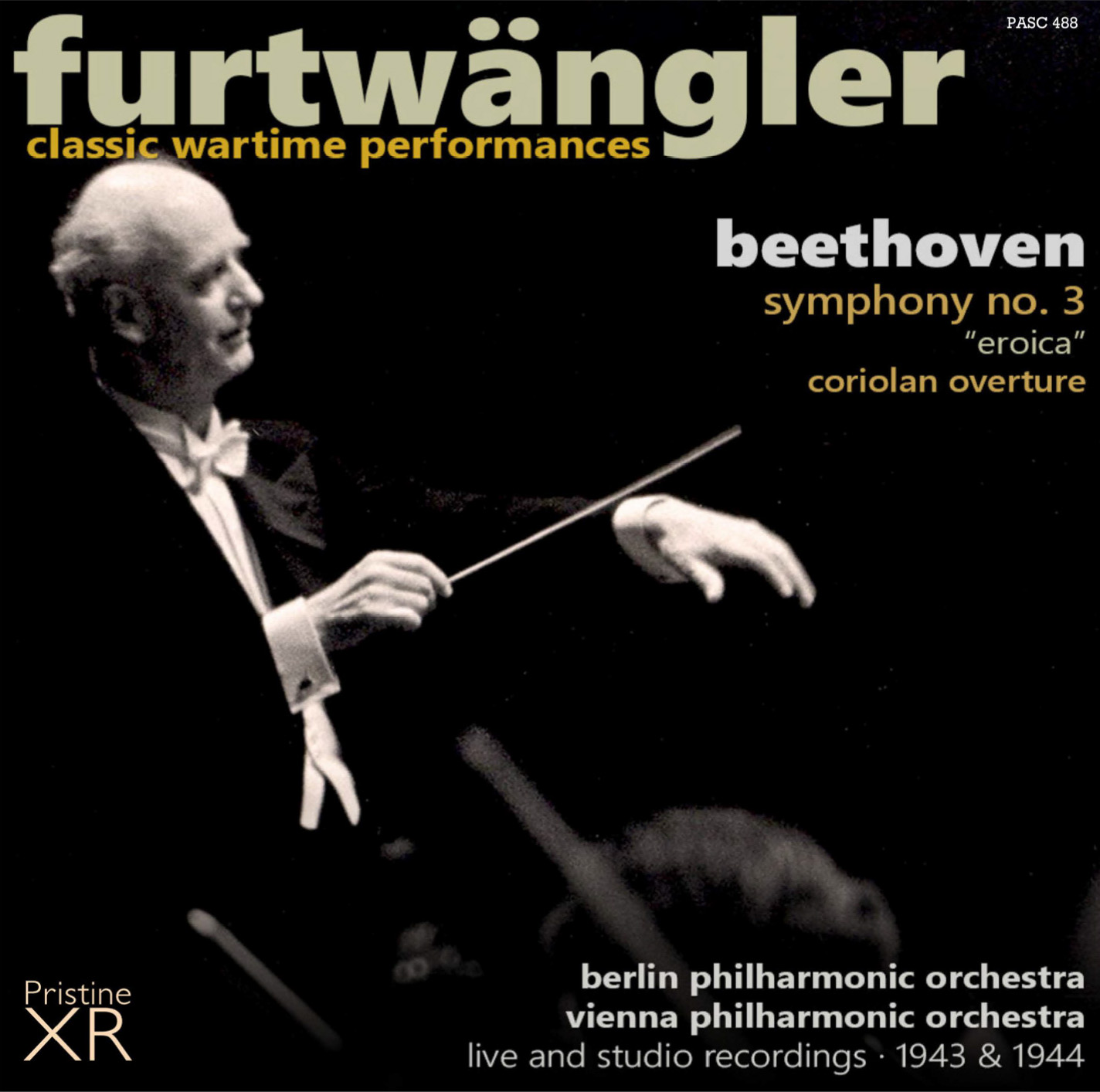 The results are sometimes stunning. One of my favorites is of a 16 year old Yehudi Menuhin performing Mozart's 7th Violin Concerto. I am also moved by a series of wartime concerts conducted by Wilhelm Furtwängler. The first two in particular are poignant and stunning: The Berlin Philharmonic Orchestra perform Beethoven's Coriolan Overture and Symphony Number 3. The latter was recorded in 1944 and critics have mentioned the sense of doom that is evident in the performance as Germany neared collapsed. This weekend I bought the entire Furtwängler Beethoven cycle
It is nice to see craftsmen like Andrew Rose of Pristine still dedicated to rescuing such work. Most of the files available for download are in FLAC format although I tend to use the MP3 option. On occasion I have taken FLAC and converted this to mp3 as this is best suited to my iOS devices.

I first met one of my colleagues when she was a high school student and had just been given a scholarship. She finished high school in the USA then went on to complete bachelor and doctoral degrees, with some expertise in medical imaging. She is way smarter than me. We often discuss writing and the way students work. Unfortunately, many look for shortcuts and do not understand creative input: why would they? My insistence that they write notes and a first draft on paper is met with blank stares; and there is I often a look of horror when I urge them to turn off Autocorrect.
My colleague and I are concerned with the writing process and approach it in different ways although agree on many aspects, particularly the modern habit of students writing notes on tablet devices and trusting the software to convert to text. My problem with this is that it misses a step in the writing process and that re-examination of a piece of writing as it goes from paper to text editor, and then to formatted content gives the writer a new look at the content as each medium is used.
I have now added to my original three-media approach. Working on the iPad Pro I have inserted a step: before I use BBEdit on the Mac, I type my handwritten text into Notes first. Each time I switch media, I look at the work afresh. I use Notes now but in the past I had used iA Writer and Notability, both of which synchronize output to the Mac. Notes comes for free and does the job quite well for me, particularly as I rework the text later.
My colleague asked me this week if I prefer working in paper first or in an application. Although I tend to take the old-fashioned approach most of the time, there are occasions when, having been thinking through ideas for several days, I sit down at the keyboard and type it all in one go. Many people can type so fast these days that they are able to take down lecture notes complete.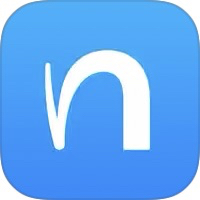 However my colleague pointed out that research shows those who write notes, tend to remember more as they have to sort the most important ideas while note-taking and hence remember more. At the last WWDC I attended, in a sea of Macs I was the one with a paper notebook. And I still have my notes from the 2007 iPhone introduction.
During the discussion she showed me an app she had just installed on her iPad: Nebo. This allows several types of input: handwriting, hand-written equations and other forms, which are then formatted properly in a typed format. I was impressed enough to download and noted that it was able to cope with my execrable handwriting and, with one or two minor errors (I was able to fix these by tidying up the input) produce clear, correctly typed output. There is an in-app purchase for the Pro version which exports PDF and other formats, but with the basic download I was able to export my content directly to Notes which suits me perfectly.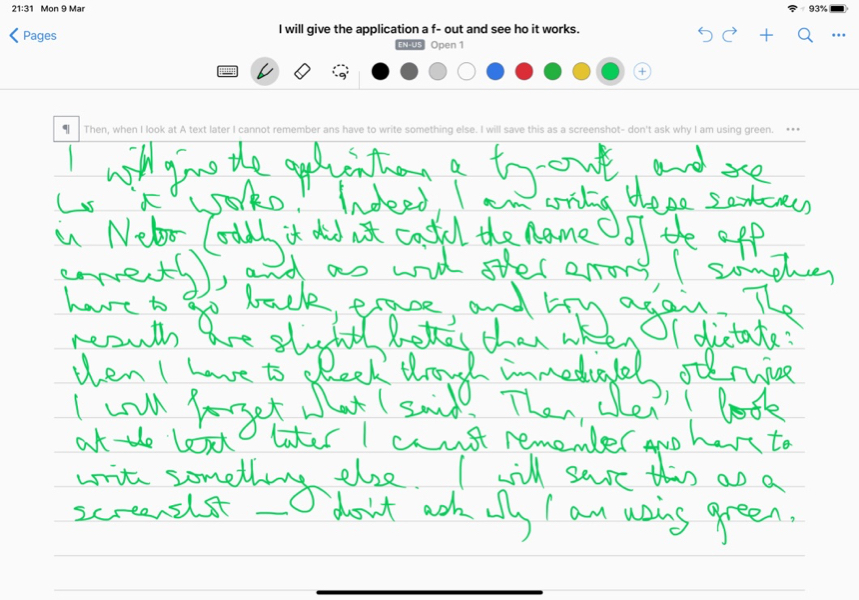 Nebo screenshot from iPad Pro

I said I would give the application a tryout to see how it works and I am writing these sentences in Nebo (oddly it did not catch the name of the app correctly), and as with other errors, I sometimes have to go back, erase, and try again. It is easier to catch some of the problems with the ticker-tape display of the text. The results are slightly better than when I dictate: then I have to check through immediately, otherwise I will forget what I said. Then, when I look at the text later I cannot remember and have to write something else. I will save this as a screenshot: don't ask why I am using green.
Graham K. Rogers teaches at the Faculty of Engineering, Mahidol University in Thailand. He wrote in the Bangkok Post, Database supplement on IT subjects. For the last seven years of Database he wrote a column on Apple and Macs. After 3 years writing a column in the Life supplement, he is now no longer associated with the Bangkok Post. He can be followed on Twitter (@extensions_th)