Friday Digression: Frustrations followed by Delight - M1 MacBook Pro in Bangkok
By Graham K. Rogers
---
Once ordered, the MacBook Pro seemed to take an age to be processed and shipped, although it did arrive before the due date. Setting up has been smooth in the main with a couple of matters unresolved before I will make it the main machine.

With my order for Apple's new MacBook Pro finally placed, my attention changed from the Online Store to the state of play with the order itself. I was also being updated by a local user who had bought a Mac mini online an hour our so before I made my purchase. I was expecting a slight delay partly because I thought the MacBook Pro would be in greater demand than the Mac mini here, but also because I had ordered mine with the optional 16GB RAM, which is the maximum for the M-series processors: at least for the time being.
Each time the Mac mini order changed, I monitored my order and within a few hours the MacBook Pro followed. That ended when the products were shipped as, according to information accessed from the Apple order page, the Mac was sent to Shanghai Airport and there it stayed. I envisioned it waiting at the end of their runway for takeoff permission to be given. The Mac mini was already here.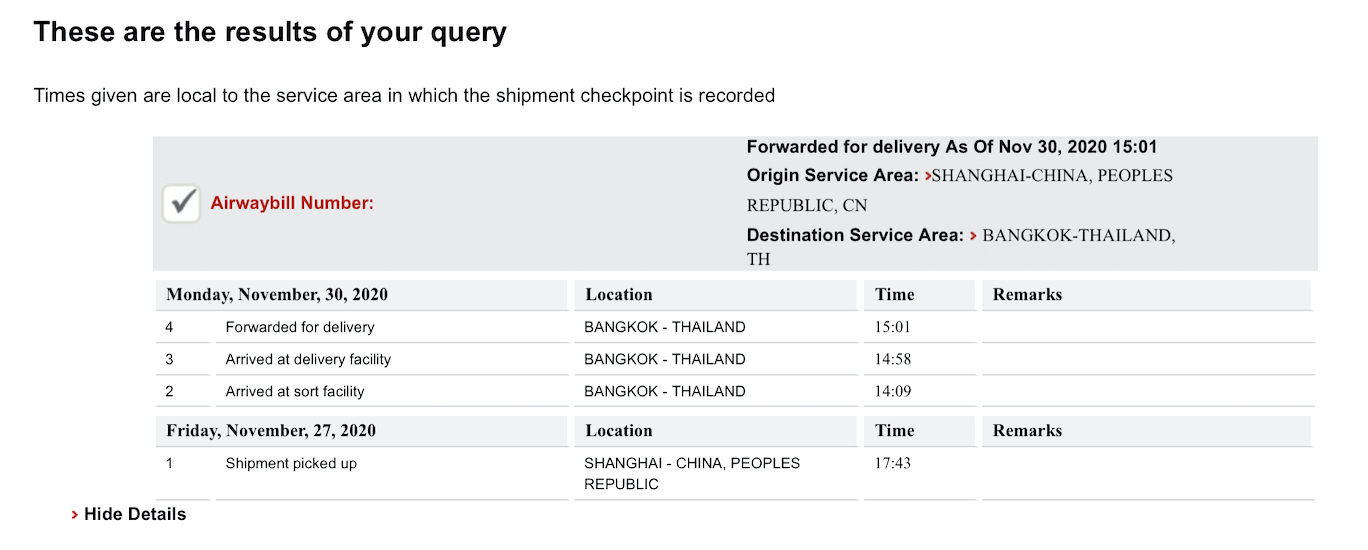 Whether it was a recalcitrant update process or slow information input, there was no movement from Friday evening (17:43) until Monday when there was a flurry of activity early afternoon when it arrived in Bangkok. There were no further updates, although the Mac mini was delivered on Tuesday afternoon to the delight of its new owner who told me that it already had Big Sur (11.01) installed. There had been some discussion on this and the possible need for an update before continuing with the process of adding data (e.g. Time Machine), but this now became a moot point (hoakley, Eclectic Light Company). Comments such as "Woohoo" appeared in the messages from the Mac mini owner.
I expect there have also been similar sounds in Japan as Mike Peterson (AppleInsider) reports that the new Mac mini "has propelled Apple to the number one spot in the Japanese desktop PC market" in its first two weeks. He adds, "Apple now has 27.1% of the market, increasing 14.4% percentage points in a single week." How will this relate to worldwide sales? I did see a picture on Wednesday of a pile of new Mac mini computers in their boxes waiting for deployment to a rack system. This type of installation is where the Mac mini has seen much quiet success in recent years.
Such an increase in sales would push Apple up those infernal league tables and Wall Street would be wringing its hands not knowing which way to turn. I was confident that what appeared to be the slow order processing and shipping indicated that sales were high. Despite the slowness, which was probably more a figment of my imagination in my keenness to have the MacBook Pro in my hands, it arrived well within Apple's promised timetable (1-4 December). Maybe I was lucky. Others who have ordered different configurations are now finding that delivery times have begun to fall back into January (Will Shanklin, AppleInsider).

On Wednesday morning (3 Dec) a note on my order page showed that the delivery was imminent, although the shipping information still showed that it was in the same place as Monday (15.01). Clearly these items of information were exclusive: this is not Schroedinger's Mac. On my way into Bangkok I turned round after picking up the laundry and headed back to work. The Mac arrived early afternoon. I opened the shipping box, but left the clear plastic alone. That would wait for the evening at home.
An email in Thai followed an hour our so later followed by a message in English. Both gave me the option to enter the Apple information pages, and both used my login details: on the iPad Pro (email) the page was Thai; but the iPhone logged me into English help about Products you've ordered (I hate the use of contractions in written sources like that). I hope, of course, I do not ever have to use this page.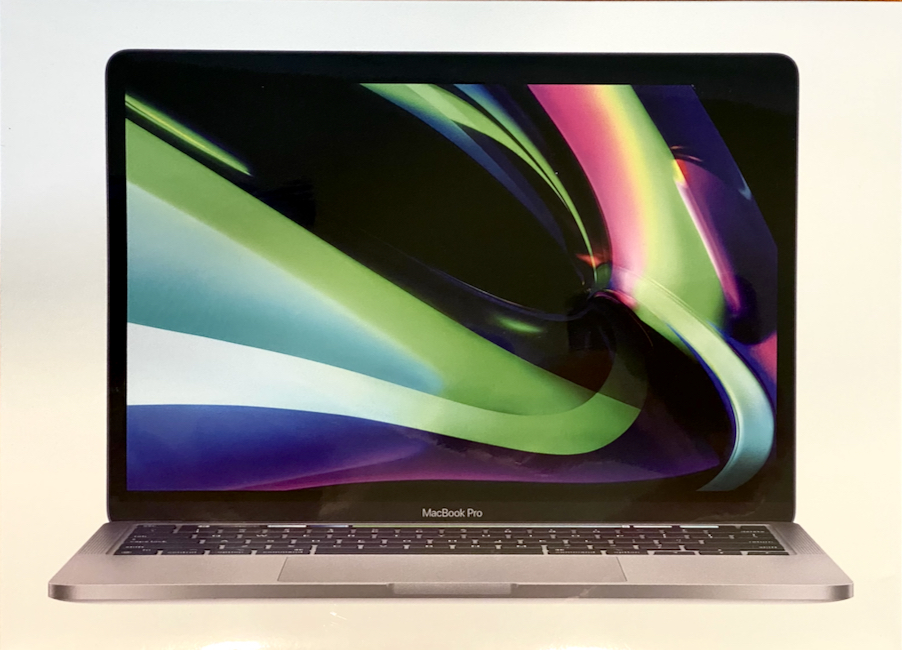 I had made several Time Machine backups in the previous few days. I normally run two disks at home with a spare at the office. I rotate these every couple of weeks, just in case the condo collapses. I took the spare disk home and ran a series of backups: the number one disks, the two spares, and then the number one again. As the 13" Intel MacBook Pro was already running 11.0.1 I did not expect any conflicts as I opened the box.
As well as the Mac there is a 61W charger concealed by a packet of leaflets about the Mac and regulations. All of these were in Thai. The standard two Apple stickers were also in the packet. A 2m USB-C to USB-C cable was included. Before starting the setup, I retrieved my WiFi password from its safe place then opened the Mac. As is usual here, the keys have Thai and English characters. When I started the installation I was asked to connect an AC power source.
I elected to set up from a Time Machine backup and selected the disk. I chose which data and accounts I wanted transferred. As there were two accounts I entered the password for the Admin account, but for the user account I was assigned a temporary password: a new wrinkle to the setup. A permanent password is typed in when the account is used. It is a good idea to write the password down clearly (a large G looked like a 6 when I wrote it down and I had to enter this again). Once the Admin password was entered the transfers began. The only thing that seemed slightly awry was the time which showed 0340 when it was 1840 in my home: either 15 hours behind or 9 ahead.
After a short while, the progress bar began to move. I just let the Mac do its thing, with the occasional glance. At one point I noted 72,000 files had been transferred at 65MB/s and there were 2 hours 24 minutes remaining. That speed and the time fluctuated and the final time for the transfer was just over 2 hours 30 minutes with drops to 46MB/s and lower. And then it was done.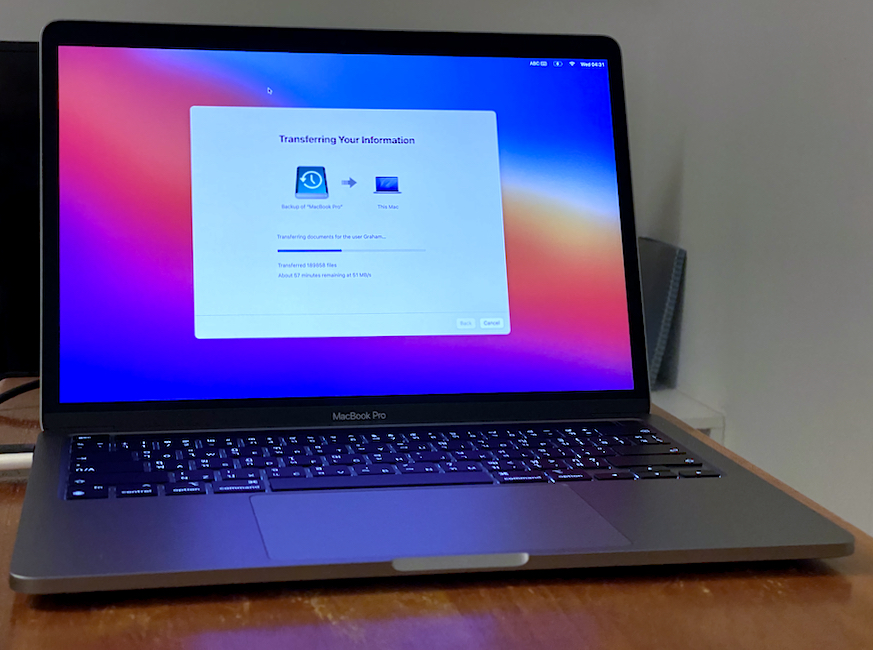 The computer restarted and did some tidying up. I was offered a login screen with the two accounts and went for the User account as this is where I normally work. After a slight delay with the temporary password, I was in. It all looked exactly the same as the other MacBook Pro. I did check, About this Mac to confirm the specifications (500GB SSD, 16GB memory) and had to enter two passwords to set up iCloud on the machine: both iCloud and User password (easy to be confused as the panels appear). I opened Photos and the process of importing images began. I left this to run overnight as there are a lot of images to transfer as well as other files in Documents and Desktop.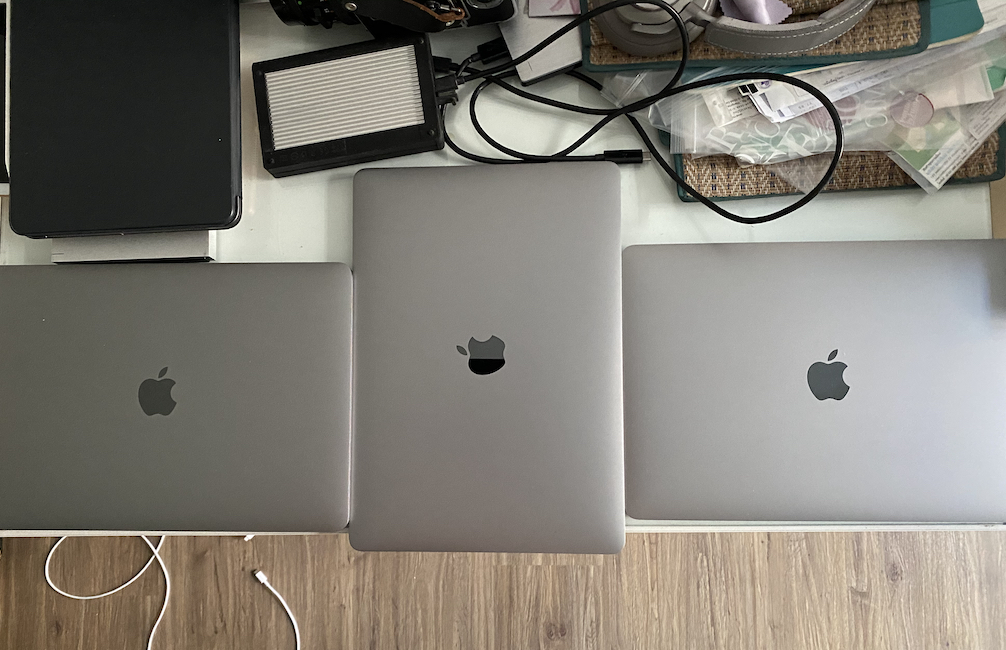 Working Macs: M1 MacBook Pro, MacBook Air, 13" MacBook Pro and other devices

Problem 1: Time Machine
Installing my data on the new Mac was a problem-free, if slightly long, process. Almost everything works as it should (see below) although I did have to download a few third-party apps. I took the opportunity to do a little weeding. There are still a few changes to make here, but that is nothing unusual when going from one computer to another.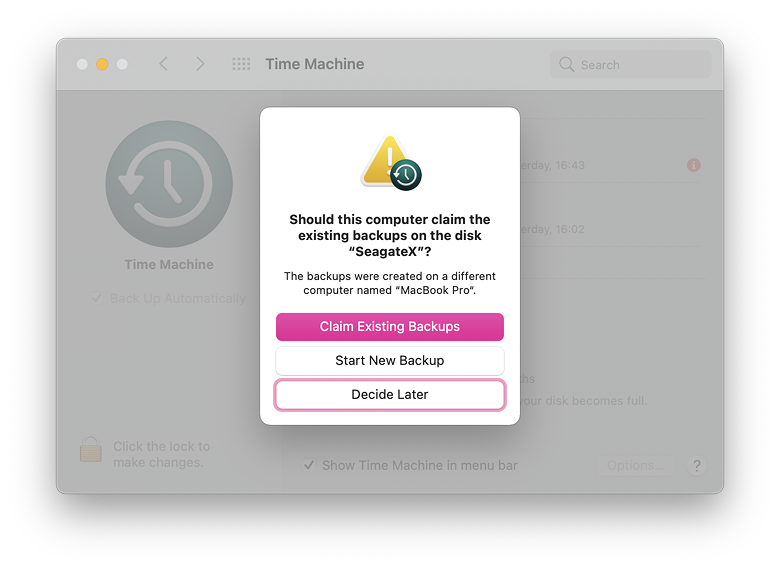 I did see a panel at the end of the time machine installation offering me choices about claiming the disk and using the existing backups on the new Mac. That appeared just as I unmounted that disk. I did press Decide Later, however. The next morning I put this to the test. With the disk attached, I opted to use the backups but nothing happened. I then tried the Start New Backup option, again with no result. The two other disks produced the same result although the first disk still backed up the older Mac.
I shall stick to Plan A, which I have used for other Macs. I will backup with one disk on the old Mac and erase another of the disks so that I can start backups on the new Mac. When I switch totally to the new Mac, I will erase the first disk, but keep the third disk in reserve for a couple of months in case I should need data from the older device. Eventually that will be erased too.

Problem 2: iPad Apps on the Mac
I found the ability to run iPad (or iOS apps) on the new Macs to be an exciting possibility but it has not worked out exactly as I wanted. My first choice was specifically Pixelmator Photo, partly because it behaves similarly to Aperture (long lamented). When I looked in the list of iOS and iPad apps in the MacApp Store and showed a list of those that I had bought, going back to 2008. That app was not there. A number of sources including Juli Clover (MacRumors) outline a way to install these using iMazing, or with another process that involves Terminal use to change permissions. I shall pass for now and hope that Pixelmator makes this available, or (better still) releases an optimized version that runs as a native app on Big Sur. I sent a comment to Pixelmator. Fingers are crossed.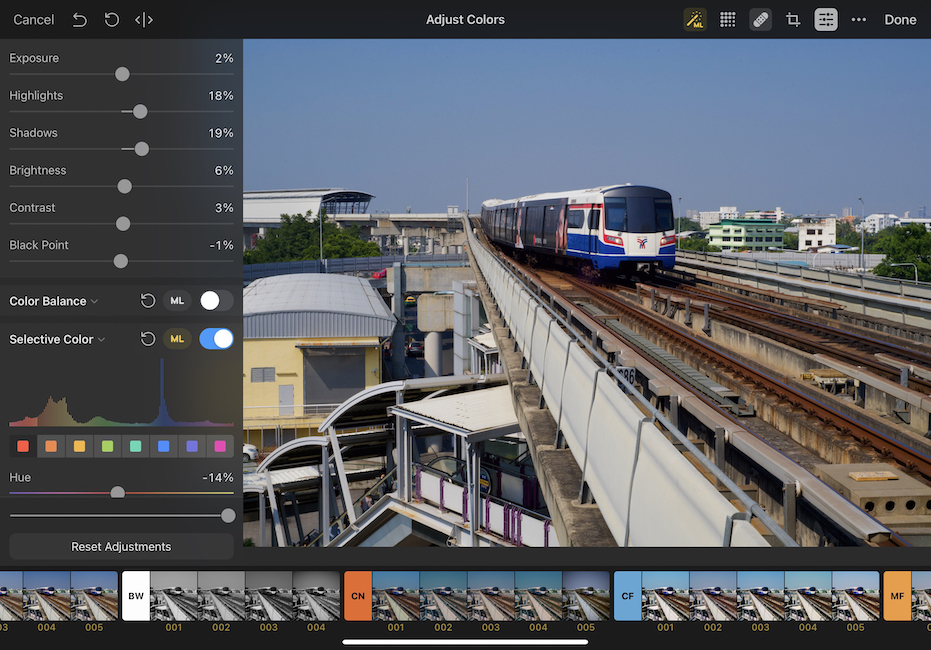 Pixelmator Photo on iPad Pro

Problem 3: Rosetta
This is not so much a problem as a solution I am yet to try. Most of the apps I use on a day to day basis are running fine. I have tried to start one or two but have been warned that I need to download Rosetta. That can wait until the weekend when fewer students will be asking for help online (mostly via email).

Late Note:
A memo suggests that another product is to arrive in the next week or so (Oliver Haslam, iMore), with some expecting the long-awaited Apple tracking device.
Graham K. Rogers teaches at the Faculty of Engineering, Mahidol University in Thailand. He wrote in the Bangkok Post, Database supplement on IT subjects. For the last seven years of Database he wrote a column on Apple and Macs. After 3 years writing a column in the Life supplement, he is now no longer associated with the Bangkok Post. He can be followed on Twitter (@extensions_th)