The KitKat Camera: A PR Exercise with Some Fun Implications
By Graham K. Rogers
---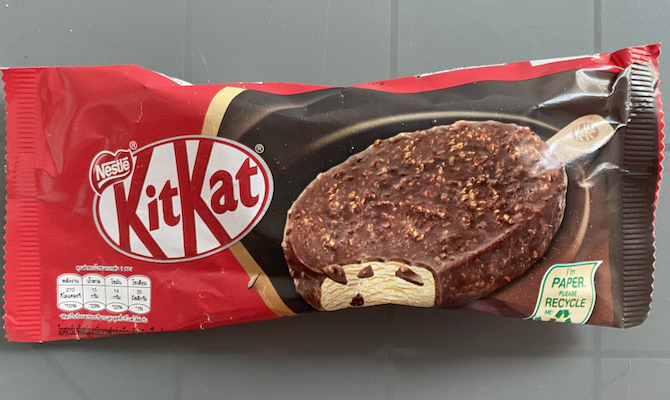 Other than eating the products, I have no connection with Nestl&eacute (Rowntrees, the original maker), Hershey, the Thai importer of KitKat, or 7/11. The reusable KitKat film camera is a fun PR exercise that should see some success and encourage people - young and old - to try film photography.

I have had an interest in photography years, although I was put off by amateurs who insisted on sharing their knowledge. On the other hand, a chance meeting in New York in the mid-1980s with the director of an Oscar-winning movie produced a low key chat from which I learned more about the medium in a couple of hours than from all those over-boring amateurs. I like digital cameras, including the iPhone which improves with each release, but in the last 5 years I have shifted to film. I shoot for myself. Like golfers with the hole-in-one, I am always looking for improvement.
Interest in film has grown in recent years, particularly among the young. Apart from Leica and a couple of specialist camera makers, with the end of the Nikon F6 few film cameras are now made. As a side-effect, prices of used cameras are creeping up. There are a number of cameras linked to Lomography film. Companies like Fuji and Ilford still make disposable and reusable cameras. I tried the Ilford Harman cameras in April this year with mixed results. Loaded with black & white film they are not intended for serious photographers (although, whatever comes to hand. . .), but results are reasonable. These, like the Fuji disposable cameras are aimed at younger people. The idea is enjoyment, but learning about film is a nice side effect.

A few months ago I read that KitKat were to make cameras available through 7/11 stores in Thailand, but when I asked then, no one knew anything. Fast forward to this week and I read on the Emulsive Twitter feed that these had been spotted in the wild. As I needed milk, I walked the short distance to my local 7/11 where after being offered KitKat t-shirts and hats, I managed to buy 2 of the 3 types of camera available for 396 baht each. The green tea one still eludes me.
Each camera comes pre-loaded with 35mm film: 12 frames. I am not totally sure of the source, but I have seen similar markings on Fuji film before. After shooting a test roll, I was surprised to find these cameras are reusable and put a roll of (Japan Camera Hunter) JCH 400 B&W film in. I will look at that later.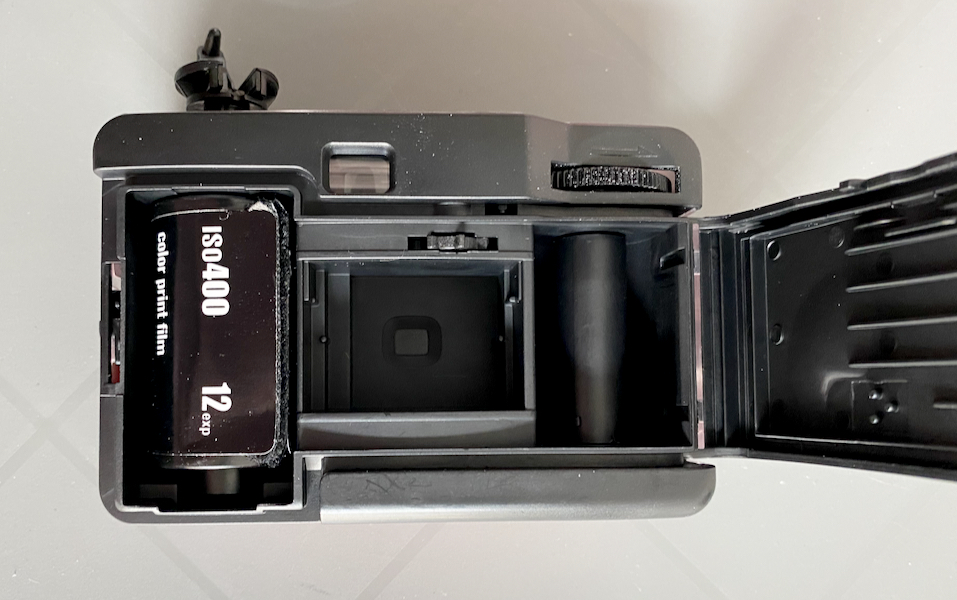 Inside the KitKat camera

A criticism of disposable cameras, like the 2 Ilford ones I tried, is that this adds plastic to the environment when some are trying desperately to reduce the amounts used. The KitKat camera comes in a cardboard box which has a plastic front, thrown away when the box is opened. I recycled the cardboard. The camera is in a plastic bag in the box: also jettisoned. In the box there is a 6-pack KitKat bar which can be disposed of suitably. Mine is in the fridge for now.
The KitKat camera in its plastic container

The camera is in a clear plastic container (with a carrying cord) from which it can be operated using some hefty external controls; or it may be removed. It then fits more easily in the hand. All instructions are in Thai and I wondered if that outer transparent container was waterproof or at least water resistant. I put it in the sink to see. Actually it floats. I held it under for about a minute and noted that no bubbles appeared. When I took the camera out of the water, I dried the outside then unlocked the container.
The KitKat camera without its plastic container

There was no evidence of water inside, on the camera itself or on the mechanism for taking pictures and winding on. This will be useful for those taking shots while swimming or in the bath (families with kids). With the monsoon season still running, it will also mean the camera could be used in a rainstorm although I am unsure who would be so masochistic to do this. The probable answer to that one is, teenagers: the target group for this device.

When the 12 shots were done: I just snapped away to finish the roll (5 are shown here)). I rewound the film onto the 35mm roll which shows it can be developed using CN16, C-41, or AP40 processing. I paid 396 baht each for these cameras which makes the device not only good value (especially with the included chocolate bar). As one of my colleagues commented on Facebook, this is also a useful gift: at least while while stocks last.

With the film out, a closer look at the construction indicated this camera was reusable which was supported by the film counter on top: S to 35. There is another character there, but the case shape made it difficult to read. The way the film is reloaded is identical to the Ilford Harman reusable camera, with a single tooth on the take up reel. Beneath the camera is a lock for the rewind mechanism. Film is returned to the film cartridge by a standard turning lever, which is also pulled out to allow the film cartridge to be removed from its slot.

After quickly taking the roll I had it developed in Soi Siam 2 where I usually go, and collected it an hour later. I wanted to scan it myself, but the shop does offer that service (and a disk option for digital images). I was not expecting high quality results, but the few shots I had were reasonable and with some editing I was able to bring out some of the latent colors. It is a pity there are no reds. The shots were taken on a dull day so I upped brightness and saturation.

A noticeable error with most of the shots was the curving of some vertical lines (and structures). This is probably due to the small lens used, although it may also be that some shots were taken inside the clear container. There was also some focus weakness: this is not as sharp as some of the lenses I have, but no one should expect this on such a light-hearted device. When I posted a couple of the examples to Twitter, I read the comment that the pics have that LOMO camera effect that the writer liked. That would be of appeal to younger users.


For such a low price (396 baht is just under $13) this PR-oriented camera from the makers of KitKat is a bargain in terms of its simplicity and ease of use. For me it is a cheap and easy way to introduce young people to film photography and I welcome this new kid on the block (however long it may be available).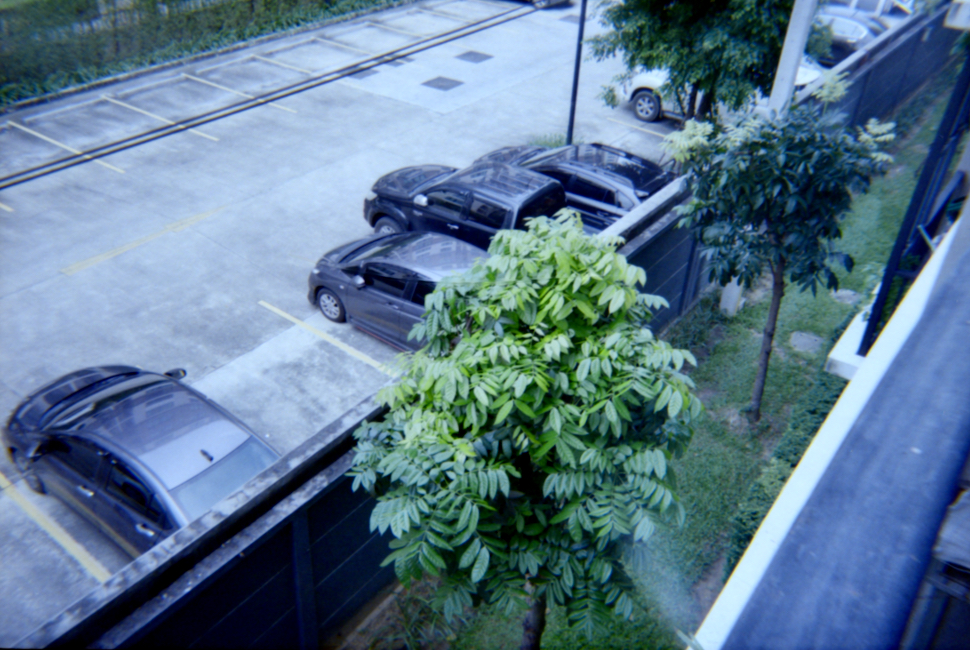 Graham K. Rogers teaches at the Faculty of Engineering, Mahidol University in Thailand. He wrote in the Bangkok Post, Database supplement on IT subjects. For the last seven years of Database he wrote a column on Apple and Macs. After 3 years writing a column in the Life supplement, he is now no longer associated with the Bangkok Post. He can be followed on Twitter (@extensions_th)