Sunday Notes: Apple TV+ Matures; Product Availability; Censorship by Algorithm (Updated - minor changes for clarity)
By Graham K. Rogers
---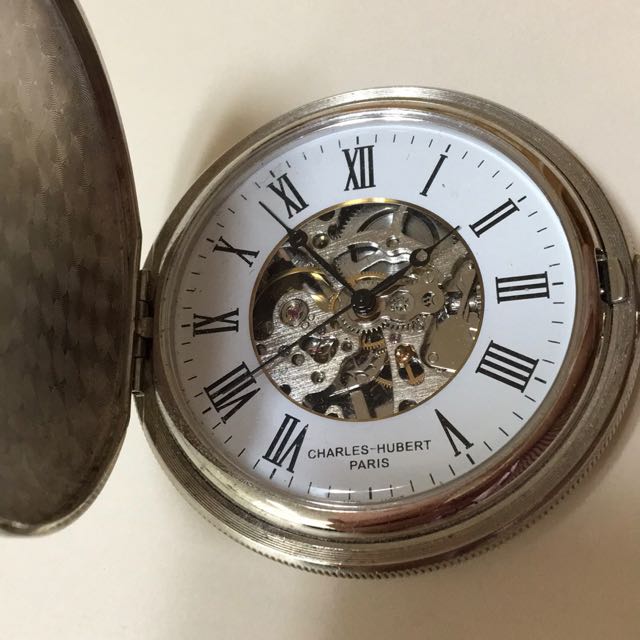 Recently announced products are starting to appear in the stores, with items available depending on the country. Online television services like Netflix are delivering excellent programming to subscribers and late starter Apple TV+ now has a good selection with much more on the way.

On Friday morning I saw that Twitter messages - particularly Mentions - had disappeared and I wondered if the Twitter feed had been turned off here with the public order situation. Looking through some international messages that began to appear later, it seemed I was not alone and this was a worldwide problem. Although I could now read more recent messages, when I tried to reply to one, that failed.
This was still being worked on as I saw in a Tweet from the Bangkok Post that had just been posted (around 0630): "Twitter was working Thursday evening to resolve a global outage of the social media platform used by hundreds of millions worldwide." It all came back later but the annoyance caused indicates how important Twitter is as a medium of communication: far better than Facebook.

Apple's decision to remove the charger and Earbuds from its latest iPhone box (although a Lightning to USB-C cable is still included) was not much of a surprise. Apple trims down over the years. In my office I had a collection of MacBook Pro boxes I acquired. As I bought each one, I put the box by in case it was wanted when I sold the Mac later. They never were and I added to the neat pile with other devices, like iPad boxes. In every case a box was smaller in some way from its predecessor. From memory, some software too trimmed down over the years as media moved from 5.2" floppies (MSDOS - before I used Macs) to optical disks and hefty manuals were replaced by online versions.
Samsung was quick to go back to its juvenile approach by mocking the decision. We may remember how the Korean company and much of the tech press also ridiculed Apple over the decision to remove the 3.5mm headphone jack, yet when Samsung followed suite a few months later there was silence. I was disappointed that Apple has still not switched to the USB-C port for iPhones. Indeed, Samsung, with certain Galaxy models is way ahead there. When Apple does make this switch, I expect Samsung will release a "better late than never" advertising campaign.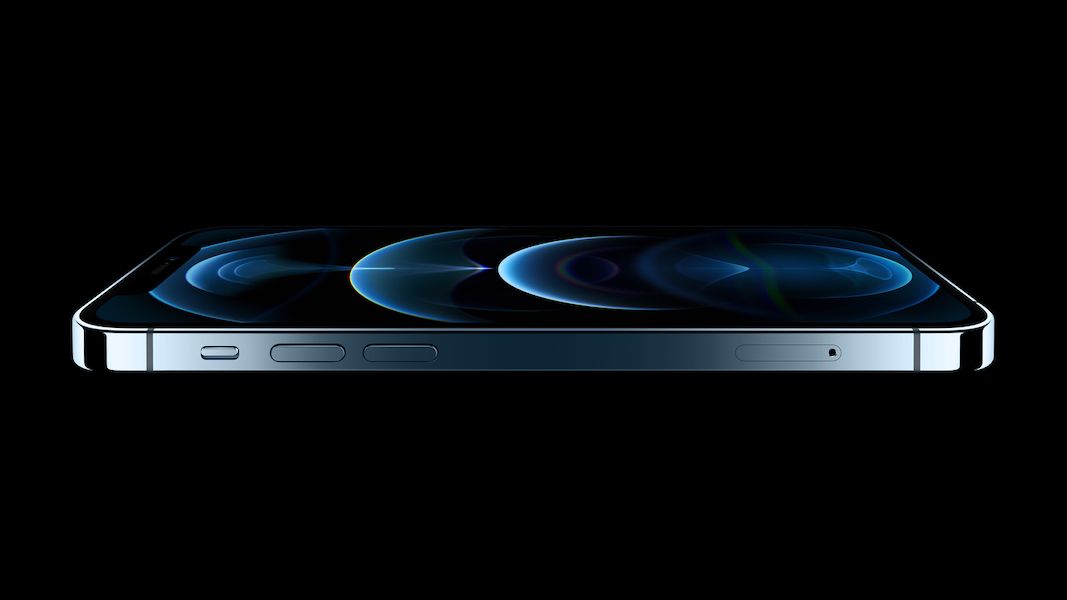 Apple iPhone 12 Pro in Pacific Blue - Image courtesy of Apple

According to reports, orders for the iPhone 12 are already exceeding carrier allocations. I do not expect the iPhone 12 to be here for a while and have no plans to buy one for my own use. What I am more interested in is the release of Apple Silicon Macs, which have been predicted for mid-November. Some sources online are suggesting Tuesday 17th for a special video event to announce the product, whatever it may be: basic MacBook or MacBook Pro. Both have been put forward in rumours. The iPad Air is available here for delivery around the end of this month, but not (as yet) for online pickup. The new iPhone is not listed in the Apple online store, although it is featured on the Apple web pages for Thailand (in Thai).
The Apple Watch has been available in the online store here for a while, but with a delivery date of 6-8 weeks. However, I did notice that the Pickup in store option is now showing "Today" from IconSiam. Central World is also shown (Icon Siam is closer to my location), but I think that might be a little risky currently. Earlier this week there were thousands of protesters and opposing police just outside the Store that had the lights full on. Comments online expressed concern for the amount of glass and suggested Apple would be worried. These protesters are not interested in damaging property.
If you have not been watching Apple TV+ there are now quite a few good series and movies, with more to come. One of the oddest, and a runaway hit, especially among Americans trying to understand Brits, is Ted Lasso: an American football coach is hired as manager of a British soccer team with some interesting cross-cultural results. Running now, with updates every Friday, is Long Way Up, another of Ewan McGregor's motorcycle safaris, this time from the southern tip of South America up to Los Angeles. A surprise for me - actually two surprises - was the use of electric vehicles.
McGregor and Charley Boorman are riding what are little more than prototype Harley-Davidson electric motorcycles. Once the cold (this is found to affect the battery charge) is done with, these perform surprisingly well and all credit to HD (and the riders) for this accomplishment. To add to this, the support team are using a pair of Rivian trucks which, similarly, are almost in the prototype stage: both these trucks and the bikes were still being built at the start.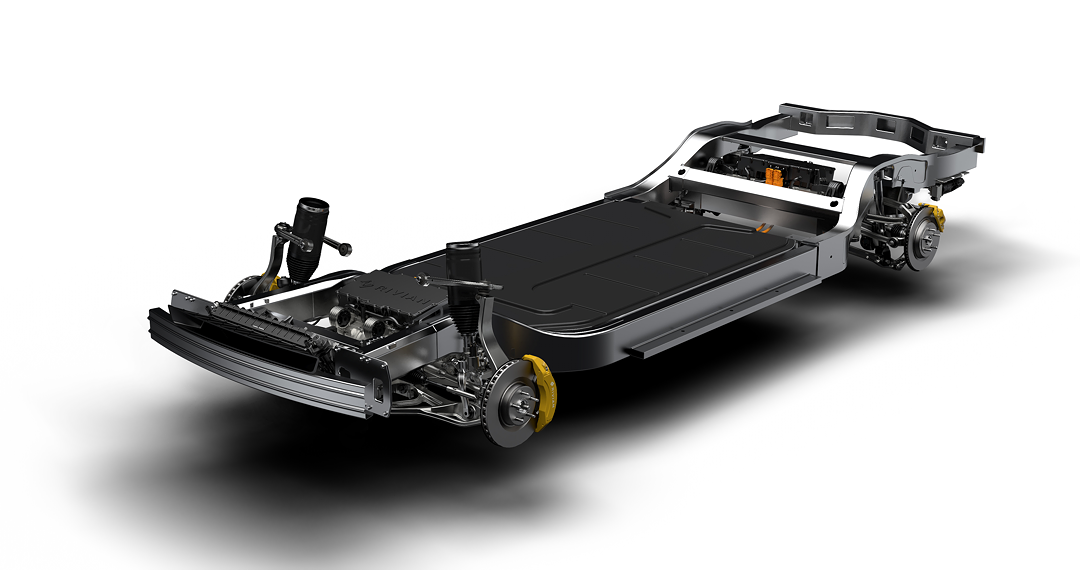 Rivian chassis - Image courtesy of Rivian
Because so much is at stake for the companies, they are providing backup and technical advice. In the latest episode Rivian have come up with a way to fast charge the bikes (2 hours) from the trucks: the technology is getting there. As well as riding through magnificent landscapes (and falling off once or twice). There have been a number of side trips and in the most recent episode visited Machu Pichu (train, bus and foot) and the Nasca Lines (small plane).
I see that one of the Rivian sites is in Normal Illinois where I studied in the mid-1980s. At that time, Chrysler and Mitsubishi built a factory there which later shut down. Maybe that is now being used again. Oddly, neither the Rivian nor the Harley-Davidson site has any prominent information about this long trip. Perhaps there is an embargo until the series has ended. Maybe it all went wrong. . . .
Fireball - Image courtesy of Apple
As well as picking up series like this, Apple has also bought in some movies, such as Greyhound and The Banker, with Asimov's Foundation arriving next year. They also have a documentary by Werner Herzog and Clive Oppenheimer coming soon: Fireball which "explores the cultural and physical influence that meteors, comets, and deep impacts have had on earth in regard to mythology, religion, and human imagination" (Juli Clover, Mac Rumors). A trailer is available on YouTube. AppleTV+ is beginning to fill up now.

On a related note, Netflix is also backing a number of interesting projects as well as buying in some series that might not otherwise be available. I have been watching several north European programs and recently saw a series on a dystopian society from Spain created when the population was damaged by a widespread illness: The Barrier. Series 2 has just dropped.
One of my favourites has been Bordertown, a Finnish series with a detective who has unusual analytical capabilities. In the last few days I have been watching a Russian series made in 2019 which follows a groups of people after a country-wide virus outbreak similar to COVID-19, but predating it: To the Lake. There is much potential here with the ways characters act and misinterpret. It was well-filmed and acted although a couple of characters are annoying. The ending demands a second series. A callout too for The Trial of the Chicago 7 which I watched this weekend. There is some good television available right now.

I was sad to see that, despite several enthusiastic comments from online photography sites, Nikon has now discontinued its F6: a film camera that was (until now) still on sale. With the popularity of film growing, this was a slight surprise, but it is a fairly large device, unlike the revered FM2 and others like the Rollei 35. If only devices like this were reintroduced. One of my students buys and sells 35mm cameras and does quite well with this, while the used camera shops in Bangkok are also quite busy, despite the high prices. There are sites that specialize in cameras and I bought my first Hasselblad using a local online mart. Since then I have also bought used cameras from Amazon (acting as middleman) and eBay where prices are drifting higher and higher as film increases in popularity still.

We have heard of ridiculous results from over-enthusiastic profanity filters in the past, such as breast (when searching for breast cancer information), while not long ago a local user was prevented by Apple from using Phuket as part of his username. I guess the algorithm is not tuned for pronunciation as this sounds nothing like the F word that Apple thought it was substituting. This week Mark Frauenfelder (Boing Boing) reports on an online conference for paleontology that was not allowing the word, Bone. Maybe we need to start hiring computer experts who are old than 15.
Graham K. Rogers teaches at the Faculty of Engineering, Mahidol University in Thailand. He wrote in the Bangkok Post, Database supplement on IT subjects. For the last seven years of Database he wrote a column on Apple and Macs. After 3 years writing a column in the Life supplement, he is now no longer associated with the Bangkok Post. He can be followed on Twitter (@extensions_th)