Cassandra - Tamron SP 35mm f/1.4 Di USD lens: Impressive Glass from Japan
By Graham K. Rogers
---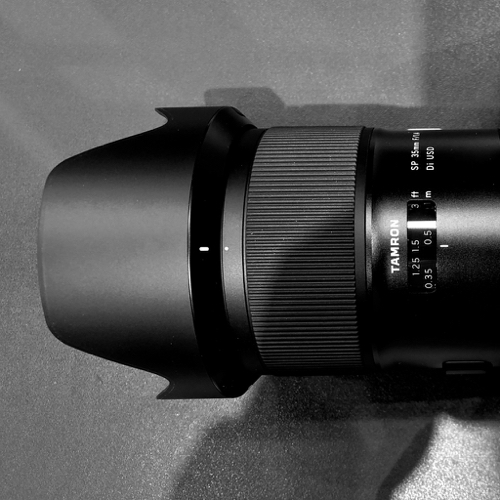 Tamron recently released a 35mm f/1.4 lens with the designation SP - Superior Performance. They call this the ultimate Tamron lens ever made. I was able to buy the lens in central Bangkok and have been impressed with its performance in the few days it has been in my hands.

Once in a while I am so impressed with the online specifications of a product that I have to look in much greater depth. It happened recently with a Bronica camera I saw on eBay that I ended up buying, and at the end of last week, an early morning look at articles on Shutterbug showed me some lens temptation when I saw at an excellent review of a new Tamron SP 35mm f/1.4 lens (Jon Sienkiewicz, Shutterbug).
I have been thinking of this type of lens for a while. I have a 35mm lens on my Mamiya (35mm) camera and like the results. It would fit nicely between the 24mm lens and my 50mm daily, go-to lens. Tamron designates this 40th anniversary lens SP, for Superior Performance. With its Broad-Band Anti-Reflection Coating (BBAR-G2) and a newly-developed Ultrasonic Silent Drive (USD) motor for ease of focus, this lens has a lot going for it even before considering the glass inside.
At a price (in the review) of $899 (27,455.46 baht) it sounded accessible. I found a review in Thai of the same lens, so it is available here, but the price was a disturbing 36,900 baht (Fotofaka). Taking the US price and adding 7% for VAT gives a figure of 29,377 baht so there is a missing 7,523 baht which is a lot of money on a lens for which the retail price already has a built in profit. I needed to look in the shops to see if the lens was available and at the street price (Lazada do not list this).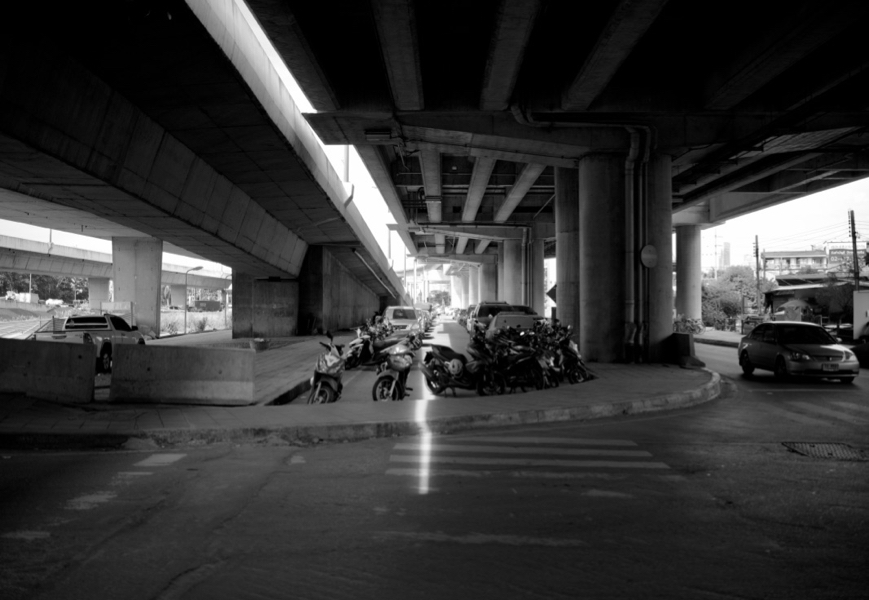 Pricing here is often higher than in the west, even accepting that the devices I want are imported and taxes are levied. Apple does well in this respect: when currency fluctuations and VAT are included, the cost of an item here is close (usually within a couple of hundred baht) to the base USA price. Camera equipment and other high end electronic items do not compare so well.
In September 2016 I wrote about buying some Bluetooth headphones. I first looked at some excellent wireless headphones from Bowers and Wilkins that performed well with the iPhone. When I converted the US price of $399 into baht and added 7% for VAT, this gave me 14,450 baht, but I was horrified to find the price for these in central Bangkok was 23,800 baht. I carefully backed out of the door. I later bought the Beoplay H7 headphones at a fairer price of 18,990 baht which have worked well since. They needed a battery unit replacement after a couple of years, but that was done at a reasonable cost by B&O in Amarin Plaza.
Photography is a luxury so there are always some hidden charges; and almost everything in this area is imported, so that adds to the ticket price, but higher prices also adhere to the used market too. The excuse, suggested on social media, was that the rents for city-center locations added a cost, but camera shops I know near Chinatown have similar prices. It is sometimes cheaper to buy on eBay and pay the shipping.
Lens hood with locking button and lens detail

I went into Big Camera in Siam Paragon where the previous version of the Tamron 35mm lens (f/1.8) was on display. I showed one of the sales persons the Thai article on the iPhone. After a quick look round the back it was confirmed that they had the lens, and at a price of 29,990 baht which was much better. As I was not carrying the Nikon I said I would be back for a close look the next day, the salesman's day off, of course. We talked to another staff member and arranged for a Saturday look. She then said there was a special price of 28,500 baht which is lower than the official USA retail price plus VAT.
A note here on Big Camera: although this is a chain, the staff in the Siam Paragon store have always been helpful. They are fairly knowledgeable and display an interest in some of the devices I take in, for example when buying lens filters for recently-arrived film cameras. I have no connection with the company apart from being a customer.
Tamron SP 35mm f/1.4 lens - Fore and aft

I put the Nikon in my bag on Saturday with the 50mm lens I normally carry: a catch-all lens, which was cheap when I first bought it. It is now around half the original price. I found that out when I dropped a film camera in a local river. The lens was attached so I bought a replacement. I prefer it to the heavier 24mm lens which is more suited to landscape photography and introduces perspective problems in the city: less of an issue with the 50mm lens, which is also better for shots of people.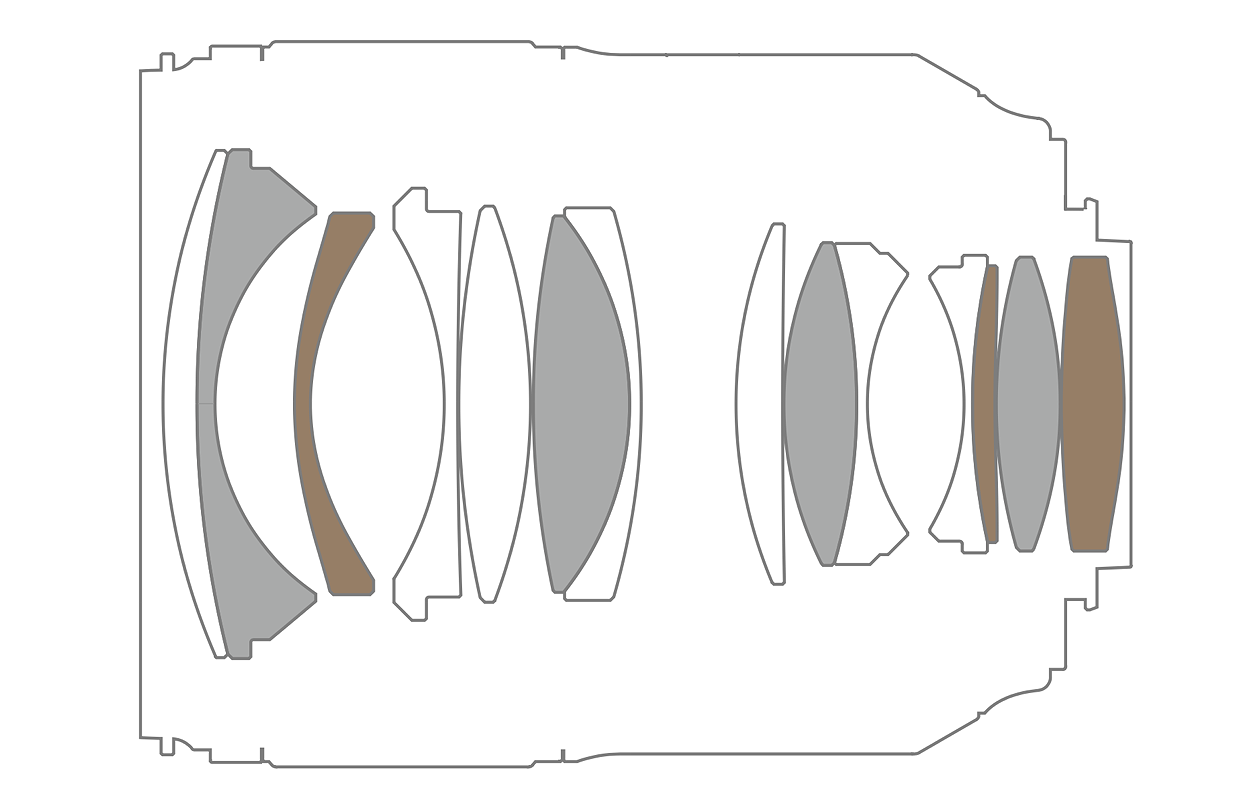 14 elements in 10 groups - Image from Tamron site

I tried the Tamron lens in the shop and immediately noticed the difference in weight. With 14 elements (in 10 groups), that is a lot of glass. As Jon Sienkiewicz wrote, this is why the performance is so good. At 803 gms it feels almost as heavy as my Sigma 100-400 telephoto lens (1160 gms) although my original perception, when changing from the 50mm lens may have heightened this sense. I normally set aperture priority at 5 or 5.6, although the Sigma will change that to a higher figure when attached. With the Tamron lens, I set aperture to f/1.4 to see how it performed.
Initial closeup shots with Tamron 35mm lens at f/1.4

The camera shop has some models set up for customers to try out closeups and - pushing the lens again - I went as close as possible (0.3m) but with the settings (at f/1.4) found depth of field affected. Initially inside the shopping mall, the output was slightly dark and white balance was affected by the lighting. This was nothing that could not be fixed quickly in editing. These images clearly showed the rounded bokeh mentioned by Sienkiewicz.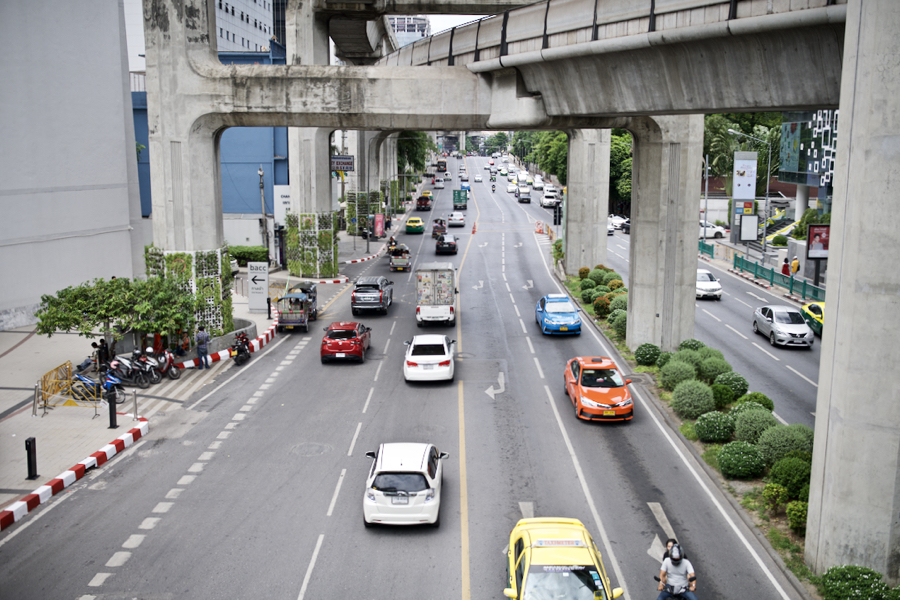 Street view with Tamron 35mm lens at f/1.4

Outside, although it was a little overcast, color was good and the images were sharp. The more photographs I took the more the sharpness was evident and definition was still quite good when an image was enlarged by 400% on the MacBook Pro I use. In a city center art gallery that I visit often, lighting was a little better than in parts of the mall, but with aperture still at f/1.4 (I kept it like this deliberately for a couple of days), white balance and exposure still needed some tweaking.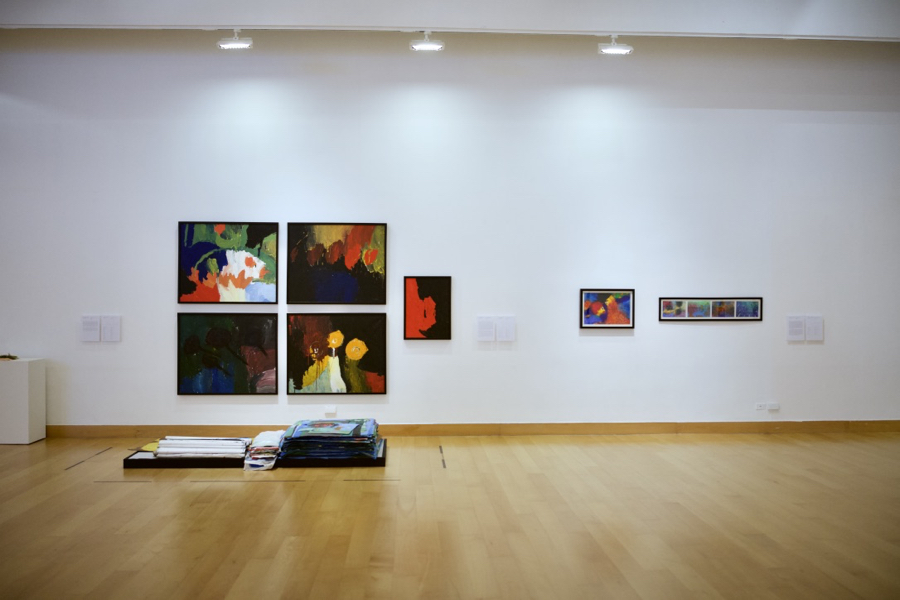 Photo at BACC, Bangkok - Tamron 35mm lens at f/1.4

I went back a couple of days later and with higher aperture settings (as expected) the DoF was much improved. I also accidentally discovered the auto/manual button on the side of the lens. As I am left-handed I must have touched this (perhaps when removing it from my bag) and wondered why focusing did not work. I tried the lens with aperture of f/5-f/5.6 (my normal street setting), f/6.3, and also f/11, just to have an idea of input.
Closeup shots with Tamron 35mm lens at f/11

The maximum aperture permitted with this lens on my Nikon D850 was 16, but that still allowed photographs in the fading light after sunset here: the so-called blue hour lasts for about 15 minutes on a good day. I also went back to the camera shop and tried closeups of the models again. As expected, depth of field was much improved.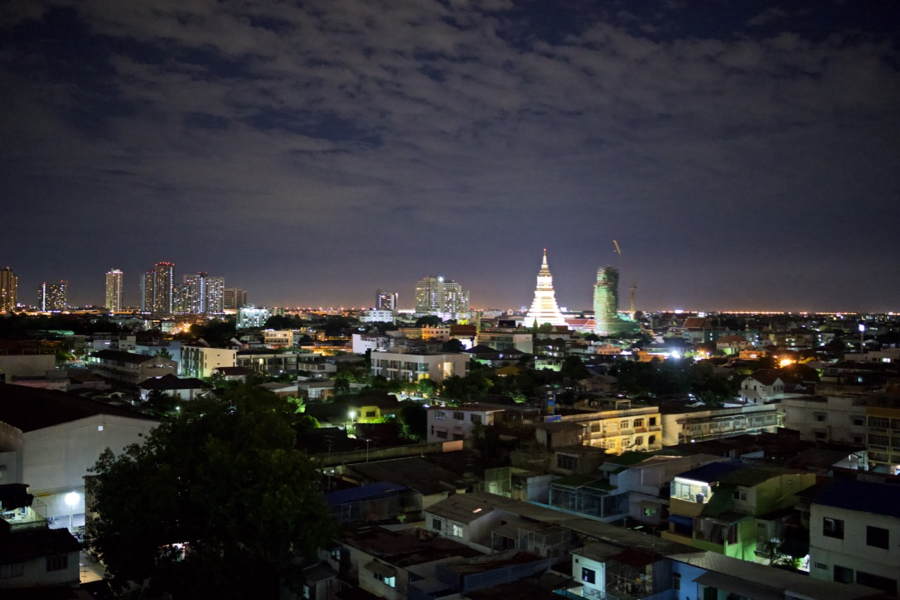 Evening view, Bangkok - Tamron 35mm lens at f/1.4

Other experiments included night time shots (f/1.4) which were unlike anything I had ever managed with the 50mm (f/1.8) Nikkor lens I use most. Sienkiewicz has a rather good explanation of how much difference the few decimal points make with some clear mathematics set out in a table: "the area of the aperture opening of an f/1.4 35mm lens is 490.87 mm2 compared to the area of the aperture opening of a 35mm f/1.8 which is 296.95 square millimeters." That article, which is a must-read for anyone who has got this far, has much useful technical information which certainly helped me make my decision to buy once I had sorted the pricing out.
While buying I was told that the normal warranty was 12 months, but was offered a year extension. This is normal (Apple offers its 2 year AppleCare extension); but the Sienkiewicz article shows that the warranty in the USA is 6 years.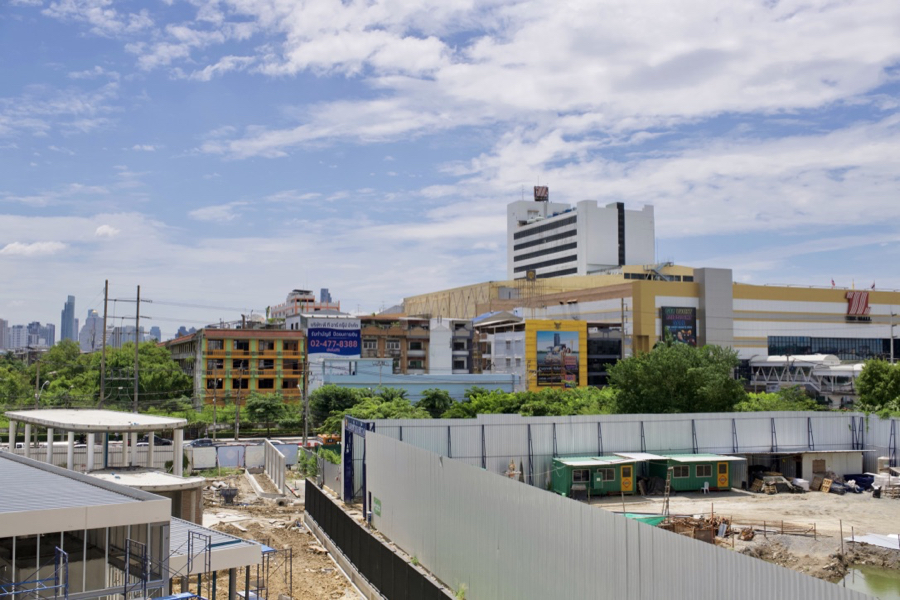 Street view with Tamron 35mm lens at f/6.3

With only a few days of trial and error and I am not going to pretend this is anything more than a brief look at this new Tamron lens. The article from Jon Sienkiewicz which put me on to the lens was well written in terms of clarity (getting the message across) and its technical content. It is clear, both in the feel of the lens, its weight, and the output I was able to produce from the moment I attached it to my Nikon D850, that this is a superb lens and a good long term investment.
Graham K. Rogers teaches at the Faculty of Engineering, Mahidol University in Thailand. He wrote in the Bangkok Post, Database supplement on IT subjects. For the last seven years of Database he wrote a column on Apple and Macs. After 3 years writing a column in the Life supplement, he is now no longer associated with the Bangkok Post. He can be followed on Twitter (@extensions_th)