Cassandra - Midweek Review: The Machine Never Stops
By Graham K. Rogers
---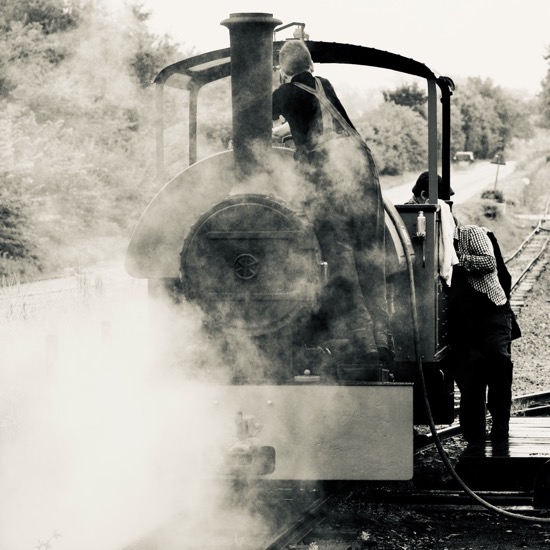 All things must change and in technology there is a daily update of devices, applications and ideas. Some are not always for the better and the user experience may be affected negatively. Companies and developers need to consider if the evolution they want is in the customer's interests.

I remember when Apple changed the headphone jack on the iPhone and removed the 3.5mm port. The outrage that came forth - much from the technical press before the official announcement - was unusual in its strength. Despite the several good reasons for the change, there would always be some who were dissatisfied, although it looked to me as if most was manufactured outrage. When the iPhone went on sale with its Lightning to 3.5mm adapter (free) there was little anger from users and sales of the iPhone were quite high. We have moved on and I rarely need the 3.5mm connection these days unless I am using older equipment at work.
And so it has always gone: from the SCSI cables, connectors and disks of my first Macs, through Firewire 400 and 800, the loss of Ethernet and other changes, the world has not stopped. Technology evolves and to produce the best out of our devices, we need to accept that the specifications will change. Often Apple has helped users with adapters, or delays in full implementation, such as the switch from PowerPC to Intel chips; and before that, the dual-boot systems with System 9 and OS X. Soon, some of my current applications will become redundant with the next update to macOS, but I (and the developers) have known about this for a couple of years.
There are some changes which appear a little unfair to the user. Last week it was reported that Canon had released its new entry-level cameras with a flash shoe that did not include an essential third pin (Michael Zhang, PetaPixel). This can be seen in the images with the PetaPixel article and on the image (below) of my Nikon. That center pin is essential for 3rd party flash units. The result is that only more expensive Canon flash units can be used with the camera. This did not go down well, even if the cameras are not top of the range.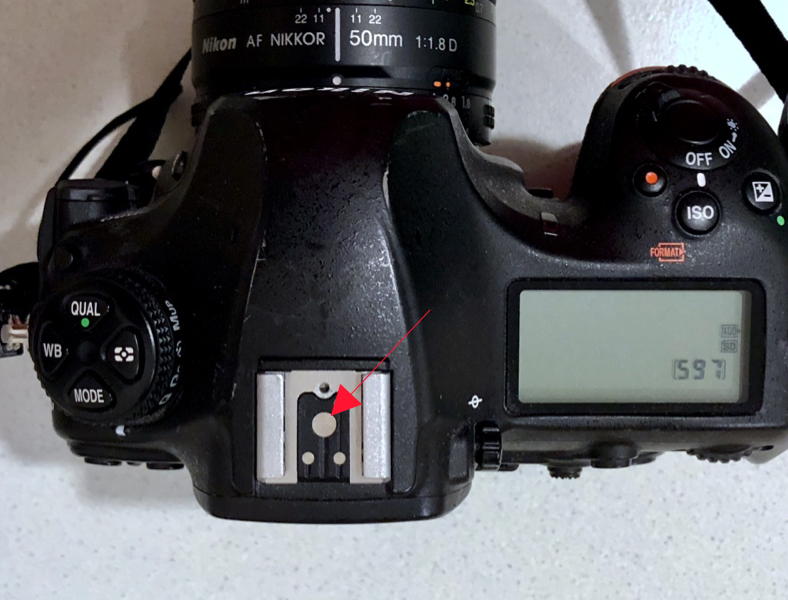 Nikon D850 - Showing Middle Flash Pin

A couple of days later it was announced that Godox had released a firmware update that allows their flash units to operate even when that all-important pin is missing (Michael Zhang, PetaPixel).

While we are on cameras, I have several film cameras and enjoy the slower pace of working with them. A couple of years ago, it looked as if some film sources were drying up, but Ilford has continued to do well since its staff buyout in 2005 and they produce several types and formats of film. Kodak almost died, but sold its massive collection of patents and the imaging section was bought by the UK pension plan, with some older films now being produced.
Last week I heard of a completely new ISO 80 black and white medium format film from CatLABS in the USA. I have done rather well with Ilford ISO 50 film in the bright sunlight here, so ordered 10 rolls which arrived at the beginning of this week. I will certainly try with one of my Hasselblad cameras, and also with the Agfa Record III that has 6x9 output.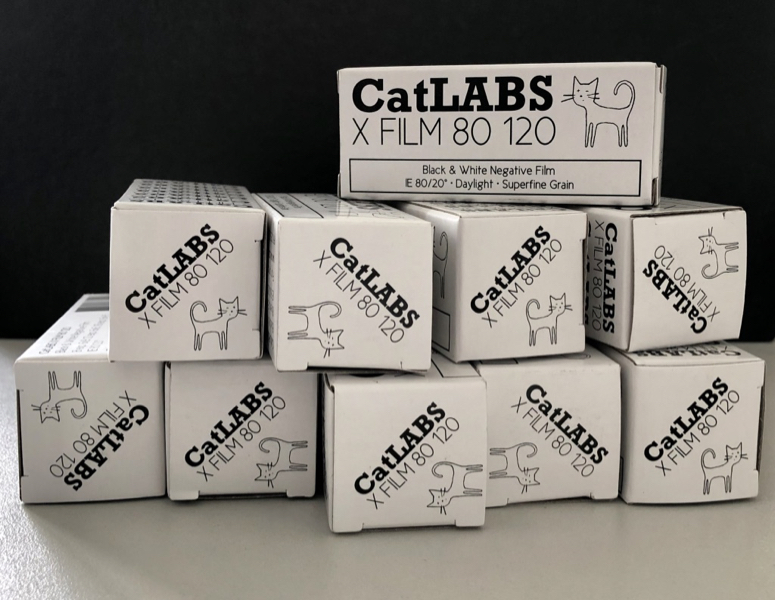 Slightly related is the news earlier that Adobe is to increase its subscription rates for its online service from $10 to $20 - 100%. Double is a bad figure for public relations. Other providers of suitable software are seizing the opportunity and I had email from Skylum whose Luminar 3 that catalogues images I already have, and from ON1 who develop ON1 Photo RAW. Both are making hay while the sun shines: good luck to both.
Potential substitutes for Adobe?

Just when Apple has sort of finished with QUALCOMM another legal problem (apart from a couple of class action lawsuits bubbling in the background) has appeared after Spotify complained to the EU about unfair competition (Christian Zibreg, iDownloadBlog). Several sources carried the story. Just saying the words, "unfair competition" or "monopoly" is enough to activate the EU's commissioner and a costly investigation is bound to follow.
The substance of the complaint is that Spotify claim that Apple's music streaming service gives Apple an unfair advantage. In an early rebuttal Apple made a comment that Spotify was happy enough to use the app store to build its own business without making any contribution to the business. But there is an interesting back story here that I had seen aired a while back concerning royalties: how the artists are paid when we download or listen to their music. Lizzie Plaugic on The Verge wrote about this a couple of years back and the low payments are quite disturbing, for a company with over €6 billion in revenue. Mind you, on that income and with around 250 million subscribers, it expects to make a loss of around €300 million, which may be why it wants to have Apple investigated. This is what one of my Chicago friends called "chicken in the barrel syndrome": if one gets to the top, the others pull it back down.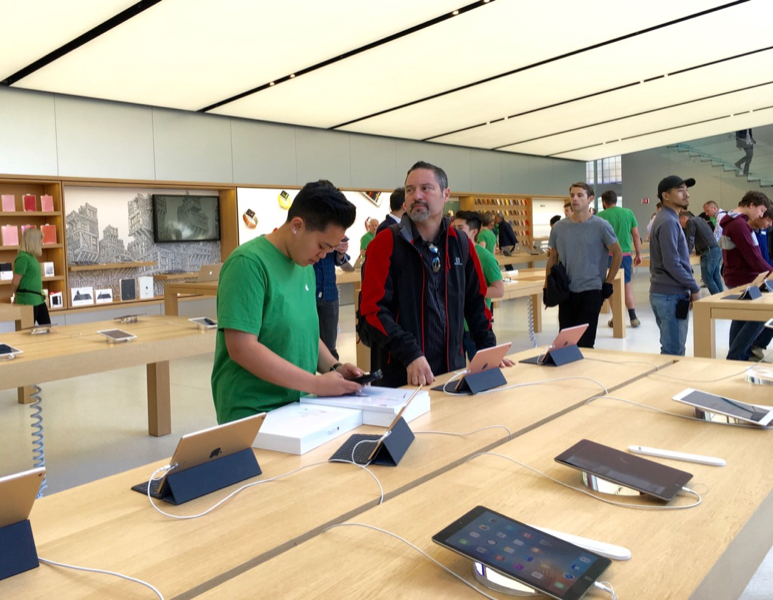 Apple Store, Union Square San Francisco - June 2016

There has been some criticism about the way the Apple Stores have changed, particularly with the customer experience. It was reported in several sources that visiting an Apple Store has become a bland experience according to frustrated employees, and that staff are no longer as driven as they had been. My experience is limited to a couple of stores in the UK and San Francisco - the old store which was vibrant and the new Union Square store which I found nicely set out and a little low key. I did not find that a negative. The Regent Street store in London is in a major tourist area so is always busy. I found the staff there helpful.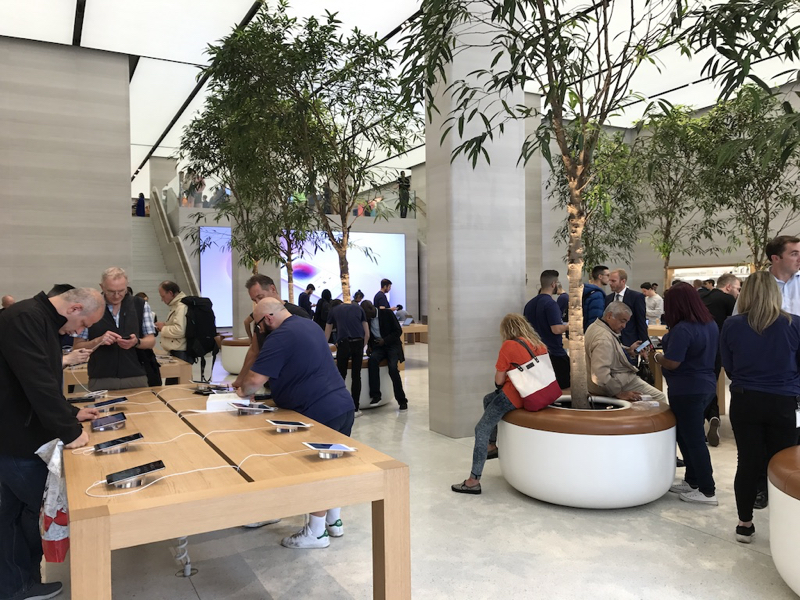 Apple Store, Regent Street, London - July 2017

It was the same in the tiny Milton Keynes store which is long overdue for a move to larger premises. And then there is the Bangkok store on the banks of the river which is impressive and on my one visit a few days after its opening was full of people whom I would not expect to see in an Apple Store. A photograph of this almost-empty store (pre-opening?) is in the report from Mitchell Broussard (MacRumors) which strikes me as a little strange and not really representative of Apple Stores generally. I have used some of my own photographs instead taken using film.
Apple Store, Icon Siam

I did pick up on a Tweet later that suggested the whole Store division became flooded by fashion-oriented people, and if this is the case would explain why the retail outlets seem to have lost the plot. Apple is not Burberry and the solution may have been worse than the problem. The original Marc Gurman/Matthew Townsend article is available online. Neither Angela Ahrendts nor her replacement Deirdre O'Brien were available for comment.
It was somewhat coincidental that a day before this appeared, I had read an article about Angela Ahrendts by Malcolm Owen on AppleInsider in which she outlines the lessons she had learned from being with Apple:
On the three takeaways she has from leaving Apple, Ahrendts' first was "never forget where you come from," bringing up comments from other employees mentioning the late Steve Jobs. Rather than dismissing it, Ahrendts decided "Let's codify that. Let's protect that."
In the end though, maybe fashion and Apple Stores are not the best mix. If it ain't broke, don't fix it.

While we are not fans of Samsung, there A10 had some excellent reviews concerning its photo capabilities. Unfortunately, the $1980 Fold, like the exploding batteries a couple of years ago, has done much to harm the reputation of the company. While Samsung gathered up all the review devices, apparently to investigate the problems with the display that should have been discovered before they distributed them to the technical press, there were a lot of pre-orders from hopeful customers. Malcolm Owen (AppleInsider) reports that there is considerable doubt when - or even if - those orders will be filled. Samsung has warned some customers that their orders may be cancelled if they have not been shipped by 31 May.
Indicating the importance of business development to Apple, there were several reports today of the closer tie-up between Cupertino and SAP, including the article from Mike Wuerthele (AppleInsider). At the core of this expanded relationship are machine learning and CoreML. There are expected to be 9 applications released initially, with more planned.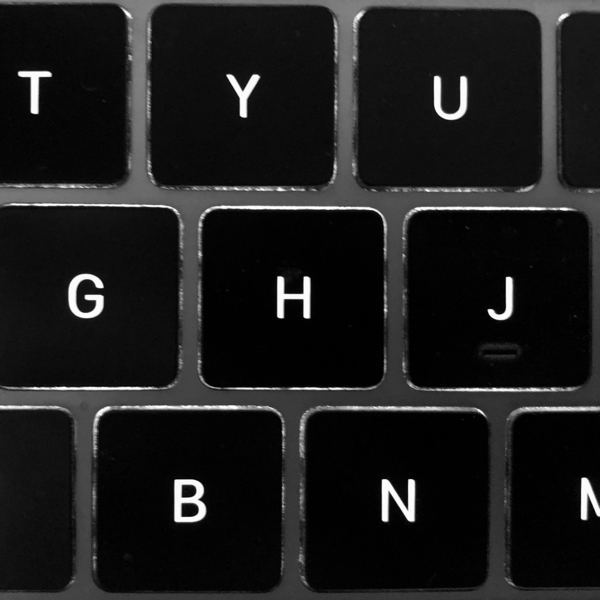 Like a number of MacBook Pro owners, my device has finally succumbed to the keyboard problems, with an intermittent "N" key, which is one of the reasons that the arrival of my iPad Pro has been so helpful. Nonetheless, I do have to work on the Mac and have to make myself check carefully when editing text. I miss a few of course.
Michael Potuck, writing for 9to5 Mac outlines some of the devices currently in the Apple program that are eligible for free repair or replacement. However, although I had a battery on my PowerBook replaced several years ago under a similar program - and servicing in Thailand has improved - I am always wary of visiting a service outlet. Maybe I should start with the compressed air trick first.

Epson has a heap of patents concerning computer-based eyewear and they have already produced a couple of sets, like the Moverio line which are already in use, for example at the National Theatre in London. They been working on this idea for a number of years. Adi Robertson (The Verge) reports that the company have released some Augmented Reality glasses that can be connected to the iPhone. The BT-30C glasses are a step in the right direction. They will ship next month for a cool $499.

I saw several reports in my morning look at the news of new beta releases for iOS (12.3) and macOS (10.14.5). A beta of watchOS (5.2.1) was also available as well as tvOS (12.3). No surprises there: the machine never stops.
Graham K. Rogers teaches at the Faculty of Engineering, Mahidol University in Thailand. He wrote in the Bangkok Post, Database supplement on IT subjects. For the last seven years of Database he wrote a column on Apple and Macs. After 3 years writing a column in the Life supplement, he is now no longer associated with the Bangkok Post. He can be followed on Twitter (@extensions_th)