Cassandra - Working with large RAW images on the iPad Pro
By Graham K. Rogers
---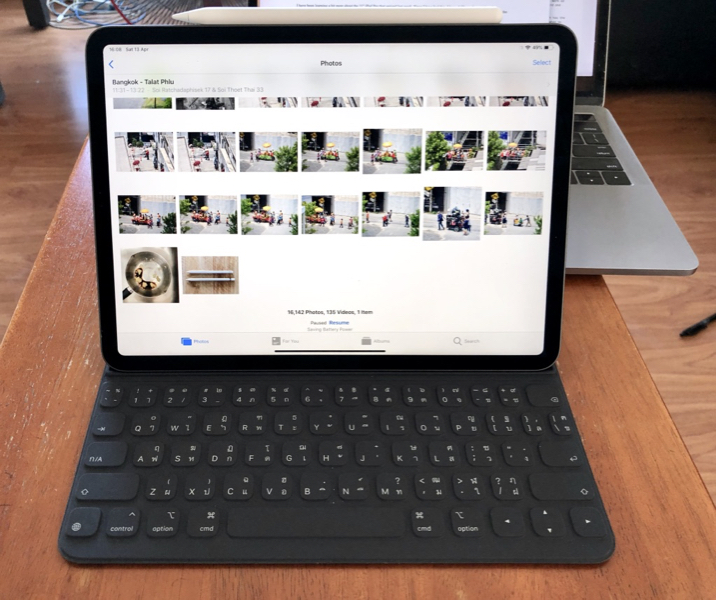 I recently bought the 11" iPad Pro, partly because I could connect a DSLR camera and import images. With improved software for iOS, I can edit the imported RAW images on the device. There are however some restrictions that reduce the effectiveness of the iPad Pro with some workflow operations.

One of the reasons I decided to go for the 11" iPad Pro was its USB-C port and the ability to connect a DSLR camera to the device. I cannot do this with my Generation 6 iPad, although I can download images with the SD card adapter I have. With the Nikon D850 I use the XQD card. Transferring images in-camera to the SD card has limitations. There are also certain limits when connecting a DSLR directly to the iPad Pro. I bought the 64GB version, partly because of cost, but also because I have 2TB of iCloud storage. With optimization, a representative file is available and if I want to edit after the iCloud upload, the RAW file can be made available with a short delay.
So far, the plan has worked as I had hoped when I ordered the iPad Pro, although there are some slight drawbacks. Transfer of images to iCloud is not a problem, although it may take a number of hours - depending on the number of images involved - before images are available on all devices. If I shoot (say) 100 images, this may take several hours to propagate to the cloud and devices, although the first images may appear within a few minutes. Any edits carried out may not be available on the Mac or iPhone immediately; folders used for photographs will not be updated until all images are uploaded; deleted files are uploaded then placed in a folder for the purpose (see below).
I have a number of apps that can be used to edit RAW files, including Darkroom (also on the iPhone), RAW Power, RNI Films, and the new Pixelmator Photo. As this only arrived in the last week, I am still finding out how this works, although I am reasonably impressed so far, particularly with the range of editing options it has available.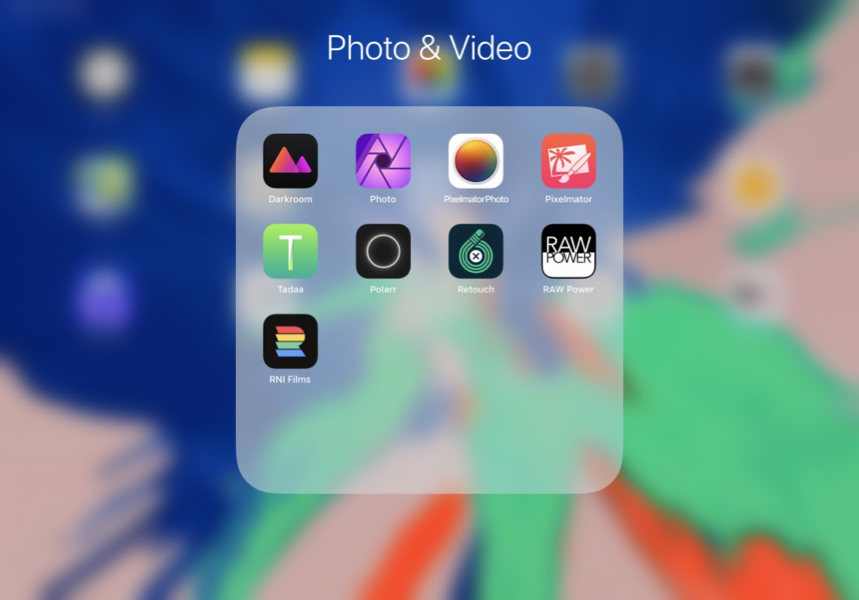 Some image editing apps on the iPad Pro

I have a thing about backing up my images. I didn't at one time, and was quite careless about any backing up. In 2007 I had a burglary at my home and one of the losses was my Power Book. Nothing was backed up and I lost 1700 photos then. I now have over 16,000 and so my priorities are a little different. Although it was shutting the stable door after the horse had bolted, I now have several backup strategies including Time Machine (3 disks, 2 locations), iCloud, and several disks for photographs (also different locations).
When I bought the D850, the large images caused me to make several workflow changes on the Mac, including the need to move away from Aperture as the RAW files are not supported. I tried several high-end workflow apps (I avoid Adobe), but none suited my editing or organizational needs, which include iCloud synchronizations so I can work with images on any device (even the iPhone at a pinch). Apple Photos does allow me some flexibility. It has a fair range of editing tools and I can also use certain third-party applications via its extensions.
For organizing images, however, I prefer not to use Apple's Locations, People and Memories; nor do I particularly like the app-specific folders. I use the basic chronological display. I find adding keywords a great help when trying to find specific images. I also organize my input into Files and Folders which, on the Mac at least, can be dragged around and reordered: this transfers to iOS devices. While albums can be created in Photos on iOS, I have yet to find a way to nest these in Folders.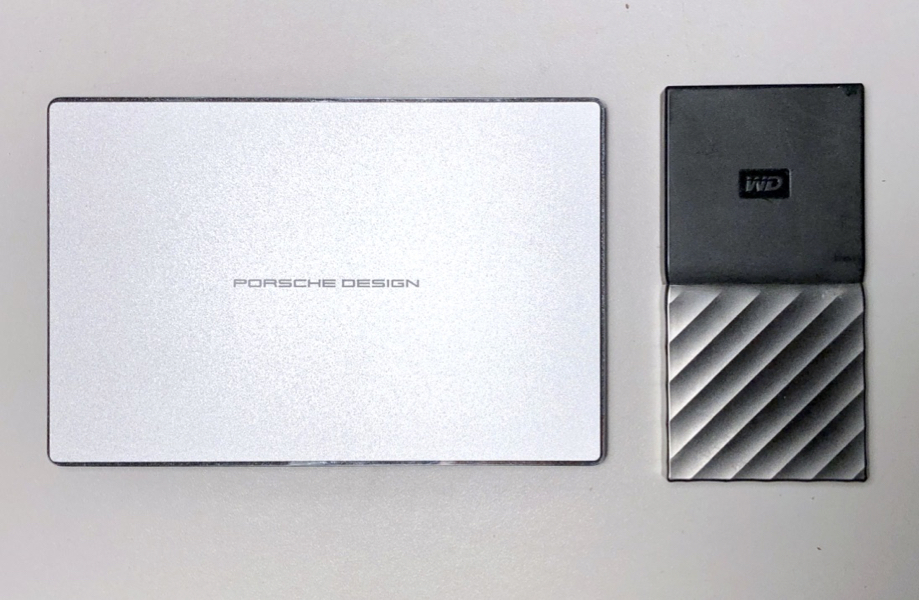 USB-C disks: 2TB LaCie and 512GB WD SSD (right)

Another difficulty arose with the way I archive the images. Working on the Mac I can just use the File > Export function and transfer the RAW images to an external SSD I bought when I realized Aperture would not work with the new camera and my workflow had to change. While some may delete images in-camera, apart from the odd one or two that are obviously blank, I keep every RAW (NEF) image. This allows me to cull files in Photos, as I still have the originals which can be imported again (minus edits of course). I also archive scanned negatives from my film cameras. After a year with the D850, the 512GB SSD was full, so images were transferred to another USB-C disk (2TB) and I deleted the 2018 images from the SSD. With each photo about 95MB, this year so far I have created 89GB of files.
I cannot export images to the SSD from the iPad Pro, so until I can find another solution, I either have to import all from the camera to the Mac; or wait until iCloud transfers the images from the iPad Pro to the Mac, and then use that File > Export function. It's all a bit clunky. The first time I did this, I was not sure if the RAW files would be available on the Mac or if there would be some (considerable) time delay until they were downloaded. I need not have worried as the export (as shown in the Export panel) took the usual few seconds to the SSD drive via the USB-C cable.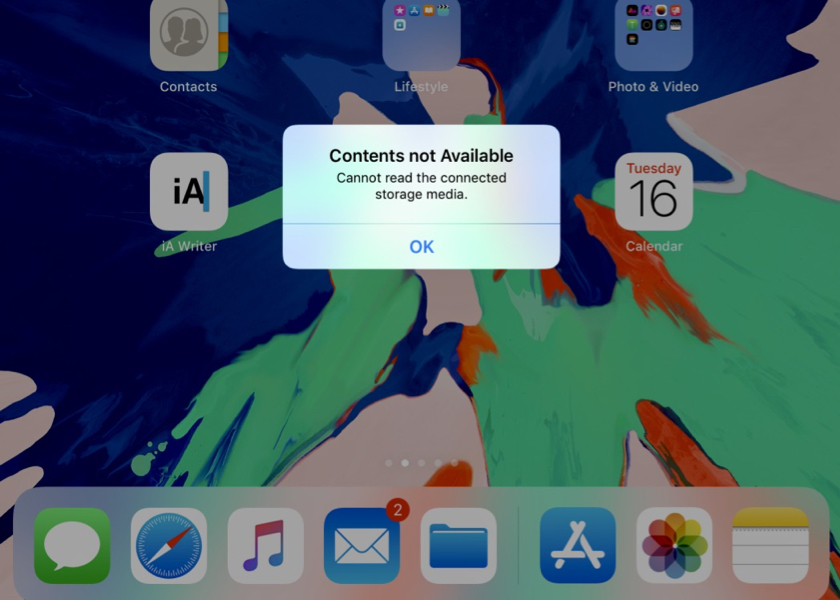 I have experimented with external media. A USB/USB-C flash drive I tried opened Photos on the iPad Pro, but none of the export options was suitable for file transfers to the device. I also connected the SSD drive, but that showed, "Contents not Available" and "Cannot read the connected storage media." I have tried wireless-connected disks in the past, but find these solutions unsatisfactory. I am also unable to find any suitable iOS app for tethering (linking and controlling a camera to a device by cable).
The transfer of files to or from an iOS device is sadly limited for the purposes of photography. For the time being I will still need a Mac for some parts of my workflow.
Graham K. Rogers teaches at the Faculty of Engineering, Mahidol University in Thailand. He wrote in the Bangkok Post, Database supplement on IT subjects. For the last seven years of Database he wrote a column on Apple and Macs. After 3 years writing a column in the Life supplement, he is now no longer associated with the Bangkok Post. He can be followed on Twitter (@extensions_th)