eXtensions - The Wednesday File (67): Photos on Macs and iPhones; Smartphones in India; and the flowering of an Android Replacement
By Graham K. Rogers
---
Apple Q3 2018 next week, while this week I am still playing with large photos on the Mac. Photo awards, past and present, show just how good iPhone photos can be. The smartphone market in India is fluid with successes and some abject failures. Will Google be able to replace Android?

Following a video last week about the latest MacBook Pro, there were a lot of articles that commented on the apparent CPU throttling (which other manufacturers do too). Apple has now confirmed that this is a real issue which their own pre-release testing did not find. A firmware problem (a missing digital key) is to be fixed in a 10.3.6 Supplemental Update that is to be released today (Dieter Bohn, The Verge).
Is this not one more nail in the Intel-Mac coffin? Perhaps we will see those ARM Macs soon, after all.

In today's main text I discuss the large fine that the EU has levied on Google for certain practices, but this is not the only company that may not work on an even playing field. Natasha Lomas (TechCrunch) reports on "a series of penalties, fining consumer electronics companies Asus, Denon & Marantz, Philips and Pioneer more than €110 million in four separate decisions for imposing fixed or minimum resale prices on their online retailers. . . ."

Next week Apple will release its Q3 2018 results. The time of the announcement is shown as 2pm Cupertino Time, which is after Wall Street has closed, so (in theory) the share price is unaffected by the results. That seems immaterial as the analysts and pundits will all have their own theories about what Apple will or will not do, making the event almost unnecessary in the minds of some. That 2pm there is about 5am here, so I will add something to next week's Wednesday File as I have done in the past.
Apple provided the following guidance for its third quarter:
Revenue between $51.5 billion and $53.5 billion
Gross margin between 38 percent and 38.5 percent
Operating expenses between $7.7 billion and $7.8 billion
Other income/(expense) of $400 million
Tax rate of approximately 14.5 percent
I speculated a couple of weeks ago on the difficulties of trying to predict how a trade war between the USA and China would affect Apple as the components are made in several countries: some are assembled in China and America is the home base. This is true for a number of American companies, including Dell, HP and Microsoft among others. I was unable to think who would collect which tariff from whom, but Brian Heater (TechCrunch) has a take on this that suggests at least with the Apple Watch (and Fitbit), as well as certain other devices, there could be a 10% tariff, despite a promise from Trump that the iPhone would not be affected. We will see when (and if) the trade war begins in earnest.
A later note on this (Tripp Mickle and Yoko Kubota, Wall Street Journal) anticipates that the iPhone could indeed come in for a double dose of taxation for precisely the reasons I speculated: designed in California, assembled in China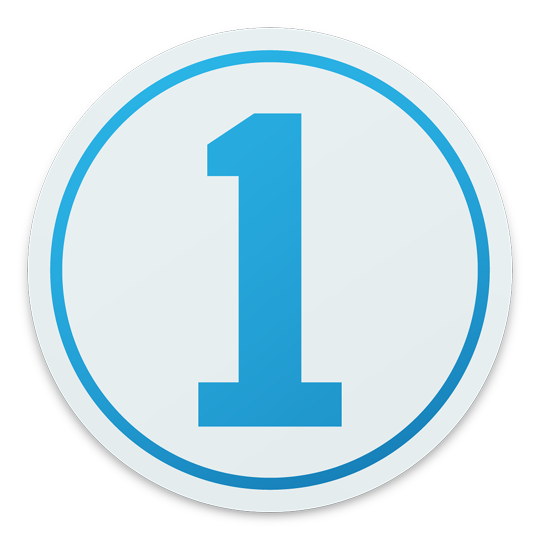 I am still experimenting with software for RAW images on the Mac. Aperture started working last week, but still cannot handle the latest files from the Nikon D850, so right now I am still using Photos. However, I did download a trial version of Capture One finally and started setting it up at the end of last week.
The files are untouched, but the application creates a catalog to show their respective locations and any editing changes. My problem was the Aperture libraries I had on an external hard disk. I brought these in one by one, keeping the libraries on the external media. Each one created its own catalog and the Pictures folder began to look a little untidy.
I ended up deleting the catalogs and starting again: first with the most recent RAW files that I store on an SSD. This time, I kept the catalog on the external media. With a little under 2000 images (since I bought the D850 in April) it took a while. Not only was the month by month directory structure retained, but within each month, images were separated by days within the catalog. I went back to the Aperture libraries and again imported those to Capture One, leaving the libraries on the external hard disk and also keeping the catalogs on the external disks too. All much tidier, but I am still working my way through this sophisticated application.
I next tried to connect the camera. This was visible within Capture One, so I will be able to use tethering, but I was unable to import images using the cable. When Capture One was used, no images were shown as available for import in Photos. As there is no card reader for the XQD cards, I either have to switch to the SD card, or import using the cable to Photos, then export to the disk, followed by a Capture One import, which basically adds the images to the catalog. I have to remember to have the disk connected when I open the application.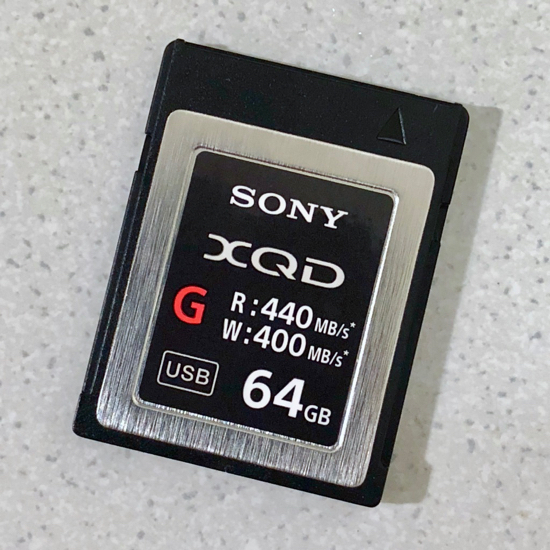 Unless I can find a way to import directly like I do with Photos, I will be limited by this half and half process until I can find a suitable card reader. But progress is being made and I have just over 3 weeks to decide whether I really want to switch to Capture One (and make the necessary payments) or muddle through with Photos.
As the XQD card is Sony technology and none of the other camera shops seem to have the card readers (some don't even have the cards), I had a look in the Sony shop in Siam Paragon this weekend. The staff there were sort of aware what the XQD card was, but as for the card reader, no. I found several on B&H and on Amazon, so within a couple of minutes placed an order ($70.96 with shipping) and this should be here within a week or two. Needless to say, B&H advertisements replaced those from Capture One in my Facebook feed within minutes, but honestly, if I have just placed an order for a card reader, why would I want another one?

Despite working with DSLR and film cameras I am often impressed with the output that the most recent iPhones can produce: certainly from the iPhone 6 onwards. A while back (February 2016) there was a series of large posters on the walkway between Siam Discovery and BACC that Apple put up showing just what could be achieved. The Apple World Gallery - which it was part of - showed just what could be done with the iPhone 6s. I wish they would do this again.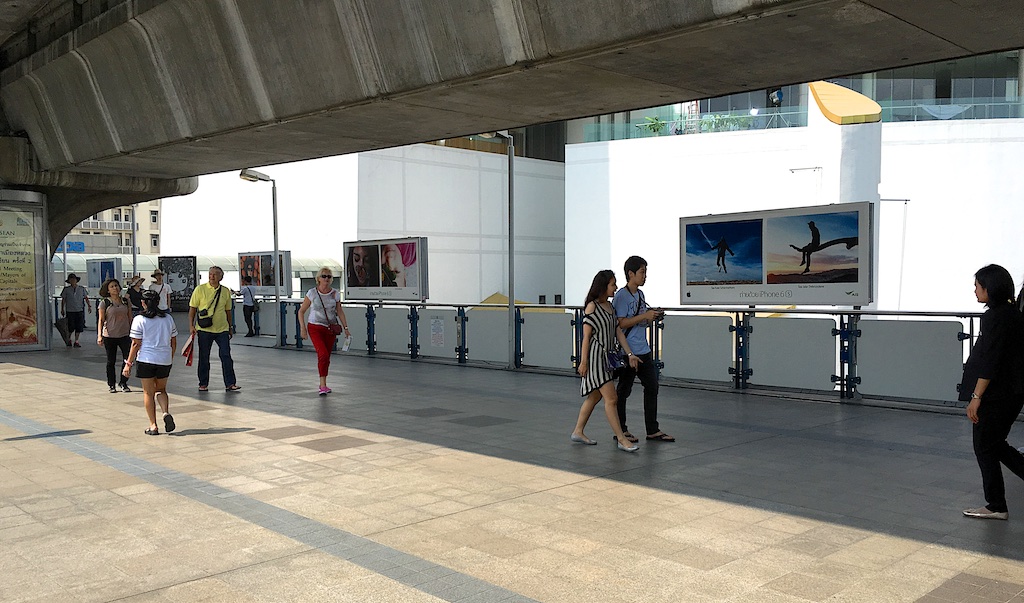 PetaPixel (Michael Zhang) reports that the iPhone Photography Awards for 2018 have just been announced and, as in previous years, the output is really quite stunning. Some of the photographs featured may not suit all tastes perhaps, but this is like when I browse Instagram. I can even learn something from the images that I think are less good, but I can be inspired by a lot of the excellent images that are posted there.
I had a look at the increasing use of film at the weekend, and wondered if the major manufacturers would consider making some film cameras again. A thin hope, although Leica do, while there are some basic cameras from Fuji and Lomo available. A nice mid-range 35mm camera (or medium format) might sell reasonably well.
At the beginning of the week some rumours about a Nikon mirrorless camera began to firm up and this includes the release of a suitably vague video on YouTube followed a few minutes later (Nikon Rumors) by what appear to be photos of the new camera. I wonder if they will use the same 47mp sensor that is in the D850. Nikon is flexing some real muscle these days.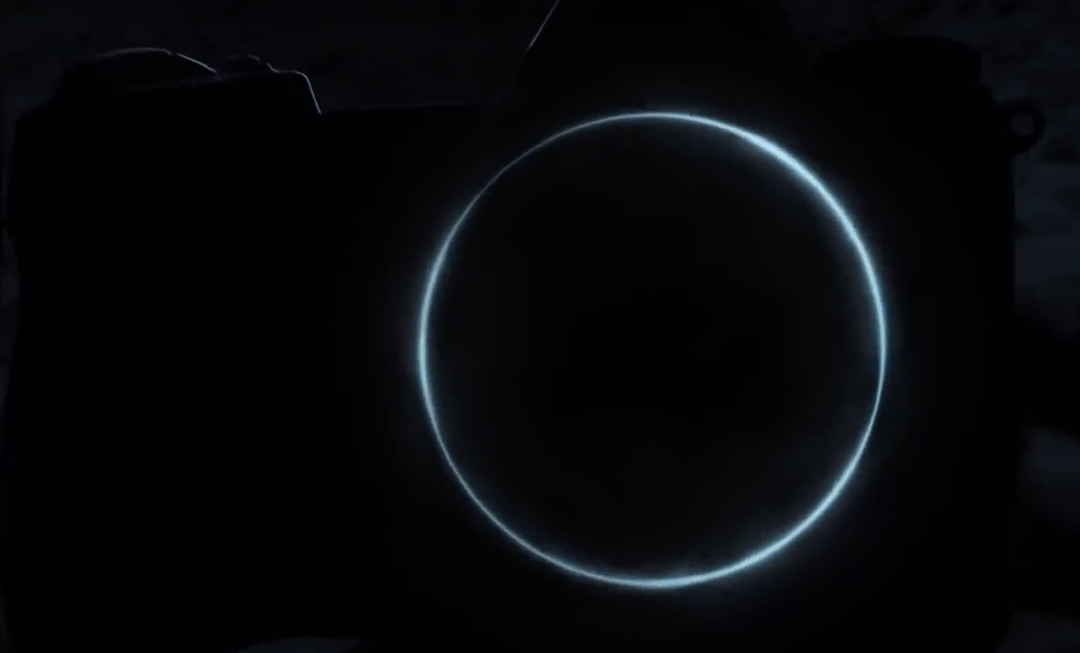 By coincidence I had to go into the offices of Nikon in Empire Tower, just off Sathorn Road in Bangkok on Tuesday: a broken battery cover on a friend's camera. Unfortunately, the part was not in stock, but it has now been ordered and will be mailed when it arrives. I was impressed with the service from the staff and even more so when the young lady assisting my friend, switched from Thai to English in mid-conversation.
Sony is rumoured to be working on a 48mp sensor for smartphones. This will not be the same physical size as the one in their cameras and the Hasselblad cameras, but it may use similar technology that was developed for the Hasselblad H6D-400. This uses the 100MP sensor but the magic inside produces massive 400MP images.

Some Apple users in Singpore have been experiencing what appears to have been fraudulent use of their credit cards, with unusual charges from the iTunes store there. I saw a brief report on AppleInsider (Stephen Silver) early Monday morning; then a short while later another by Chance Miller (9to5 Mac) with more details.
The victims use credit cards from certain local banks: UOB, Oversea-Chinese Banking Corporation or DBS were mentioned. They detected unusual transactions on cards of (so far) 58 clients. Investigations by Apple showed that no purchases had been made on one customer's account, but the credit card had been used by a fraudulent iTunes account which was banned. Some charges have been nullified, but it is unclear at this time if charges for all customers have been refunded.

Last week there were several rumours concerning Apple's sales of smartphones in India. This must be a difficult market to work in, with (as has been reported by others) much of the population with low income, and a few mega-rich people who want everything that money can buy. Like other Asians, flaunting wealth is not considered bad taste. This creates an ambition that causes some to chase the trappings of wealth. Some countries refer to this as "bling". The iPhone and other smartphones are a visual display that makes a statement, but iPhone sales in the sub-continent are not as high as some expected.
With the Gross National Income at $1680 in 2016 (World Bank) the higher end of the market will be strained. As a comparison, in Thailand (2016) the Gross National Income stood at $5700. The general trend in both countries is up, although Thailand fell slightly from 2013 to 2016.
There are some adjustments in India and while Apple is changing personnel, HTC has called it quits. Peter Holden (TalkAndroid) reports that continuing drops in sales have brought this on, but that there could also be legal action "by distributors for the non-payment of dues and lack of compensation for stock already in the channel". Holden adds that Chinese brands such as Xiaomi and Vivo have experienced big leaps in year-on-year growth. Samsung is also said to have increased sales there this year.
Apple has also invested in production facilities in India, partly as a result of regulations there and high import taxes on electronics. As part of this Wistron Corp., the Taiwanese supplier is said to be opening a factory in Bengaluru (Rayna Hollander, Business Insider).

Just to even the balance a little, it was reported last week (Jared Peters, TalkAndroid) that Samsung tops a report from Blancco, a mobile diagnostics company, for the highest failure rate (34%) of smartphones across different manufacturers and operating systems. The report only examined Android phones, so there is no comparison with the iPhone. The lowest manufacturer was ZTE. As far as specific models are concerned, the Xaomi Redmi 4 was worst with a 9% failure rate, with (paradoxically) the Samsung Galaxy S6 and S7 Edge lowest on the chart both with 2% failures.
The article rightly brought in the iPhone and mentioned that Android devices fail at 14% while iPhones fail at just 12.5%, adding that "the most common issue for Apple devices at just 3% was a Bluetooth problem, while Android devices "failed" at 27% with performance problems."
The article was a little critical of the report and its lack of seriousness, with the penultimate paragraph reading,
So this report essentially found that Apple's flagship from three generations ago was failing at a pretty high rate, probably because it's three years old, and Samsung's devices have a higher failure rate simply because Samsung sells more smartphones than most other manufacturers. And when these devices did fail, it wasn't even what most of us would consider "failing.""

I took a run along to Seacon Bangkae last week as there used to be a second hand camera shop there on the ground floor next to iStudio. I am in the market for old film cameras and FotoFile was a good source. Both the camera shop and the iStudio had gone. I tracked down the new iStudio store on floor 2 and what a diluted disappointment it was. I know it was a Friday lunchtime and perhaps not representative, but the iStudio was empty, there was only one member of staff visible, and the stock was low. I was the only person there.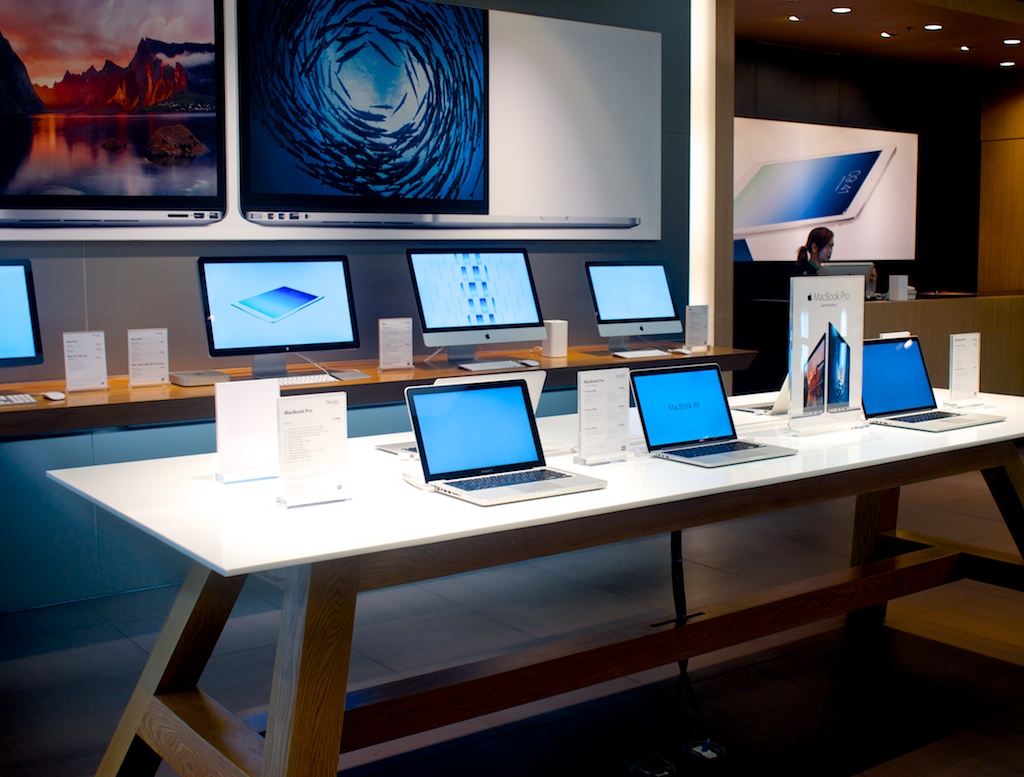 iStudio, Seacon Square Bangkae in 2014

I know that these Apple-designed stores are minimalist, but there clearly was little on the shelves, and what there was only had one example in some cases. If I had bought any item, they would be sold out. When the store had been on the ground floor, I used it for a photo shoot with the help of Com7 head office. It was full of stock, and even in the pre-lunchtime visit there were people there looking over the devices. Not a fair comparison, perhaps, but the iTunes store in Siam Paragon was really busy Saturday lunchtime. It was not just about location.

One of my reasons for disliking Android is the way everything hinges on links to Google. I had a Samsung phone for a while as I wanted to be able to advise my parents, so I bought the same model and set it up. I found that whatever I wanted to do, demanded that I had to sign in to some Google service or another. I have a Google account and use it sparingly on my Macs and iOS devices, but even there, when I search in Safari using Google, I am asked to agree to providing location information (which I always decline). We are told that this is better to serve us; but it is more likely to be better to serve up targeted advertising.
The EU is having none of this and fined Google €4.3 billion "for breaking antitrust laws" Tom Warren (The Verge) writes. This is for precisely the reasons that it annoys me so much; but also because phone makers are blocked from making their own forked versions of Android; and the payments made to "certain large manufacturers and mobile network operators" to bundle the Google search app on handsets. Needless to say, Google will appeal.
In the meantime, Mark Bergen and Mark Gurman (SiliconValley) report that a team at Google is working on Fuchsia which it is hoped will supersede Android. The new OS is being created from scratch and should better accommodate voice interactions and frequent security updates while its appearance will be more standardised across a range of devices, including home devices like speakers.
Apart from the Google apps thing, which I do not know how they will get over as that is how they make their money, one of the problems for Google has always been the variety of devices that they have to shoehorn the OS into, something that Apple has never had to worry about as it is a single product top to bottom. So will publications like Talk Android have to rename themselves Talk Fuchsia? I doubt if that name will make it to the final release: Android Pro; Android X, Android 2; Super Android? Or has Google painted itself into a corner with Android: an OS that many manufacturers - and users - may be loathe to leave?
Graham K. Rogers teaches at the Faculty of Engineering, Mahidol University in Thailand. He wrote in the Bangkok Post, Database supplement on IT subjects. For the last seven years of Database he wrote a column on Apple and Macs. After 3 years writing a column in the Life supplement, he is now no longer associated with the Bangkok Post. He can be followed on Twitter (@extensions_th)