Inkwork: Sophisticated iOS app for producing Simple Line Drawings from Photographs
By Graham K. Rogers
---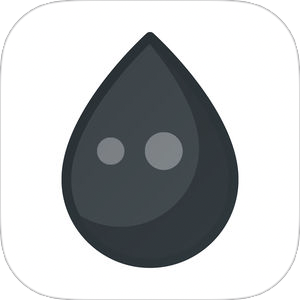 An area of photo apps that may interest some users is those that produce output like drawings or Art from photographs. I have a number of these, but the recently-released Inkwork that creates line-Art has several design and output options that make it worth downloading.
Outline
I have never had any real drawing skills even though at High School my Art teacher, Mr Dishington, was the renowned cartoonist, Dish whose work appeared in a number of publications. I certainly appreciate Art and have visited several galleries around the world. I am lucky enough to have easy access to the Bangkok Art and Culture Center (BACC) where there are frequent exhibitions - always worth calling in on the way back from shopping.

My own favourite visual medium is photography. I use several devices: the iPhone, DSLR cameras, and an older medium format film camera. Most output is edited, but is still clearly photographs. Not long after apps began to arrive, however, I was intrigued by Mobile Monet, which changed photographic input to images with an artist's style (not only Monet).

That has been superseded by Prisma. Although I like the wide variety of output styles, I am less in favour of my work being sent to servers in Moscow for processing. Later versions of the app do this less, and there is some on-device processing, but I am still wary. One of my all-time favourite apps for photo-in-Art-out operations, is Waterlogue, by Tinrocket. There are several watercolor output options which I find rather satisfying, if the right input image is used.

I recently found Inkwork, a 99 baht app ($1.99) that produces monochrome Line art from photo input on iOS devices. As simple as this sounds, the generous variety of styles and color output options, as well as export capabilities, make this an app worth considering. It was only released 4 months ago and is currently at version 1.0.2.



Inkwork
As the latest iPad had just arrived, along with an Apple Pencil, I was keen to see what I could produce. I had been out with a new Nikon D850 as well as the Hasselblad and had a good selection of images to try. I also ran this app on the iPhone X.

When an image was selected from the Photos Library, there could be a delay of a few seconds while this was loaded. Once it appeared on the screen, there was another small wait while the selected effect was applied. This was only a second or so with the iPad and almost instantaneous with the iPhone X.

At the bottom of the screen are four selectors: style, color, paper and crop. When any of the first three are tapped, options appear below. The Style option is marked with a pen nib and this reveals a semi-circular display at the bottom of the screen of numbers and letters. Each letter refers to a specific style type and each has numbered variations:
C - Comic style (1-9)
T - Thin style (1-6)
A - Abstract style (1-5)
B - Bold style (1-8)
W - Wash style (1-11)
G - Graphic style (1-2)
L - Loose style (1-8)
H - Hatch style (1-9)
M - Minimal style (1-8)
S - Scribble style (1-3)
F - Flow style (1-5)
R - Rough style (1-7)
O - Outline style (1-3)
D - Drip style (1-2)
E - Experimental style (1-10)
This gives 96 different style options (if my maths is correct).
The colour selector is almost as generous, running from black through greys, blues, greens, yellows, on to browns, reds and through to mauve: 67 different ink colour options. The more subtle paper options give a suer 36 variations for background. Not all of the options will produce acceptable output from an image, but I always feel that such choices are subjective anyway.

Beneath the controls for Style, Ink and Paper is an icon that reveals even more controls. With Style, the user is offered a selector for 5 different line densities (coarse to fine). When Ink is selected, a three-line adjuster allows almost unlimited variations in foreground colours, instead of using the 67 dot selectors. Similarly, there are three semi-circular line adjusters for paper. These give a far wider range of background options.

When Crop is selected, the original image appears with an overlaid grid. Rotate and Aspect are also offered. On the iPad I was able to use Inkwork in either Landscape or Portrait views. On the iPhone X, only Portrait was available to me.
Export and Comments
There are two options offered for exporting the finished images: Save or Ship. With Save (to Photos), I produced an image that used the original dimensions (5996 x 4661) with a JPG file size of 4.469MB. The original input for that was a RAW photo from a Nikon D850.

A square image from the iPhone X camera also retained the same 3024 x 3024 dimensions, but output had a larger file size (3.6MB compared to 2.6MB). I could also have saved to Mail, Notes, Twitter and several other options. I was almost wishing for an option to save an image as TIFF output, but that is something for the developers to consider for the future.





The Ship option gave me three product options (Canvas, Poster, Framed Print) with an example shown on screen. With Canvas and Framed Print, I was offered frame styles. There were more than 50 size options ranging from 8" x 12" up to 24" x 38". As each output option and size was selected, the price was displayed at the top of the screen, with framed prints reaching over $200 (the Canvas Print ranged from $69 to $157).





As an indication of the attention to detail in Inkwork, as certain features are accessed (such as the Photos Library) the top of the screen shows an undulating line, instead of the usual rectangular interface. Back in the editing screen, this stops, so it appears to be an aesthetic choice by the developers. This attention to detail is also shown in the wide range of colour options available to users for these line drawings, which is emphasised by the fine-tuning possibilities that the colour sliders allow.

This is clearly a well-made app, with its attention to detail. Although this is not a free app, at 99 baht ($1.99 I estimate) the cost is not high and worth considering for the instant output of a variety of line drawing styles: far better than I could ever produce by myself. The ability to have these professionally printed, using Ship, adds another dimension to the way in which these images could be used. An example might be a stylish line drawing of a company's premises taken from a photograph: even some quite hefty RAW images.

Although this might not suit everyone, what it does is well done and properly thought out. Inkwork is highly recommended.



Graham K. Rogers teaches at the Faculty of Engineering, Mahidol University in Thailand. He wrote in the Bangkok Post, Database supplement on IT subjects. For the last seven years of Database he wrote a column on Apple and Macs. After 3 years writing a column in the Life supplement, he is now no longer associated with the Bangkok Post. He can be followed on Twitter (@extensions_th)