By Graham K. Rogers
---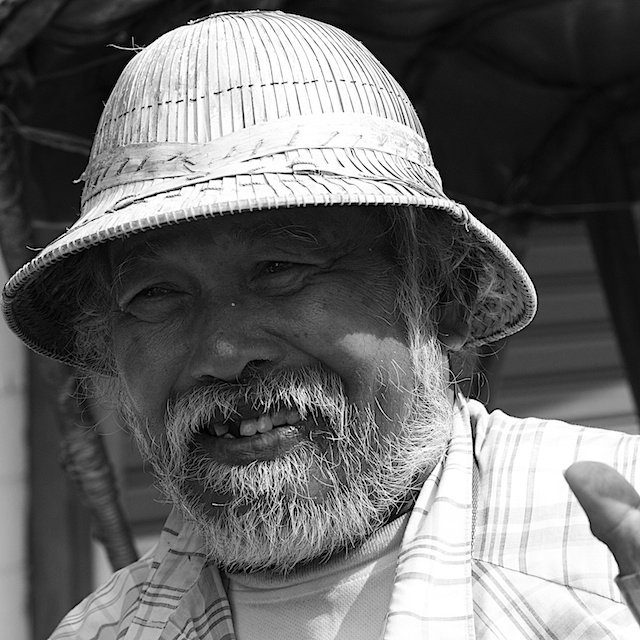 Last week I attended an Open Day at the new COM7 headquarters in Bang Na where I was suitably impressed by the design, technology and the forethought that must have gone in to this building. And the investment. Also a few accessories for USB-C equipped computers appeared after the new year and I picked up a 2TB hard disk from CalDigit.
COM7 Open House
Research company Gartner claims that 20% of organisations will use smartphones in place of physical access cards by 2020 (Dennis Sellers, AppleWorld Today). A few days before reading that, I had been in the new head office of Com7, where staff are signed in and out using iBeacons and a smartphone app. This also controls access to specific areas. I was attending an Open Day at the building in Sanphawut Road, Bang Na.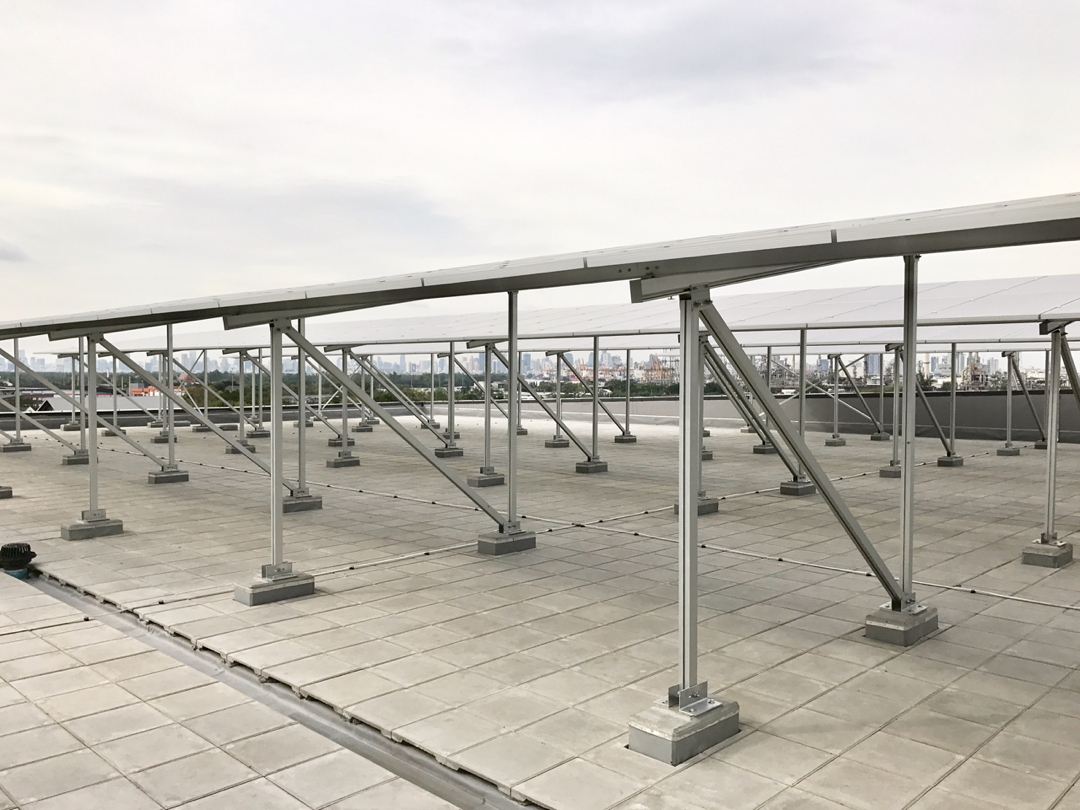 Solar Panel Installation on Roof of Com7 Head Office

The building makes much use of up to date technology in its design which displays considerable forethought in planning, along with a significant investment in technology and personnel. The whole roof is taken up by a solar cell installation that cost some 5 million baht. The company hopes to recoup 50,000 baht a month, although they are still connected to the main electricity system and have extensive power backup systems.
What is now Com7 was founded in Phantip Plaza. Its first head office was in Thanapoom Plaza. The company which includes BananaIT, iBeat, iCare, BKK and the rebranded Studio7, offers products from many manufacturers, including Apple, Samsung, HP and Dell.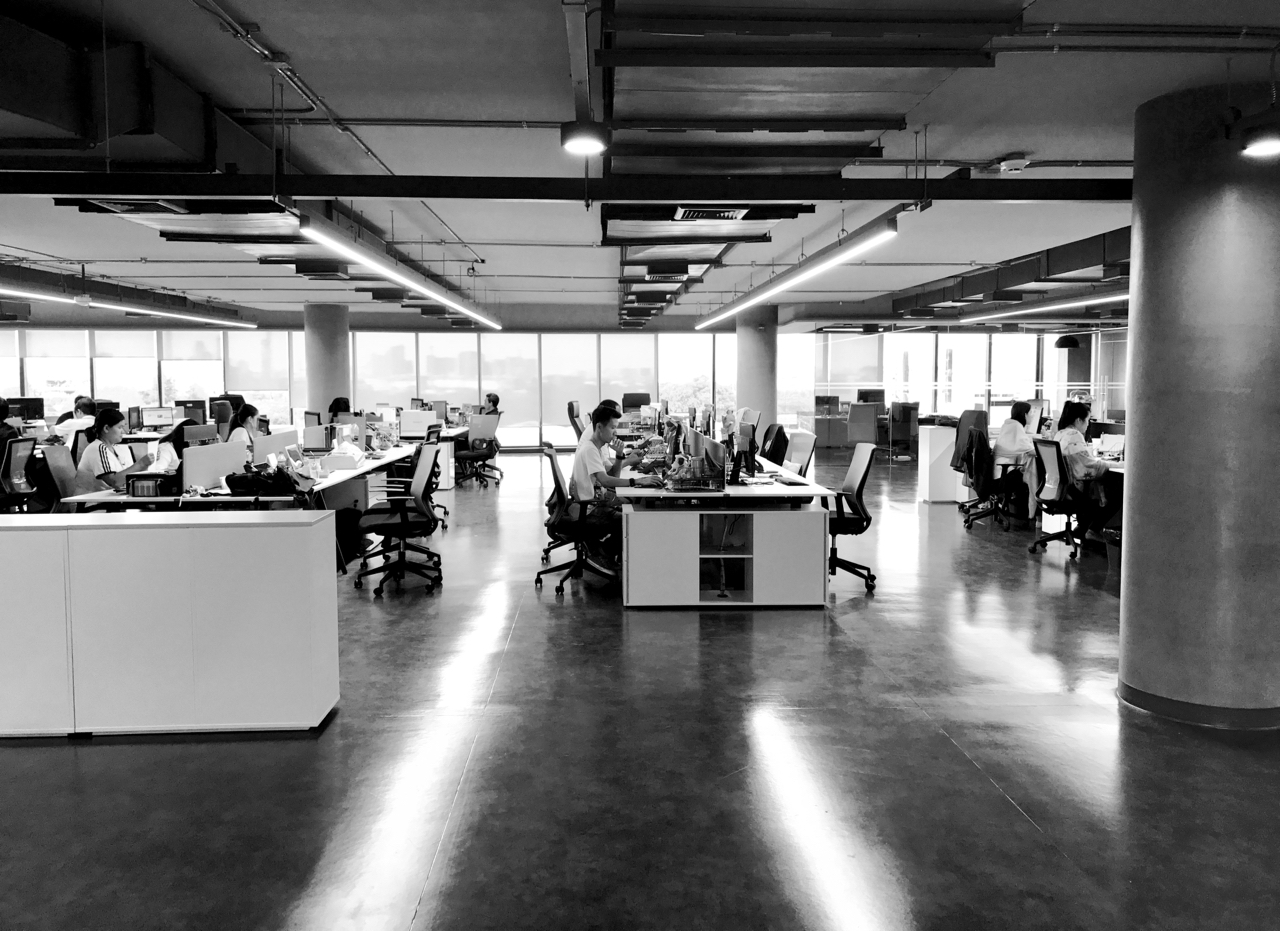 Open Plan Office at Com7 Head Office

Offices on each floor are open-plan and there were several well-equipped meeting rooms. Questions were answered with a smile and staff in the HR Department all stood up to greet the visitors. Part of the investment in staff is a large recreation room with its own gym. At the back of the site - to the rear of storage facilities - there is a futsal field.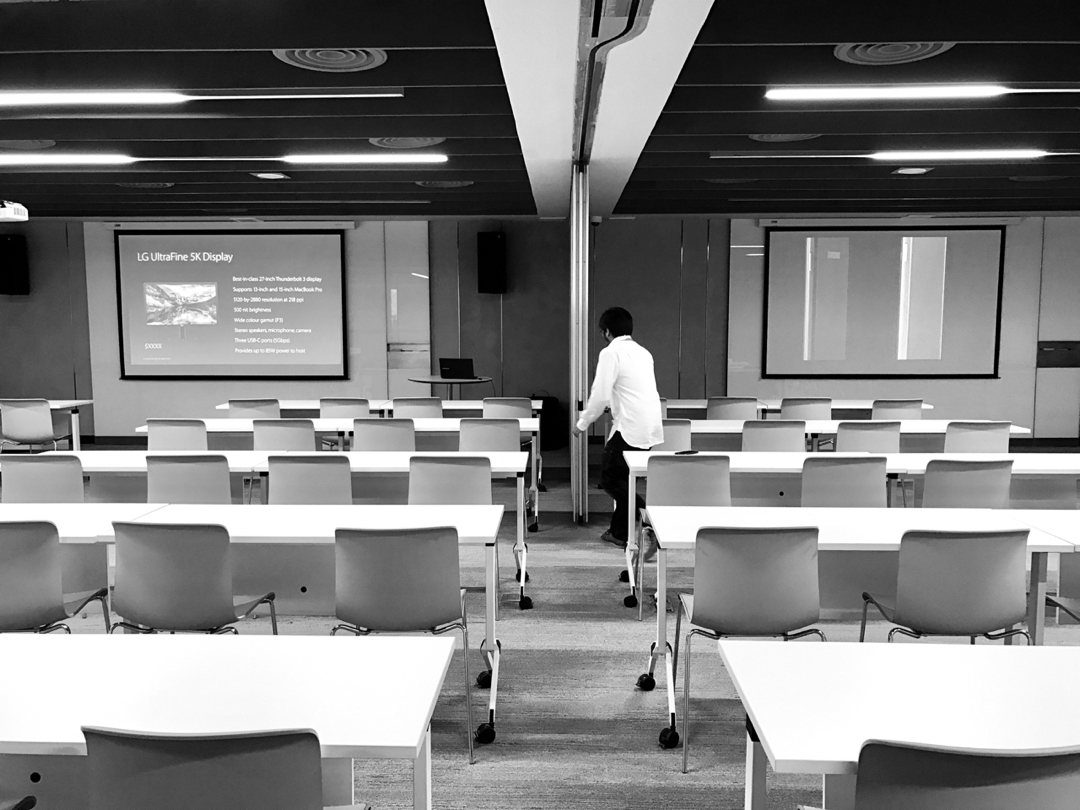 Double Classroom at Com7 Head Office

I was particularly impressed by the new classrooms that were included in initial planning: to train staff in technology and customer relations; and as part of a new Education Account Development unit that will work with establishments that use Apple products. By investing in this area, CEO Sura Khanittaweekul and his team are reaching out to potential customers.
Use of iBeacon and iPhone app for Signing-in (left) and Exercise Facilities at Com7 Head Office
CalDigit 2TB USB-C Disk
I was in Studio7 Pinklao at the weekend looking for more accessories. Earlier in the week I had found a 2TB USB-C hard drive in iStudio, Siam Paragon - the CalDigit TUFF disk - and wanted to see if this was available elsewhere. It wasn't, but instead there was a LaCie 4TB Desktop Drive with USB-C connectivity for 7,900 baht, along with the LaCie Porsche Design drives I had already bought in the Pinklao store (6,290 baht).

That now makes four disks I have found: still poor compared to what is in the USA. I saw a few more Belkin adapters for USB-C in Paragon (floor 4), but not the useful micro-USB ones I had to order from Amazon.






I had not been aware of CalDigit products before, but after checks online I was suitably impressed. As the price of 7,100 was reasonably close to its $179 price (before taxes) in the USA, I bought this too.

It was nicely sealed in a square package that would easily reveal any signs of tampering. A plastic container, which could be used for transportation, held the disk and two cables: USB-C (USB 3.1) and USB-C to USB. Instructions were included in the package (a more comprehensive version is online), but these were for Windows users. The disk was ready-formatted for use with Macs: the first time I have seen this.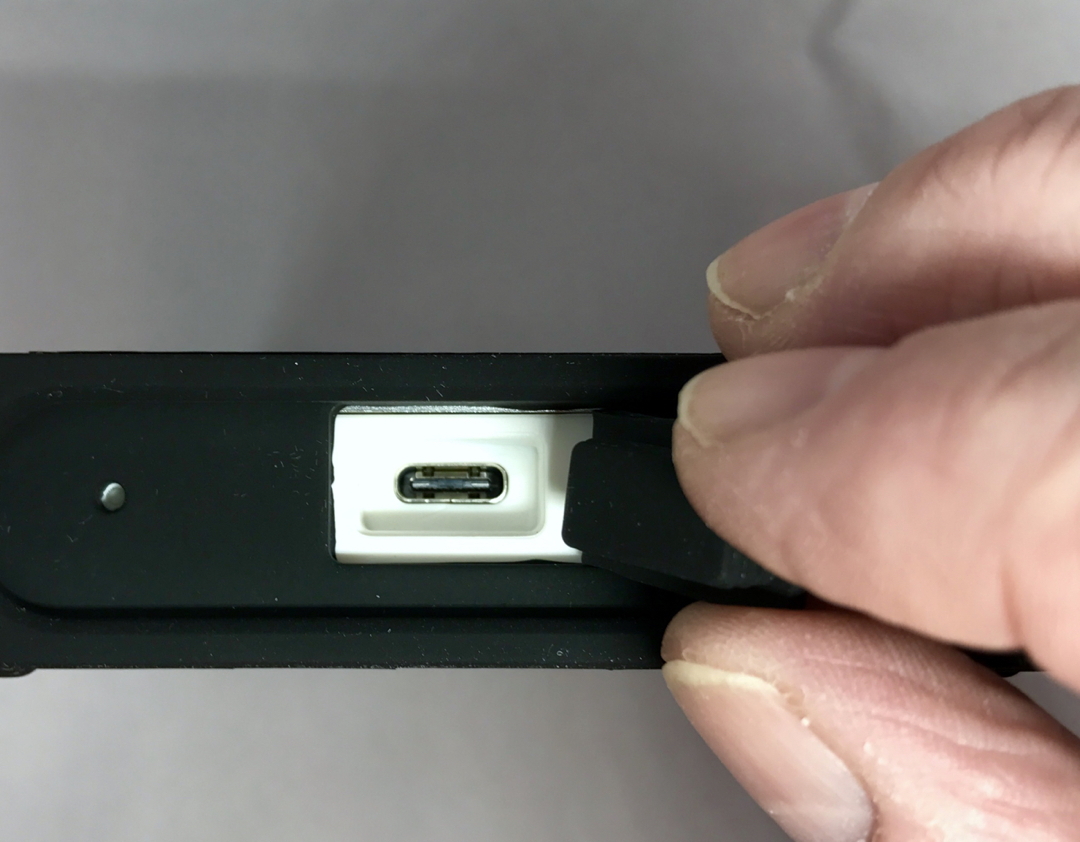 CalDigit 2TB Disk - USB-C Port

A soft, but firm, black silicon surround, protects the aluminium disk to military standards. The device comes in four other colors: orange, grey, blue and lime green. There was a single USB-C port which was accessed via a small flap in the black surround. There is also a small yellow light that shows when the disk is powered.
The flap has a tag which can be inserted into the USB port, protecting it from water and dust up to the IP57 (Ingress Protection) standard. This should allow up to 30 minutes protection in up to 1 meter of water. I have seen an image of one of these disks immersed (Jeff Benjamin, 9to5 Mac), but I did not try this.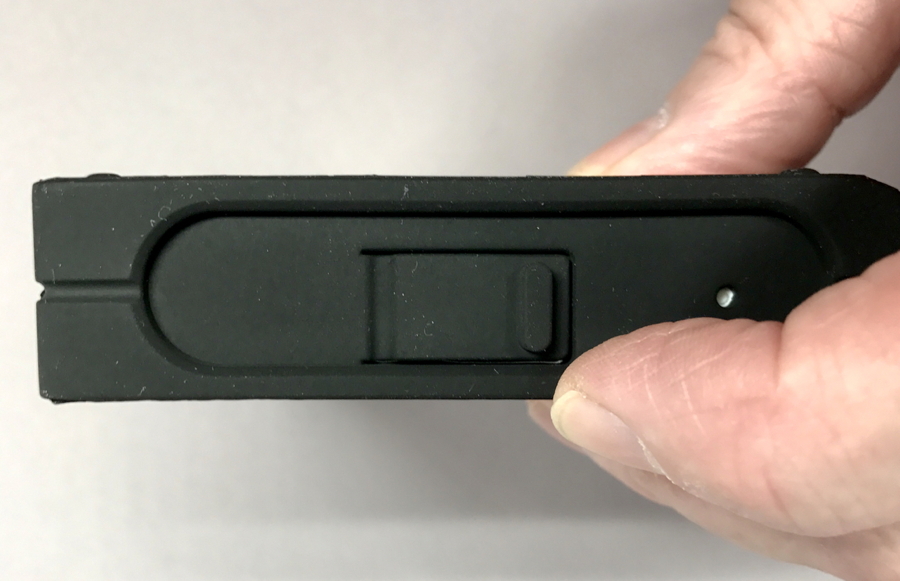 CalDigit 2TB Disk - USB-C Port Covered by Protective Flap

The disk itself is a 2.5" drive that rotates at 7200 rpm (according to information online). There is expected to be a faster SSD version later in the year. Reviewers in the USA rate this CalDigit solution as economical and a relatively high performer. After some initial checks, I made some comparisons with disks I currently use. To illustrate real-world use I transfered the same large folder (60.3GB) of image files from the MacBook Pro to each disk and checked the time taken:
A Western Digital 4TB disk (formatted as 2TB RAID) with Thunderbolt 2 cable and an Apple USB-C adapter took 7 min 49 secs;

A 2TB LaCie Porsche Design with USB-C cable took 12 min 17 sec;

The new CalDigit 2TB disk took 11 min 7 sec.
While the Western Digital (WD) Thunderbolt Duo disk is still fastest, the two USB-C disks at about half the price, performed quite well.

By this time next week Apple will have released its Q1 2017 financial report.
See also:
Graham K. Rogers teaches at the Faculty of Engineering, Mahidol University in Thailand. He wrote in the Bangkok Post, Database supplement on IT subjects. For the last seven years of Database he wrote a column on Apple and Macs. He is now continuing that in the Bangkok Post supplement, Life. He can be followed on Twitter (@extensions_th)