By Graham K. Rogers
---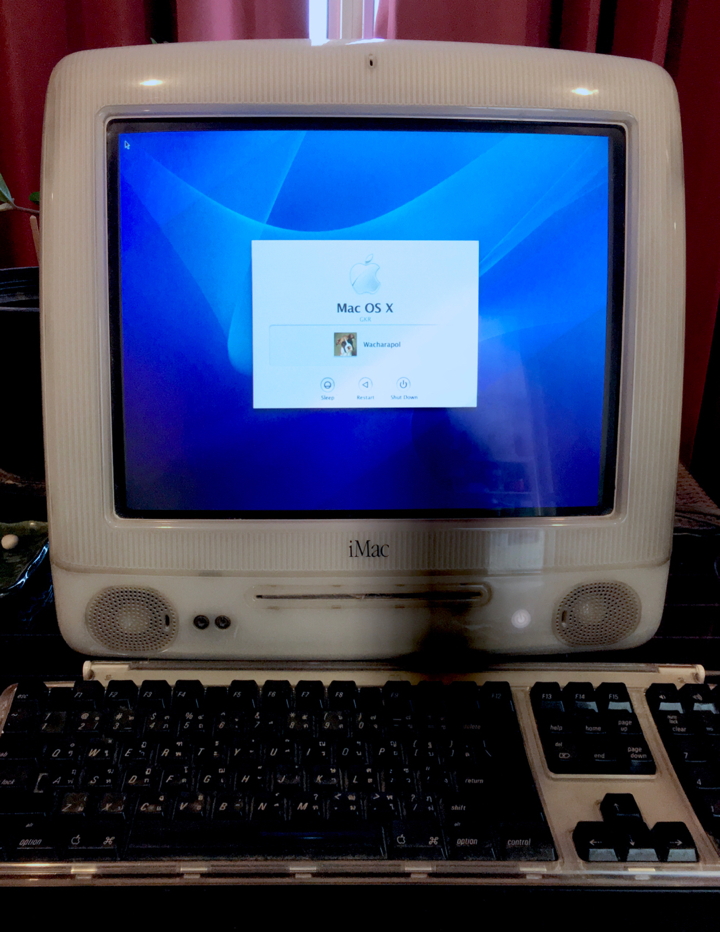 After a number of years away, I was able to bring back home the first iMac I bought: the first new Mac I had ever owned. It was new in 2002 and has been in regular use since then. I plugged it in, started it up and reminded myself of how OS X used to look.

My first Mac was a used Quadra that I picked up for about 10,000 baht when a colleague returned to the USA. This was conveniently at the same time that my last PC (a 386) gave up the ghost. That Mac was followed by a series of used machines as well as a couple that were put together from parts bought on eBay. When my department bought a couple of G4 Power Macs, I was able to install one in my office - for testing purposes - and ran it using system 9 initially. I decided to buy a new Mac myself.
The retail outlets in Thailand at that time were not organised in the same way as they are now and some of the stores were a bit hit and miss. I ordered my iMac from a family store in Phantip Plaza. No Bondi Blue models were available by then and I settled for one with the plain white sides: what Apple called Snow. It was priced at 28,000 baht. These were the last of the CRT iMacs, although I did not know that then and its G3 PowerPC processor running at 500 MHz was acceptable for the time. It came with 128 MB RAM.
Just after buying the iMac I switched to OS X for the first time. I had a look on the Power Mac first, but was so scared by the newness of it all that I rebooted back into System 9. Those first Macs with OS X had a dual boot system.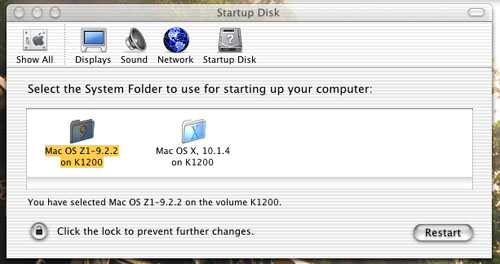 I had a think for a day or two and it was clear that Apple was not likely to go backwards: something that is worth thinking about with the current comments on the removal of the headphone jack in the iPhone 7; although in the current situation most of the fear was generated by the tech press: another example of what Daniel Eran Dilger refers to when he writes, "Apple's critics and the tech media in general are purely savage in their unbridled contempt for the company's ability to innovate. . ." (AppleInsider).
A few days later I tried again and the penny dropped. I had used UNIX before. When Internet connections were first available in Thailand - before the WWW - the only way to make things work was with UNIX. I was quite familiar with command-line DOS, so just learning the basic commands allowed me to start. With OS X, the organisation was logical, I could work right away with the selection of applications already installed, and as more arrived, the iMac became a really useful machine.

That lasted for a year or two and was replaced with the faster eMac (again CRT) with a G4 processor. I wrote all of the early eXtensions columns for the Bangkok Post, Database, on these two Macs, with occasional input from the G4 Power Mac. At that time, there were few people using OS X (or Macs for that matter) outside of professional groups, like photographers or printers, but this was beginning to change. However, the then Editor of the Database whose foresight (and a good writing team) had helped push the consumer base forwards, was a touch reluctant to allow me even to run a column on Macs then. Initially, I was allowed a column once a fortnight, but after being invited down to speak to users in Phuket - a month before that dreadful Tsunami - the submissions were once a week.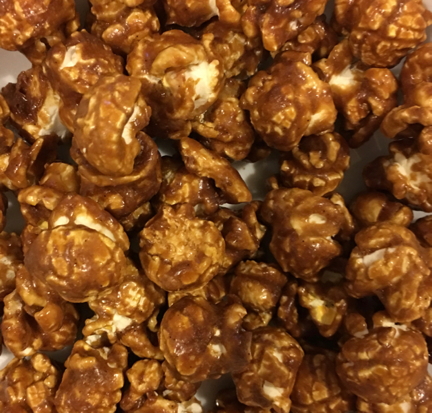 When the eMac arrived, I did not know what to do with the iMac, so gave it to a friend: a former student who had started work not long before and wanted a decent computer. Years later, when my current MacBook Pro arrived, I was in a similar position. The previous MacBook Pro was in a fair condition, although of course it was slower. The same friend had just left his job and was starting up on his own: insurance and a sideline in baking cakes. His buttered popcorn is to die for.
He took the MacBook Pro but could not pay me for it then, so I let him have it if he would give me back the iMac, which I knew he was still using. That return of the machine took longer than I expected, but it is now finally in my hands.

I had not seen it for several years and it seems to be different from what I remembered: squarer, slightly discoloured (age), but I did remember how heavy it was and do not really miss that. I have to be careful where I put it, as some of the modern furniture might not support it. It is at my apartment for now, but I will be moving it to my office as a historical display.
It does not have WiFi of course: we would connect using the built-in modem; or if I was at the office, using the Ethernet port (10/10 base). Some students these days are unfamiliar with these types of technology: indeed the first modem (MODulate - DEModulate) I ever saw was in a library at Illinois State University. We were shown how two rubber cups could be placed over mouthpiece and earpiece of a telephone and a sound generated could be used to connect two computers over the telephone system. This was a "WoW!" moment for me as I could see the potential right away: it didn't have to be connecting libraries in Illinois and California, it could be anyone in any country. We of course take this connectivity for granted these days.

With the iMac, there is a massive keyboard. I thought back then that its black keys, with a smooth, but long travel, made it one of the nicest keyboards I had ever used. The keyboard also has two USB ports, allowing users to attach other devices. These may be broken now as my friend reported that the single-button mouse was not working properly. I tried it with the MacBook Pro and it was fine.
Most of the ports are in a recess on the right side: Firewire 400 (2), USB (2), Ethernet (RJ45), RJ11 connector for telephone line, microphone, headphone (3.5mm). There is also a reset button which saved me once or twice in the early days. At the front, just under the screen is an optical drive. Older users will remember the hole to the side that would take a paper clip allowing a stuck disk to be ejected. At the back of the case is a VGA port: that might be useful as these connectors are still used for overhead projectors and some of the monitors at the office.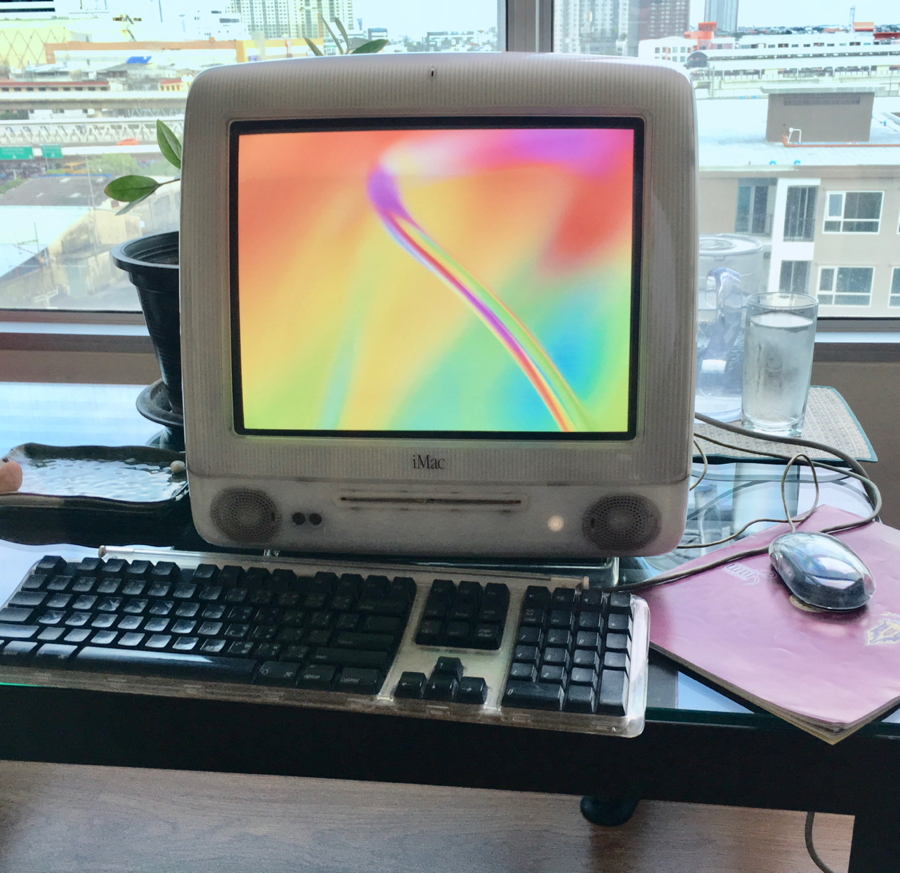 I put the plug in the rear of the case and connected the cable to the wall socket. The keyboard and mouse were connected to the 2 USB ports and I pressed the "Go" button. There was no startup chime but the Apple logo soon appeared and the startup process was completed in about a minute.
Logging in to the single account was a problem as the password I had been given was wrong. A quick message had that fixed and I was in: the clock was set wrongly and I wonder if the battery might be dead. The G4 certainly had a replaceable battery for some functions and the iMac might be the same. Investigation will confirm that; but the first thing was to set the date; but I also had to change the localised settings for my own purposes.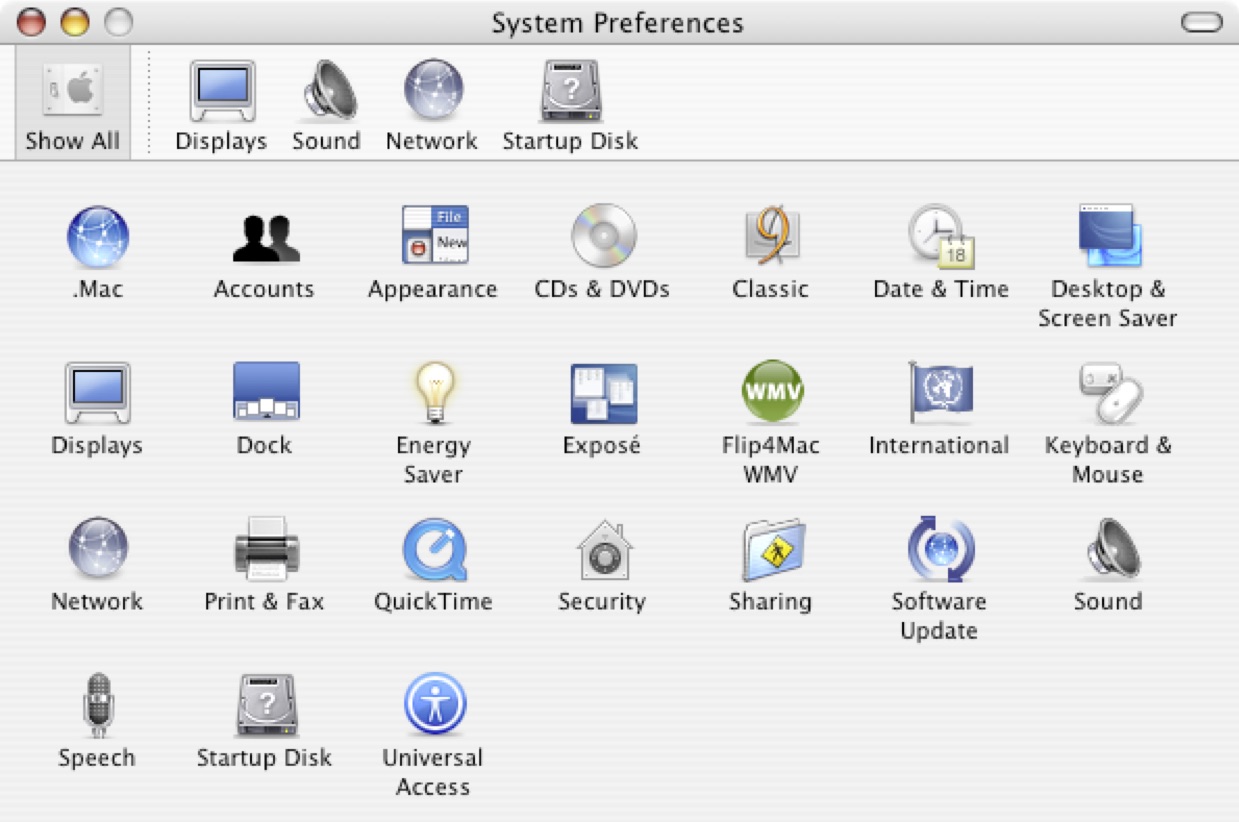 System Preferences in OS X 10.3.9 - With Aqua Interface

Working in my friend's account I created two new accounts for me: Admin and User. Although this is not going be a working machine - at least not in the everyday sense - I follow my own longstanding practice of working in a User account, and only accessing the Admin account when needed. Most times the account name and password can be entered from the User's account.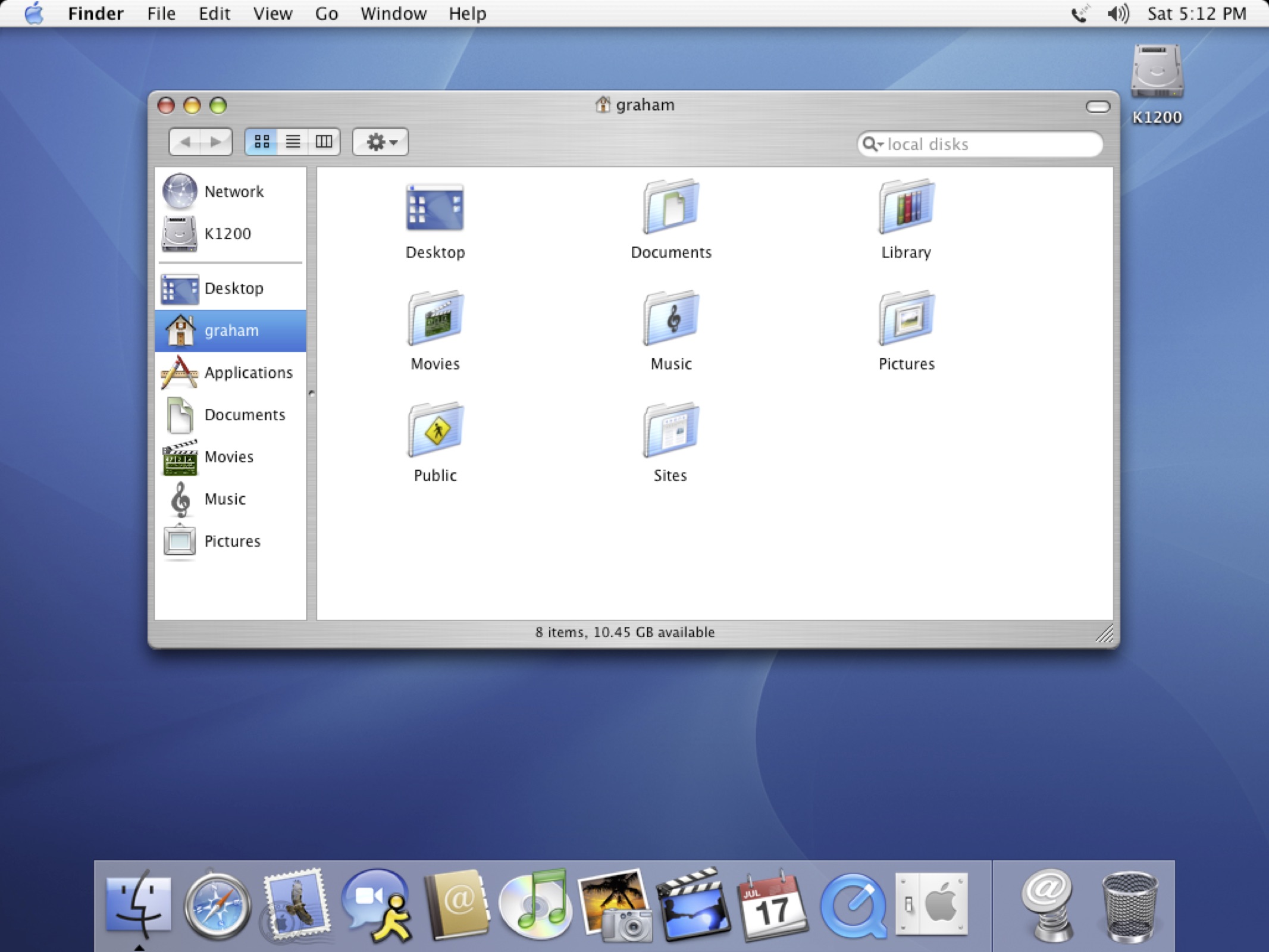 Screenshot - Full Screen on CRT iMac

The interface was familiar but different. A few items in System Preferences (e.g. Accounts) were in different places, but the version of OS X installed (10.3.9) had some similarities to macOS, Sierra, in a couple of vague ways. I still use some of the same applications, like BBEdit, iTunes and TextEdit. There was an early version of Safari (1.3.2) along with a version of Firefox and (heaven forfend) Internet Explorer (5.2.3). At least I will be able to access websites of local banks.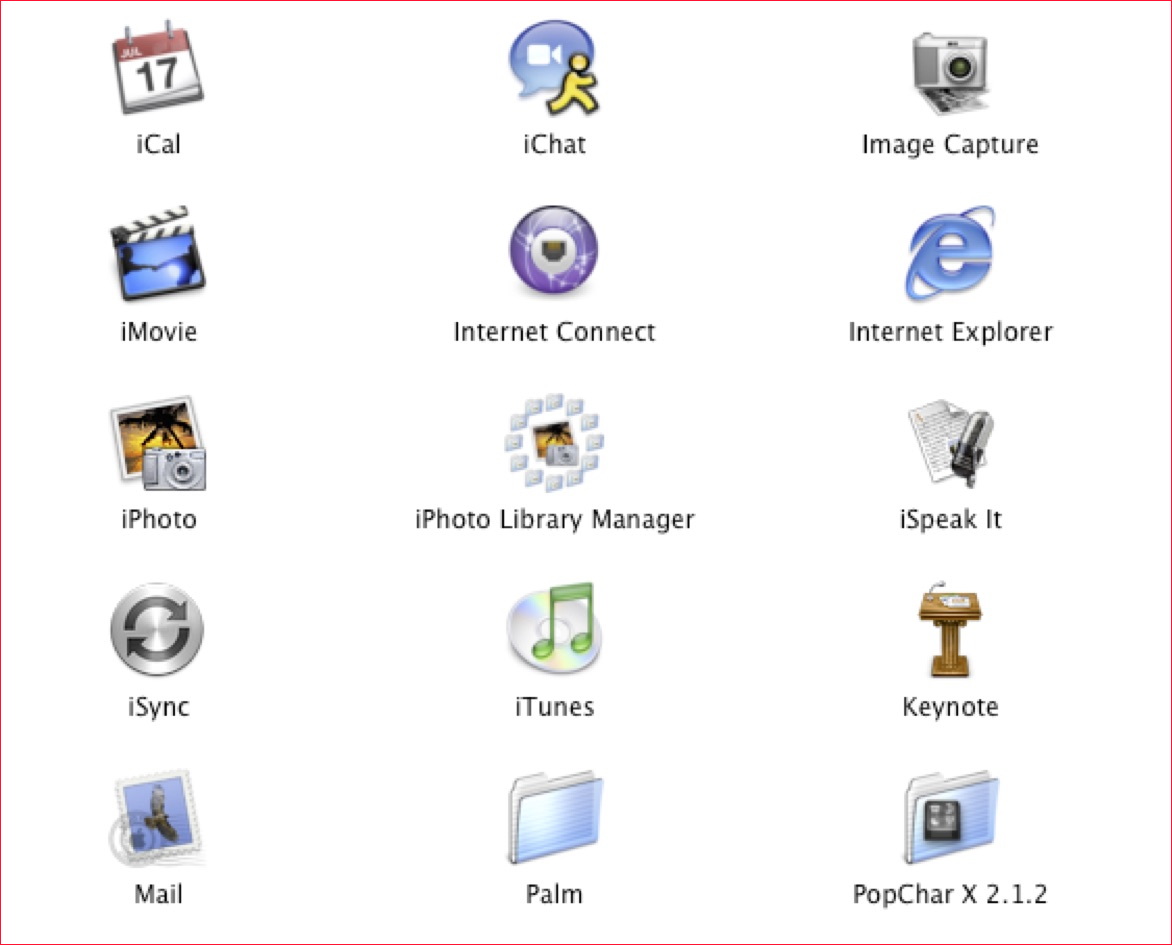 Screenshot from part of Applications Folder

The iMac is not intended to be a working machine at this stage, although clearly there are some application that are ready too roll even after 15 or more years. TextEdit for example will save files in Rich Text Format (RTF) or as Word documents. The screen shots used here were created with the same keystrokes I use today, although the default file format was PDF then (PNG now). What interests me most is that I have here a computer I picked up in 2002 initially with 128 MB RAM (since updated to 384MB) that still runs and on which I can do some limited work.
Graham K. Rogers teaches at the Faculty of Engineering, Mahidol University in Thailand. He wrote in the Bangkok Post, Database supplement on IT subjects. For the last seven years of Database he wrote a column on Apple and Macs. He is now continuing that in the Bangkok Post supplement, Life. He can be followed on Twitter (@extensions_th)