By Graham K. Rogers
---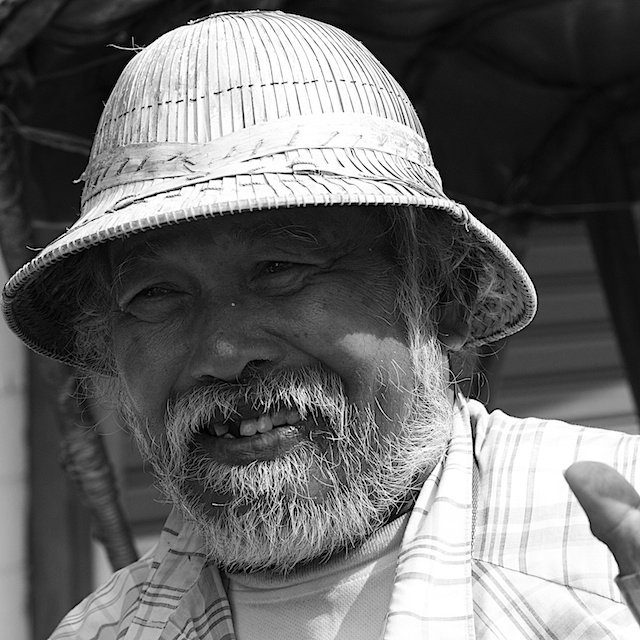 With the soon-to-be-released iOS 10, Apple will include a HomeKit app. This will allow a single app to control devices in the home. There are a few devices on the market, with more on the way. These all have their own apps to allow control. I have been trying one such device that demonstrates much potential in this area.

I am not a lover of the term, "The Internet of Things" (or "of Everything): devices connected using wireless technology that can be controlled or monitored remotely. The growing number of independently-developed devices prompted Apple to develop HomeKit as a way of bring some sense to the various implementations. Currently Apple lists 46 devices that are compliant (updated 11 Aug). I have not found any in Bangkok.
I saw another term for the Internet of things (or "of everything") last week: in a report on US home buyers, 44% "said that smart home technology should already be installed" with many referring specifically to Amazon Echo and Apple's HomeKit.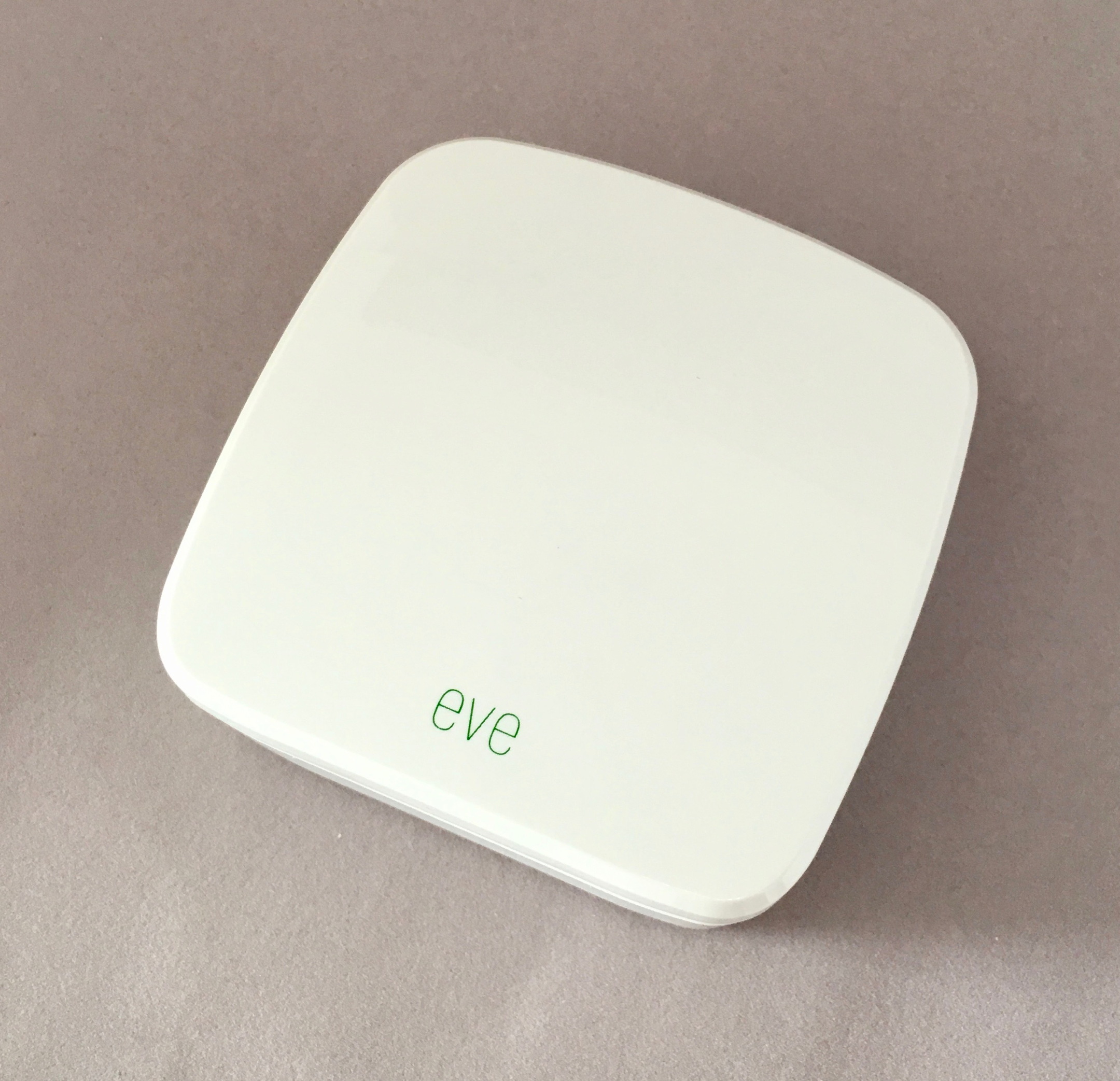 Elgato Eve Monitoring Device

While in the UK in July, I went to the Apple Store in Milton Keynes where I found several HomeKit devices. I bought the Elgato Eve outdoor weather sensor for £39.95 (1800 baht). VAT in the UK is a stiff 20%. Nearby, John Lewis also had HomeKit devices displayed, including the Philips Hue system. This controls lighting in the home remotely and has been out a couple of years. Of all the items that Apple lists on its HomeKit page, the Eve Weather sensors (Indoor and Outdoor versions) are the only devices that Amazon will ship to me.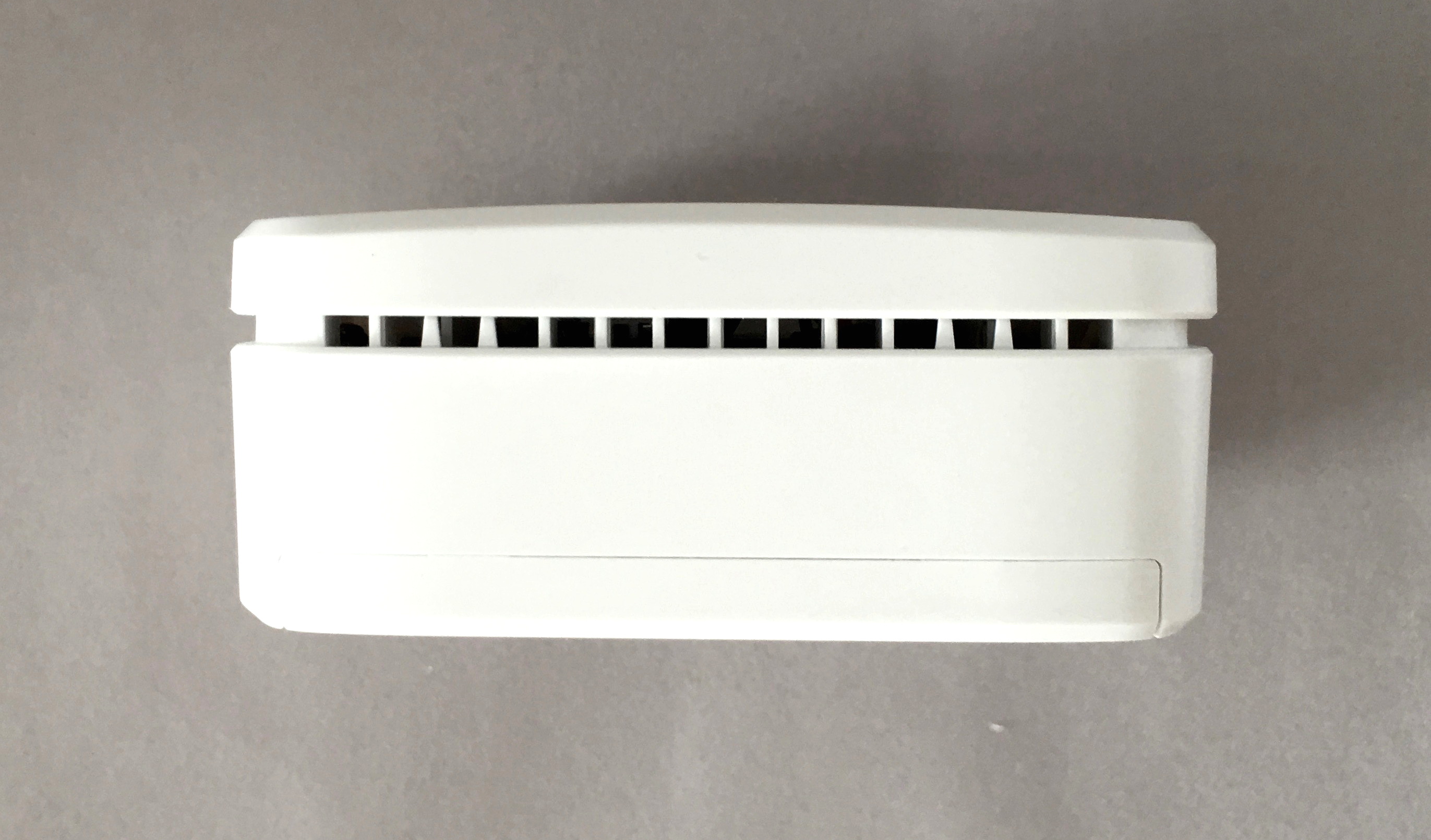 Elgato Eve Monitoring Device: Rear View

I downloaded the Elgato iOS app and turned on the Eve Weather Sensor (batteries included). Each device has a unique pairing number. When I was asked for this, the camera opened and I held the iPhone close to the number. This is on the base and in a notes booklet with this device. Pairing was almost immediate.
All I had to do was allocate a room and enter some unique names. The location was also entered in iPhone settings for HomeKit (iOS 9). When the HomeKit app arrives in iOS 10, full details of devices will be entered there; or I could use the Apple app for all my connected devices. When this was complete, I also peeled off the pairing number from the back of the Eve device and, along with the notes booklet which also has the pairing number, put this in a secure location.
Elgato Eve app on iPhone - Setting Up

Since the device has been installed, I have been able to monitor temperature, humidity and air pressure constantly. Information is displayed numerically and in easy to read graphs. Although only a few hours can be displayed at one time, I can scroll back and forward to see the patterns. Leaving the WiFi on at home, I am able to access the data when I want, even connecting with 3G/4G networks.
Elgato Eve app on iPhone - Remote Monitoring

The point here is not that I can see the temperature in my bedroom when I am in the cool of a shopping mall: I know it is hot. What this demonstrates is the potential for remote monitoring and (on devices that allow it) for control.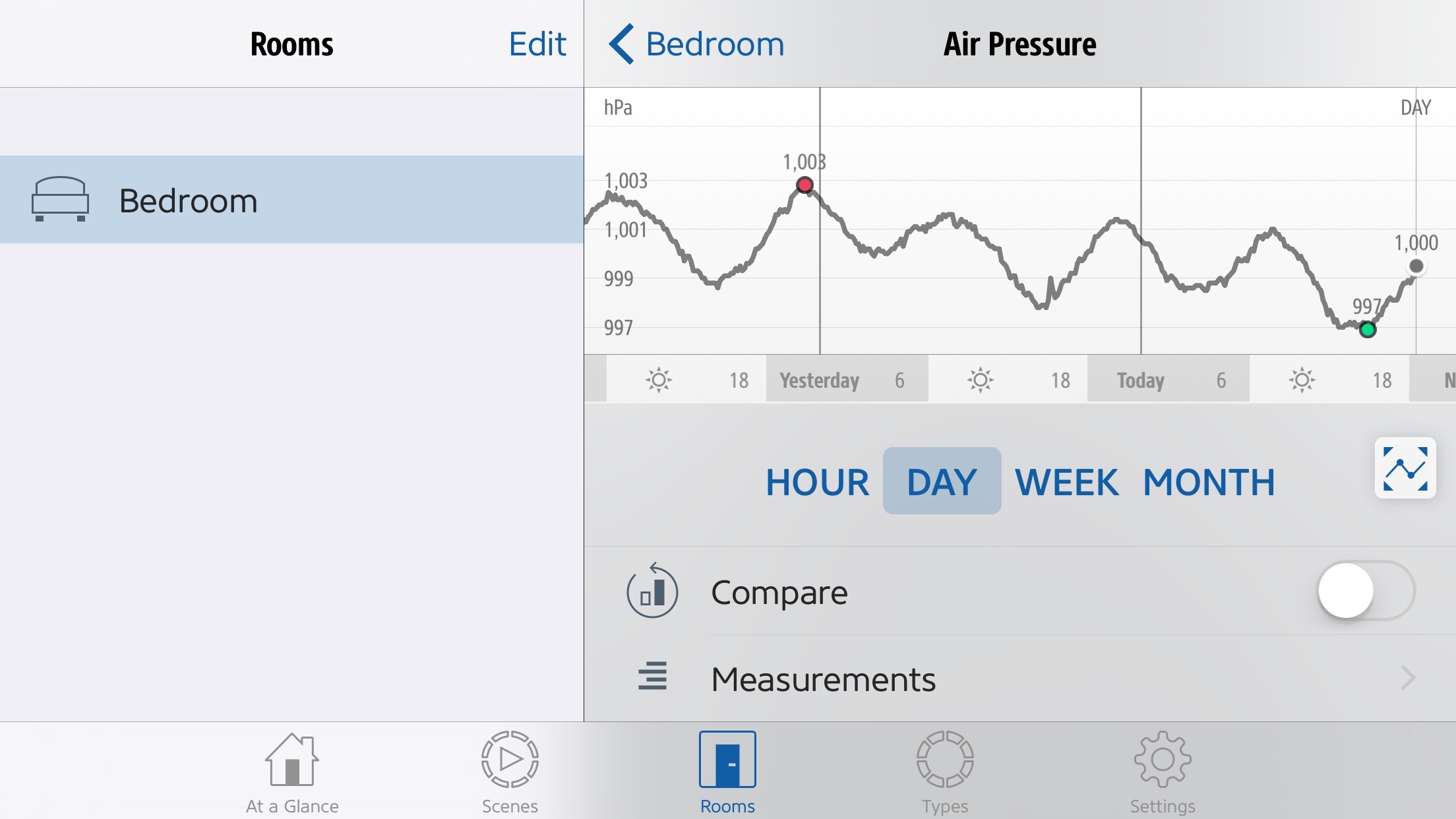 Remote Monitoring

Some of the devices listed by Apple are smart plugs, which will enable users to turn devices on or off, such as water heaters or coffee pots: ready for when you come home. Currently, none of the smart plugs listed can handle 220v: there is room for improvement here. Some other HomeKit devices include thermostats and remotely-activated locks.
iHome Smart Control Plug with HomeKit icon and Pairing Number (right)

Although HomeKit devices are not available here - and that must change - iStudio and .Life in Siam Paragon sell a weather monitoring device (6590 baht), with a selection of accessories from the French company Netatmo. These work with iOS or Android apps.
There are also indoor and outdoor cameras which use a separate app. This also offers an Apple Watch app. A Netatmo Thermostat is HomeKit-ready, but I have not seen it here and doubt there is much call for this. I also found an HD camera with an air-monitoring system from Withings (7990 baht) which has iOS and Android apps, but is also not HomeKit-compliant.
7 Sensors Grow Box

As more devices are developed, the potential increases. Only last weekend, for example, I found 7 Sensors, who are developing Grow Box: a sunlight emulator, irrigation system, and climate controller all in one. This will allow remote monitoring and automatic watering. I could have done with this recently as I came back from vacation to find several dead plants: the maid forgot.
The 7 Sensors units are up to 70" high and have been used to grow bell peppers and marijuana (legal in the USA now in certain circumstances). Such monitoring and control could also be applied to remote crop areas. Some of my students created a rose garden last year with water levels, temperature and other input monitored by sensors.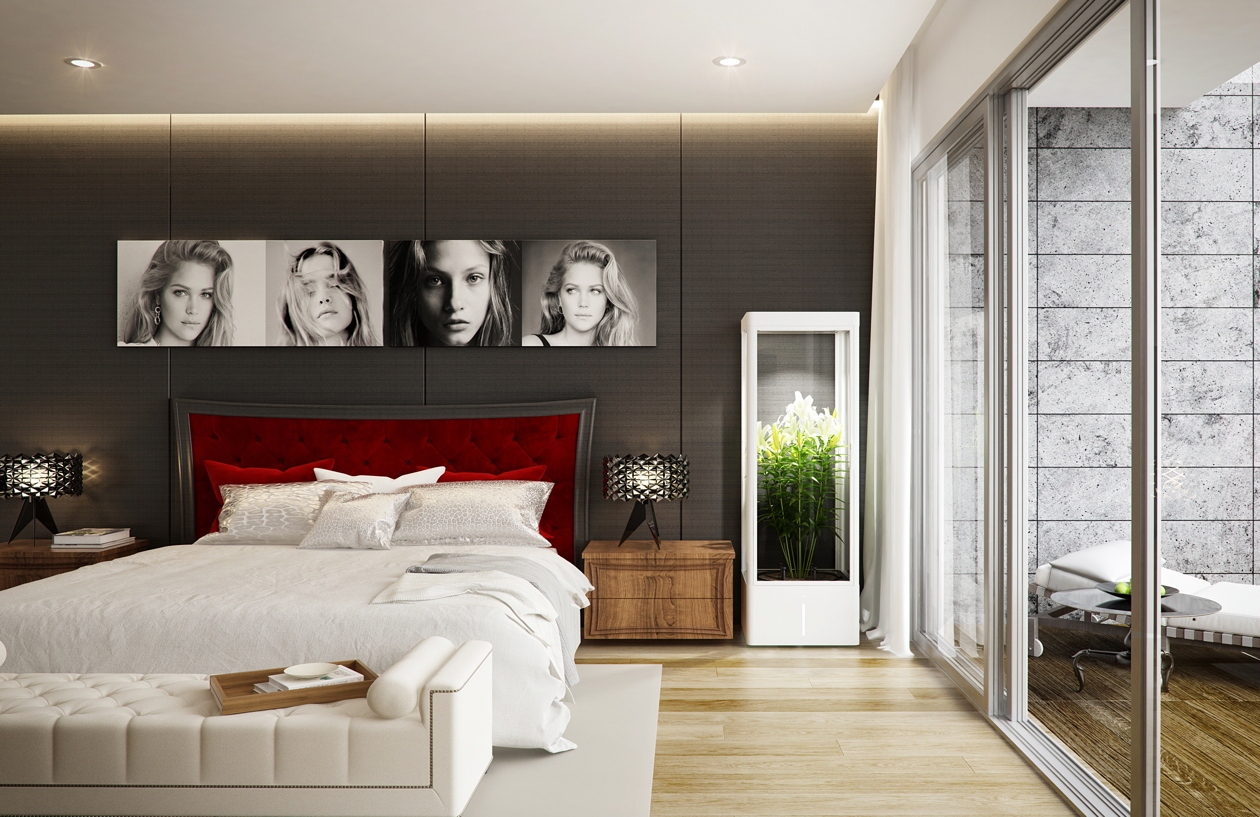 7 Sensors Grow Box

It is only a short step from use of sensors to monitoring and control. This area of controllable devices has considerable potential for developers. The lack of HomeKit devices here, however, needs to be improved. Also needing attention is the lack of the Broadcom WICED (Wireless Internet Connectivity for Embedded Devices) tools needed. I have contacted Mouser, the local importers, but have so far had no substantial reply concerning these.
See also:
The Internet Of Things Is a Security And Privacy Dumpster Fire And The Check Is About To Come Due (Karl Bode, Techdirt).
Logitech's new Pop Home Switch simplifies smart home control (Darrell Etherington, TechCrunch)



Graham K. Rogers teaches at the Faculty of Engineering, Mahidol University in Thailand. He wrote in the Bangkok Post, Database supplement on IT subjects. For the last seven years of Database he wrote a column on Apple and Macs. He is now continuing that in the Bangkok Post supplement, Life. He can be followed on Twitter (@extensions_th)