By Graham K. Rogers
---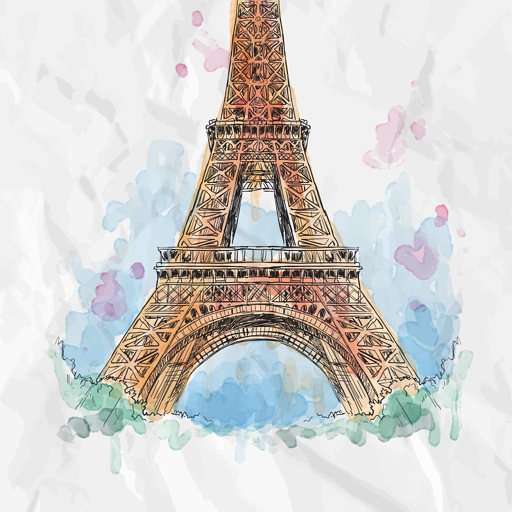 I have been looking round some of the older apps in the App Store in the last few days after an update and welcome return of Noir Photo. There are a lot of hidden gems in there, but some are so hard to find and Apple needs to change the way some of the apps from smaller developers are displayed. It is no good having an app pushed because so many like it: there are some really good apps that almost never see the light of day in some searches.
As well as Noir Photo, digging about in the Photography section of the iTunes App Store, I have also found the unusually-named, RebelSauce and TinType. When I was writing my comments on this app, I searched the app store to bring it up again and alongside was an app with the name Paris Photo Pro (full name Paris Photo Pro: Vintage Camera Effects). This is a simple app with a dozen filters, some frames and the ability to write captions. And just a little more.

I must admit that I was expecting output with an air of Lautrec or Monet, especially looking at the opening screen of the Eiffel Tower. It was not quite like that, but nevertheless did not disappoint with the effects I was easily able to produce.
This is the key: ease of use. That I can quickly adjust an image to produce a fresh interpretation of a photograph, is a plus point. That I can do this with a free app, in just a few seconds, is a real advantage, although there are a couple of minor losses.

The app opens with the usual choice between camera and Photo Library. I always use the latter when testing such apps. When any image was brought in I was offered the option of first cropping it square. This really should be done otherwise the app will change (and perhaps spoil) the image aspect. It should also be remembered that some images (particularly wide landscapes) may not work with such apps and filters. Photographs of faces should be managed carefully.
The selected and cropped image is shown onscreen with a default frame. At the bottom of the screen are four tool options: filters, image adjustment, frames and caption.
Filters displays a nice selection of 12 options. I am wary of the filters with some apps, but this small selection seems to hit the sweet spot, although not every filter works with every image;

Image adjustment provides three slider controls for contrast, saturation and brightness. These were a bit harsh with the way effects were applied heavily. It was also not always easy to remove any adjustment. With some judicious use, the effect from the filter selected could be improved nicely.

Frames provided a selection of nine frames: each a white border with some patterning. There was no Off. This needs to be optional. Some users may like these. I do not. Or at least I prefer a minimal effect, such as a thin white border.

Image Caption showed a keyboard with text entry over the image, about a third of the way down. When the "Done" key was pressed, the caption actually appeared in the bottom section of the frame.

When the image is done, Save (at top right) opens an iOS panel giving a number of options, including social networking apps installed, certain ioS actions and Save Image. In the Photo Library, the images appeared with no original metadata (like GPS) and were reduced in size: ranging from 250 - 600 KB.
Although the information on the App Store page tells us that this is compatible with the iPad as well, this is only in the x1 or x2 resize options, although it does work well enough. On the iPhone, the app has some limitations, but the output is pleasing enough and anyone downloading this would be sure to produce some satisfying images. This app is recommended.
Graham K. Rogers teaches at the Faculty of Engineering, Mahidol University in Thailand. He wrote in the Bangkok Post, Database supplement on IT subjects. For the last seven years of Database he wrote a column on Apple and Macs. He is now continuing that in the Bangkok Post supplement, Life.