By Graham K. Rogers
---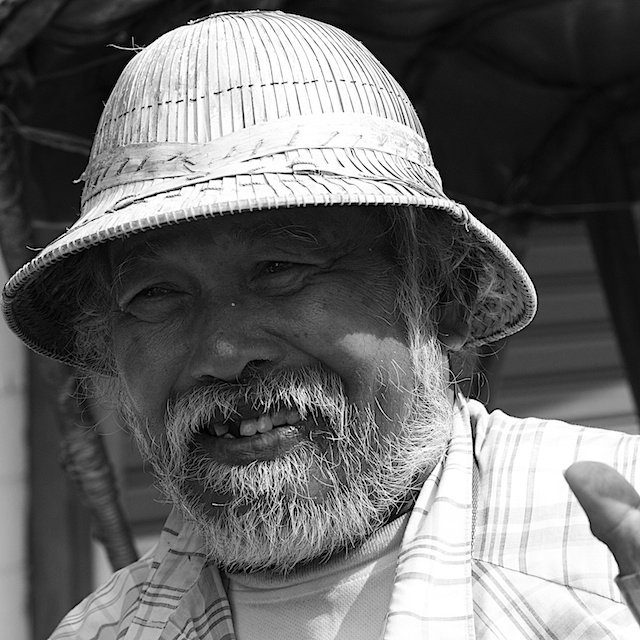 Following the Error 53 problem for iPhone users with unauthorised home button replacements, several sites reported a problem for the iPhone if the date is reset to 1 January 1970 (depending on time-zone), although why anyone would want to do that is beyond me. Do not try this at home.
On Macs, this reset may happen if the battery loses all power: the WiFi won't connect and apps won't work because they were created at another time (computers hate us), but the Mac will start. I turn off automatic time in System Preferences, Date & Time and reset manually. That allows me to access all the servies and apps. I can then switch back to automatic time. That cannot be done with the iPhone. A technician has to remove the battery and work some magic with the device first.
In a suppport note on Monday, Apple recognised the problem and reported that a fix was on the way, in the meantime suggesting users not try to change the date to May 1970 (or earlier). Again, why anyone would want to do that is beyond me.
Manually changing the date to May 1970 or earlier can prevent your iOS device from turning on after a restart. . . . An upcoming software update will prevent this issue from affecting iOS devices.

A bug in a recent Adobe Creative Cloud update deleted folders alphabetically in the Mac's Root directory. If I used the Adobe software, that would be .CFUserTextEncoding for me. That is an OS X helper to determine default text encoding. The Adobe update (3.5.0.206) has been pulled

At the weekend Apple announced a recall program: there may be charging problems with cables for early 12" Retina display MacBook computers. The print on the cable for the one I use is faint and I had to look carefully. My cable is fine, so would not expect users in Thailand to be affected. If the cable does not have a serial number visible, take it in for replacement. The program is operating until 8 June 2018.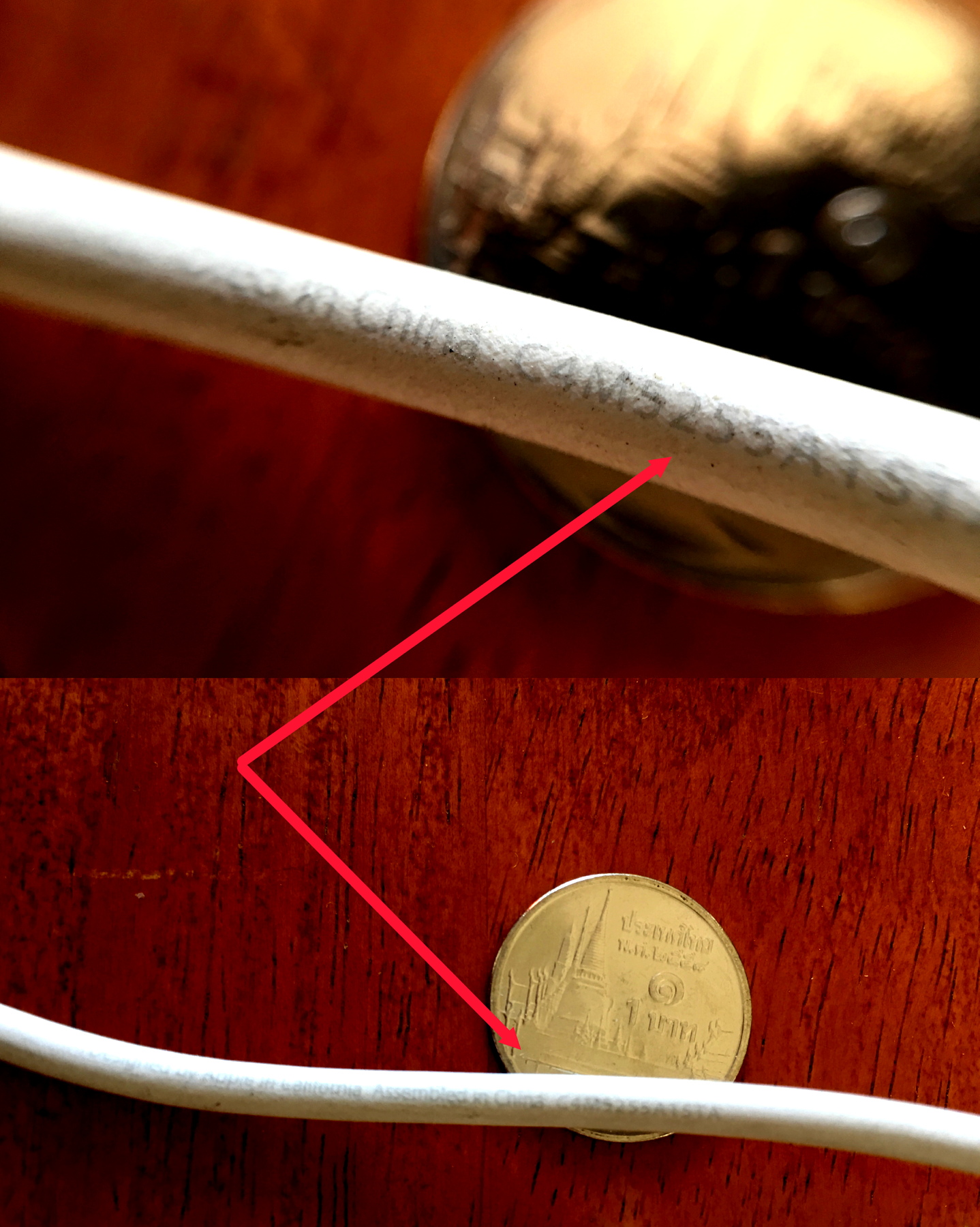 When I was looking through the MacApp Store last Monday, I was pleased to see a desktop version of an iOS app that I have: Polarr. The cost of the desktop app is currently $9.99 (356 baht) down from $19.99 as an introductory offer. By Friday, the app was briefly shown as the top download. The iOS version is free, and has several in-app purchases.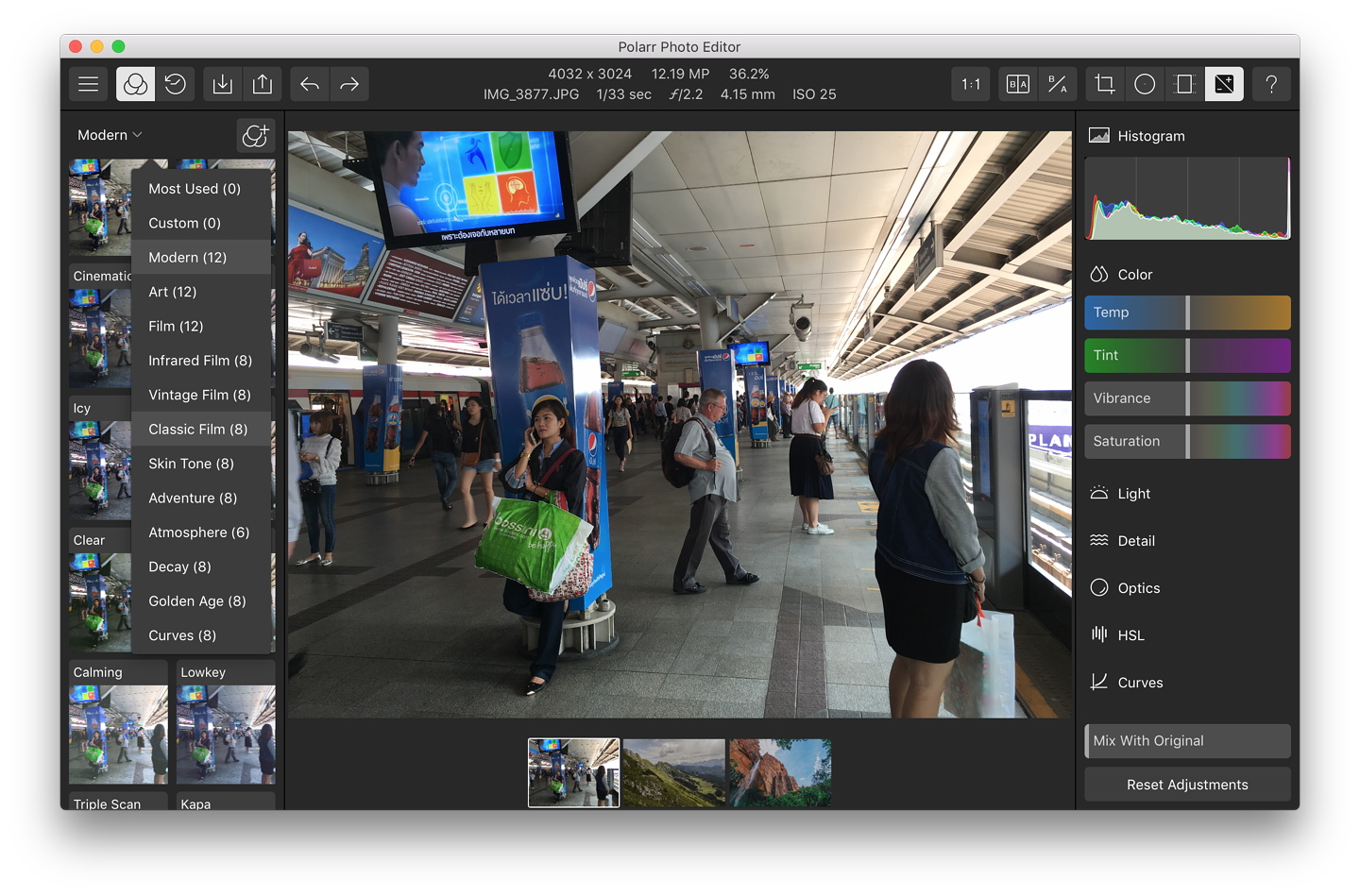 Polarr on OS X - Filters and Tools

On the Mac, the there are three main sections: the editing window in the centre; filters to the left; and a comprehensive selection of tools to the right. When first opened, a couple of trial images are available and several screens explain how the app can be used. Images imported are displayed below the main screen so can be accessed again easily.
There are 12 packs of filters shown, displayed one at a time. A pull-down menu allows access to others. There is a total of 106 filters. As filters are used, they appear in a Most Used section. There is also an option to save customised filters and the tools used.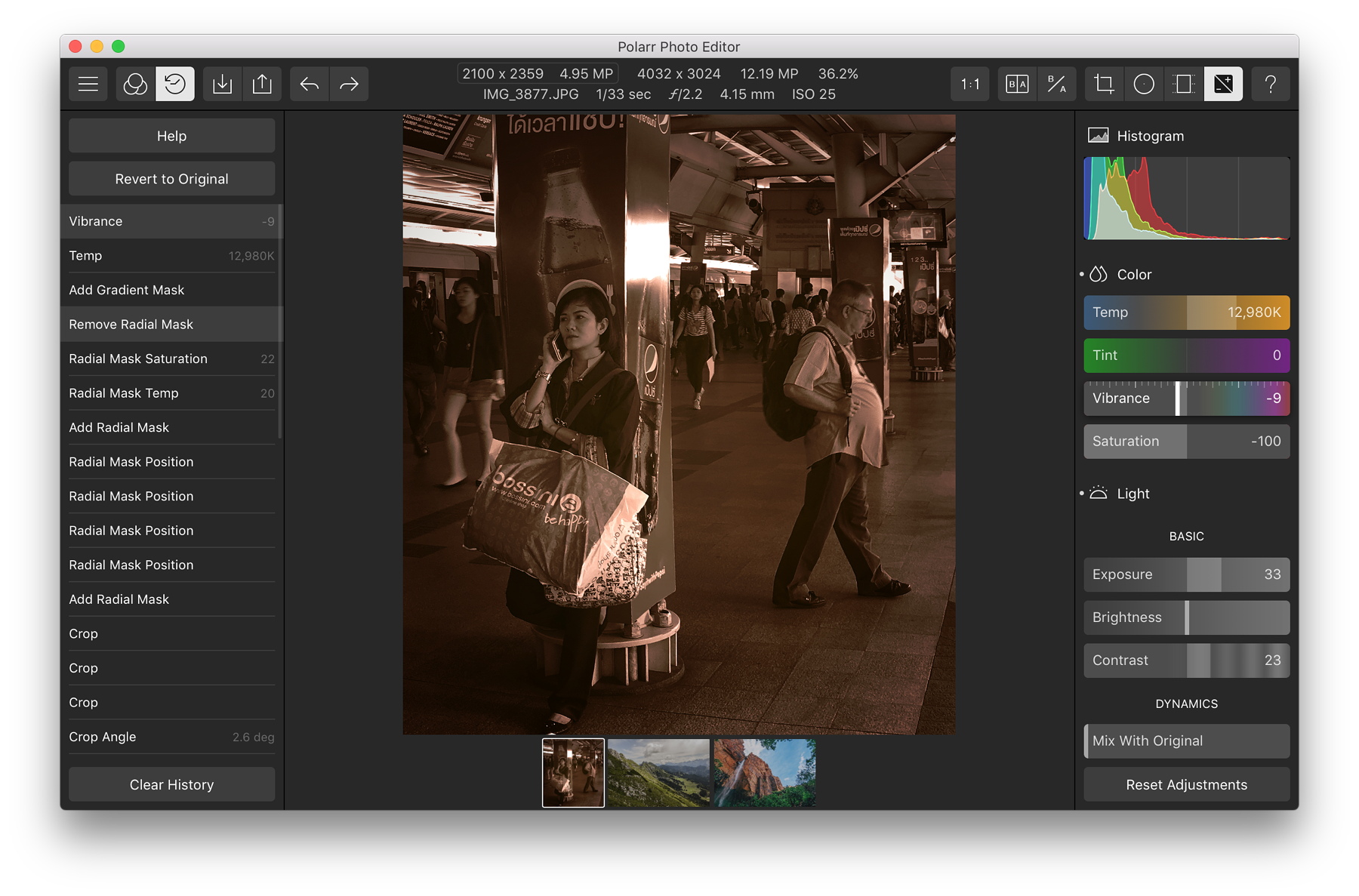 Polarr on OS X - Workflow and Tools

Tool types are Histogram, Color, Light, Detail, Optics, HSL (Hue, Saturation, Luminance), Curves and Toning. Clicking on one of these displays several tools, specific to each section. What is available gives a user a wide range of editing options - both filters and tools - that are easily accessed and simple to use.
And then. . . On Tuesday, the app was updated with minor fixes, plus an extension for Photos. Instead of the approach taken by some photo applications that provide specific (or limited) toolsets as extensions, the complete editing interface is available. Along with apps like Intensify and Tonality this expands Photos to bring it closer to the one-stop shop that is needed
My one slight disappointment with Polarr was that it did not provide any synchronisation with iOS, but that is easily dealt with: editing an image within Photos on the Mac makes that edit available within Photos on iOS devices as well.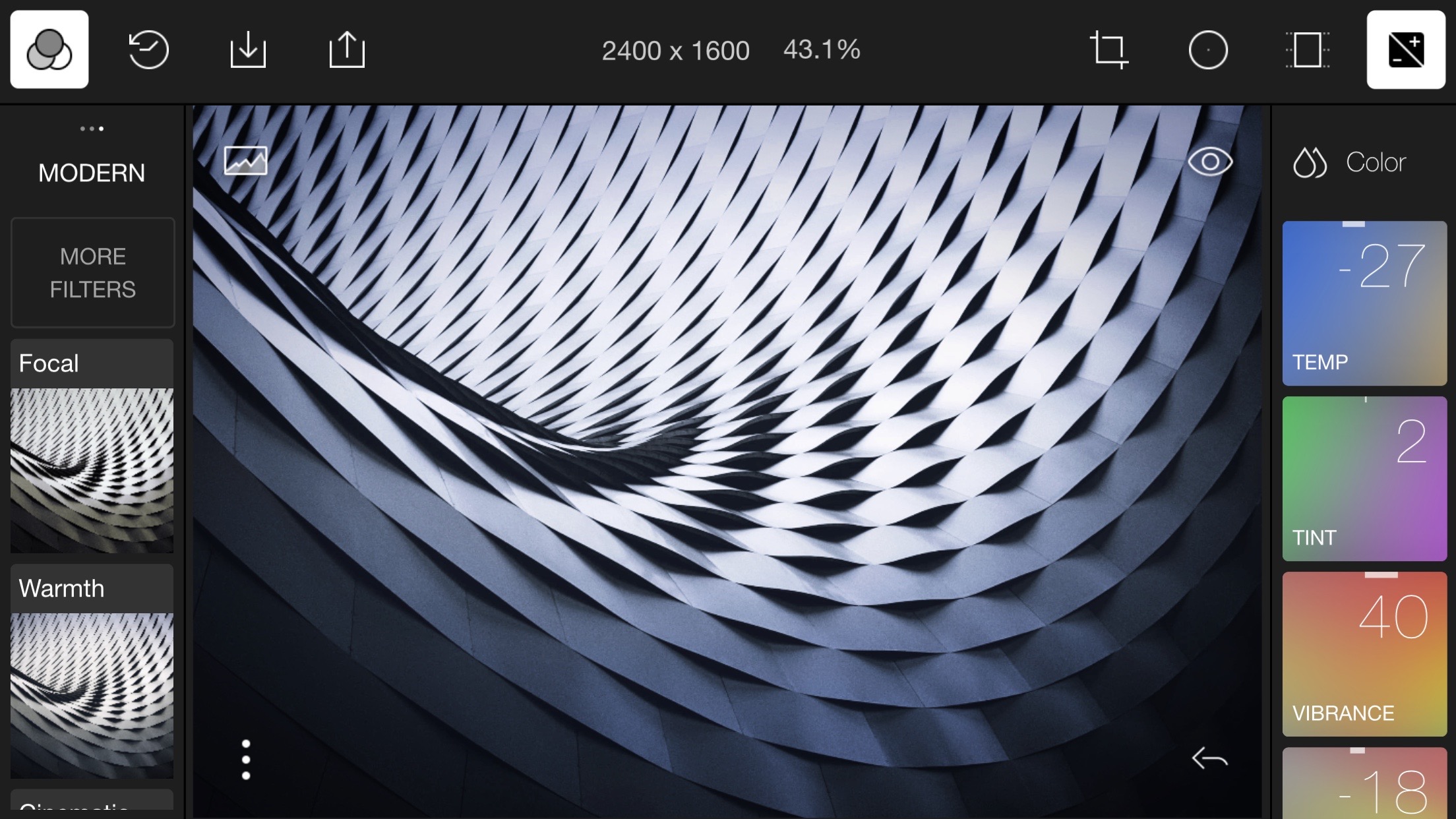 Polarr on iPhone

I first downloaded the iOS version in July 2015 and reviewed it on my own site then. Because of the size of the iPhone screen, the developers save space by hiding filters and tools on the sides. They are easy to access with one tap, leaving the screen fairly clear. The app is easier to use with the iPad (and Mac) where the larger screens allow the tools to be where needed.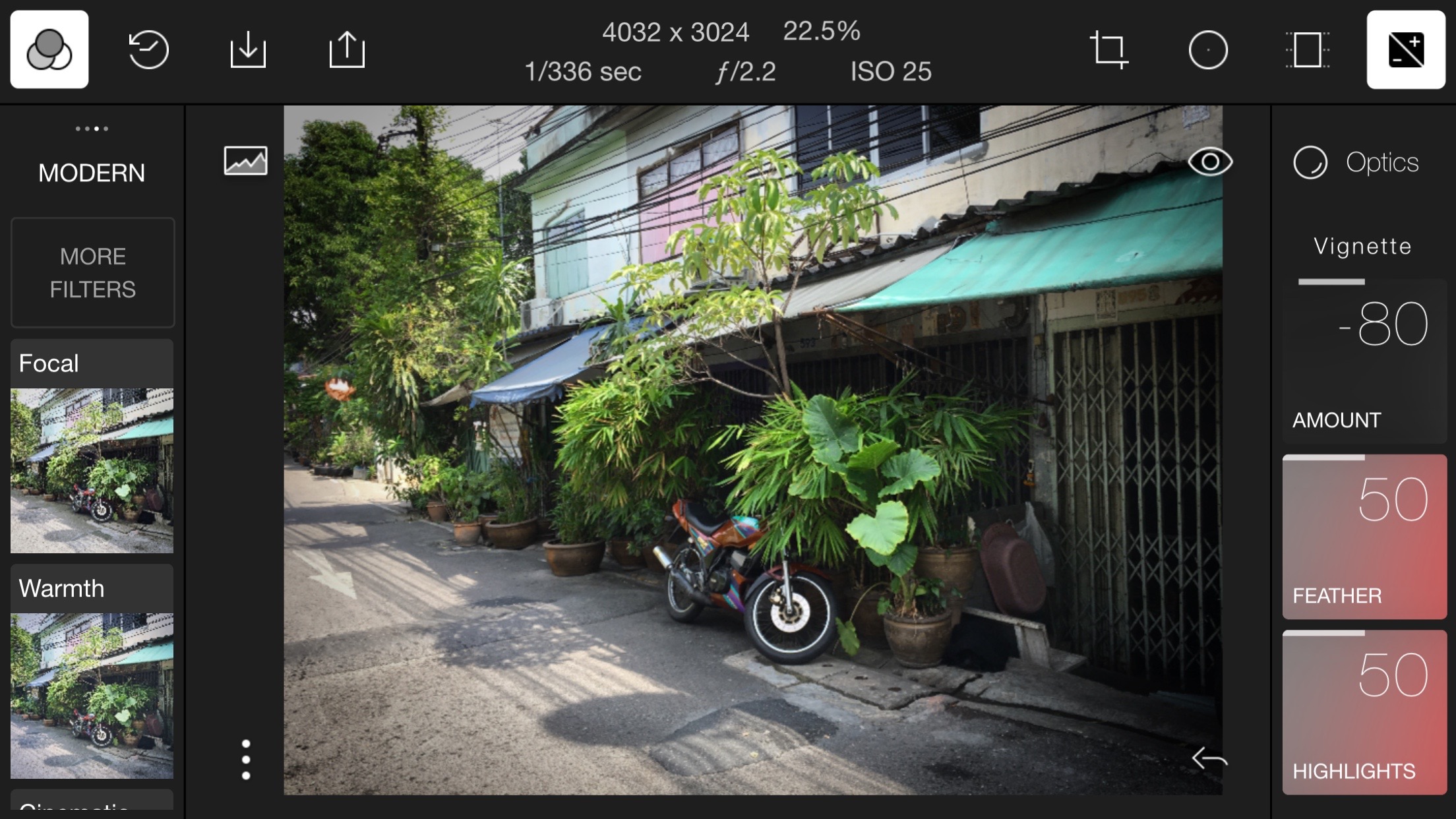 Polarr on iPhone

I had done most work with Polarr on the iPad Air 2, but with the arrival of the iPad Pro, the screen size makes this app a really effective editing tool. Different interface adjustments can be made either using a scroll wheel or sliding a finger across the specific panel.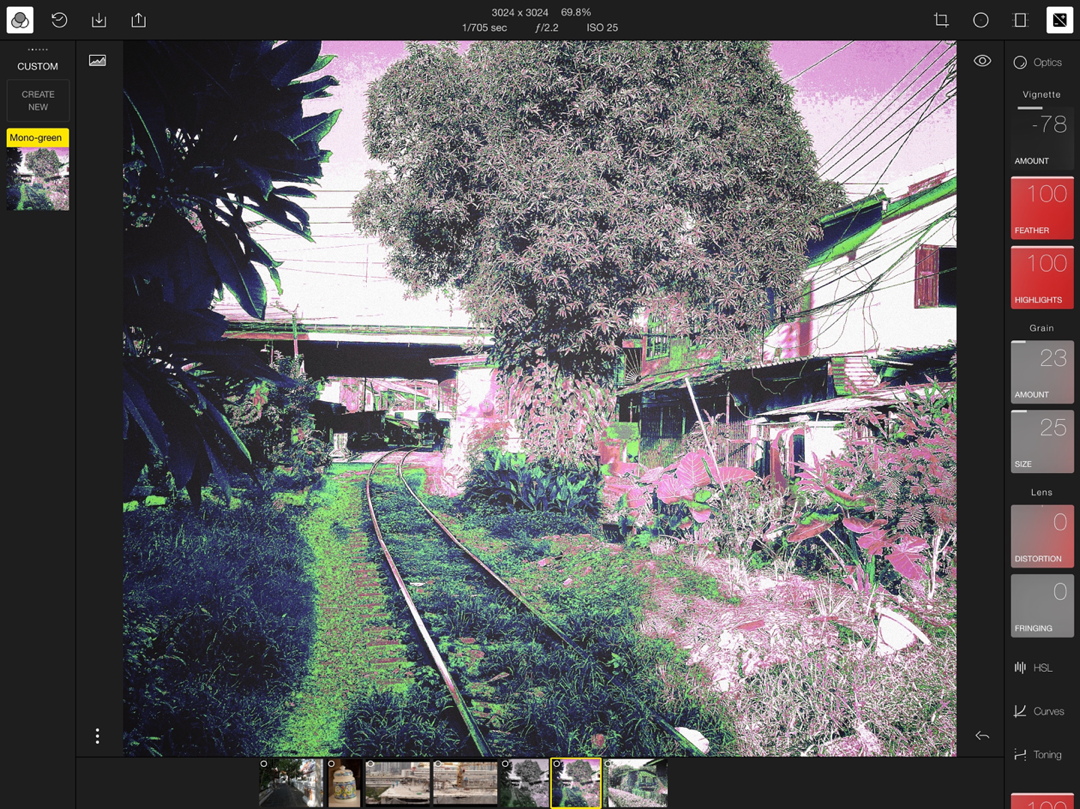 Polarr on iPad Pro

A neat Before and After button toggles between the two versions. On the desktop version, there is either the toggle, or the two versions can be displayed side by side.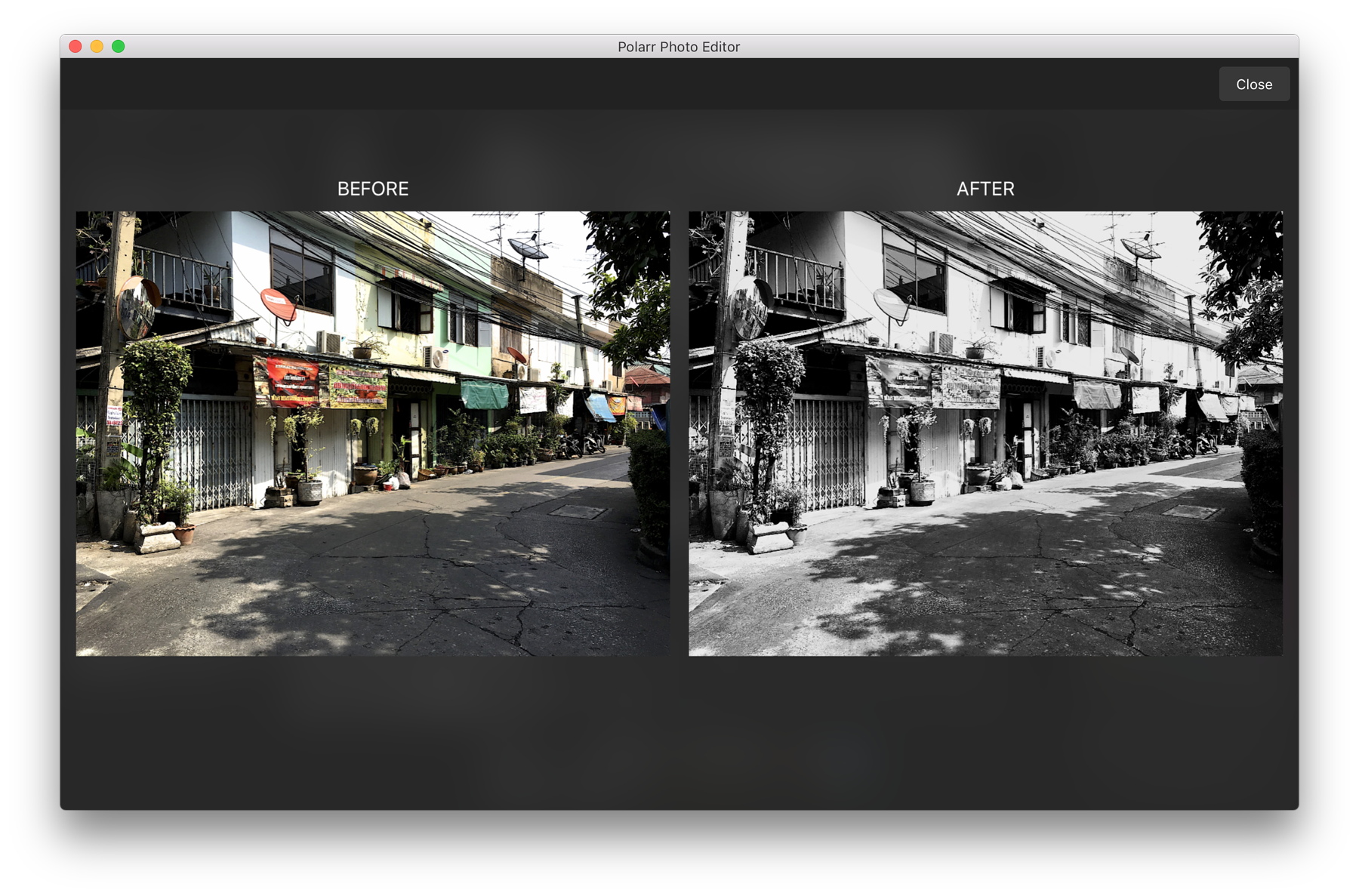 There are 14 filter packs available: $1.99 for each pack, although 2 packs are free. Before buying, users can see how the filter works with the current image. While tools are the same as on the desktop version, some need to be unlocked: a Pro update for $9.99. With those same tools already included in the desktop app, I bought a monochrome (Golden Age) filter pack, but resisted the Pro tools, at least for now.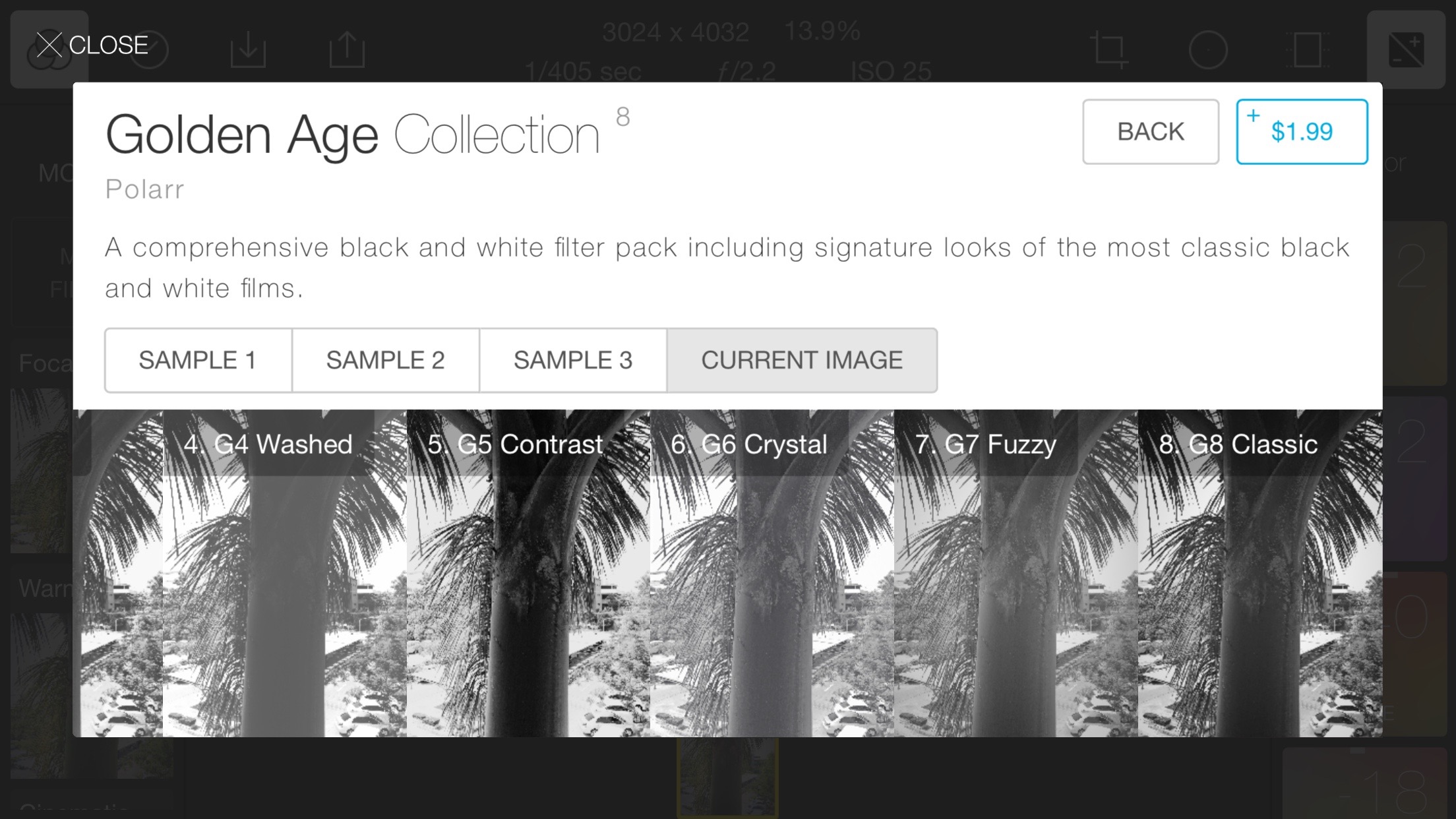 See Also:
Graham K. Rogers teaches at the Faculty of Engineering, Mahidol University in Thailand. He wrote in the Bangkok Post, Database supplement on IT subjects. For the last seven years of Database he wrote a column on Apple and Macs. He is now continuing that in the Bangkok Post supplement, Life.