By Graham K. Rogers
---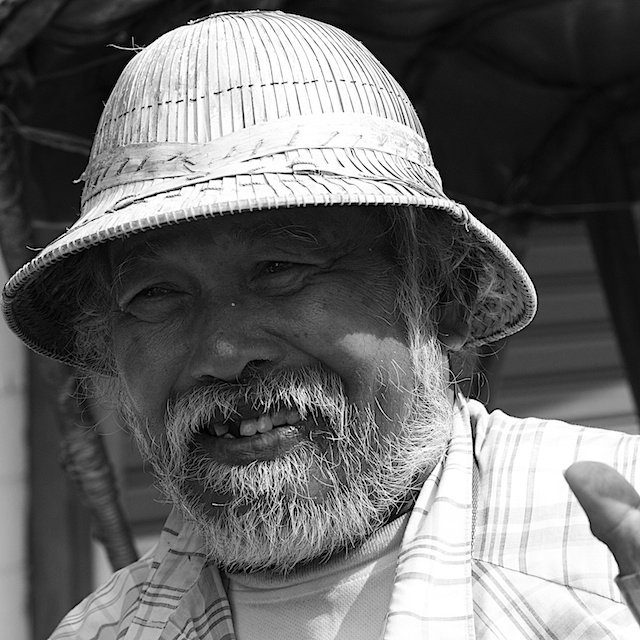 A few hours ago, on 26 January (Wednesday morning here) Apple released its Q1 2016 financial report. Analyst opinion has been split, particularly on iPhone sales speculation: some say down, some say up. With figures from China and India already looking promising, those who always vote for a doomed Apple, appear to be wrong again.
As is usual, Apple put out a press release concerning the report. The most important contents of the press release are here:
Apple today announced financial results for its fiscal 2016 first quarter ended December 26, 2015. The Company posted record quarterly revenue of $75.9 billion and record quarterly net income of $18.4 billion, or $3.28 per diluted share. These results compare to revenue of $74.6 billion and net income of $18 billion, or $3.06 per diluted share, in the year-ago quarter. Gross margin was 40.1 percent compared to 39.9 percent in the year-ago quarter. International sales accounted for 66 percent of the quarter's revenue.
Sales of iPhones were some 74.8 million, iPads 16.1 million, Macs 5.3 million. We look forward to the apologies and perhaps resignations of some analysts who have persistently predicted another Apple fail, despite several quarters when the opposite has been the case.
---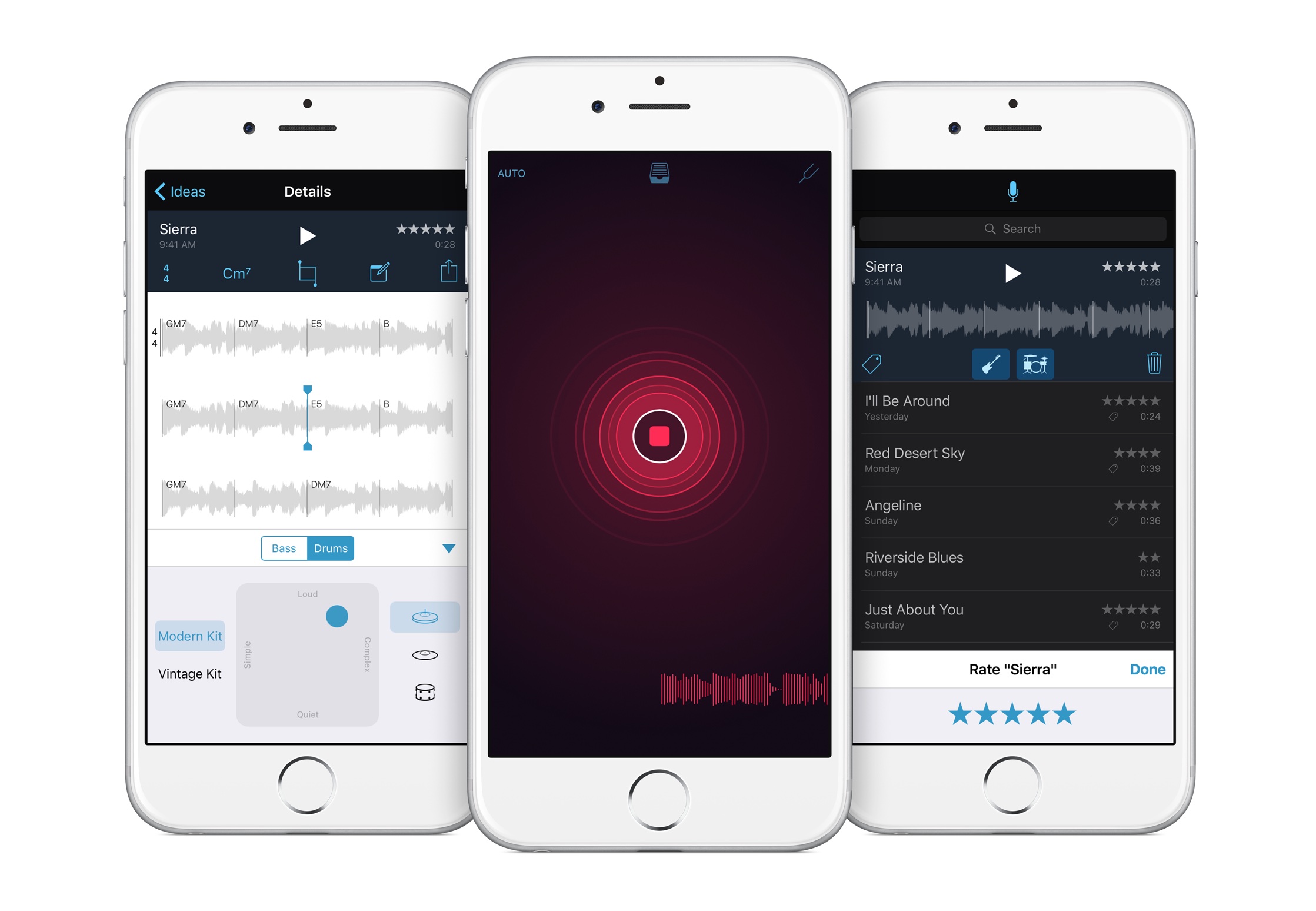 Music Memos - Image Provided by Apple
Last week, in a move which is typically Apple, a new, free, music-oriented app was released; and GarageBand ($4.99) for iOS was completely rewritten. Music Memos is like a doodle pad for those who come up with tunes. There are already apps for recording sound, but this goes a stage further by analysing the input then allowing the user to add bass guitar and drum backing so the elements of a piece of music begin to form.

Music Memos - Recorded Sound

The update to GarageBand (version 2.1) received several positive reviews (as did Music Memos). The interface makes it really easy not just to create music using the standard media, like keyboard or guitar, but turns it into a device for mixing music with the addition of hundreds of new loops.
The app is easy to use. In about 5 minutes I was able to come up with an electronic dance music (EDM) track using the loops. This may show either that I am a musical genius or that the genre has a certain latitude. I exported the track and (on the Mac) created a photo slideshow which I uploaded to YouTube.
I tried this on the iPad Pro first. The large screen makes it easier to see the instruments and loops: more can be seen on the screen. I was able to use it also on the iPad Air 2 and the iPhone 6s Plus, although the screen size does limit the number of loops displayed at one time.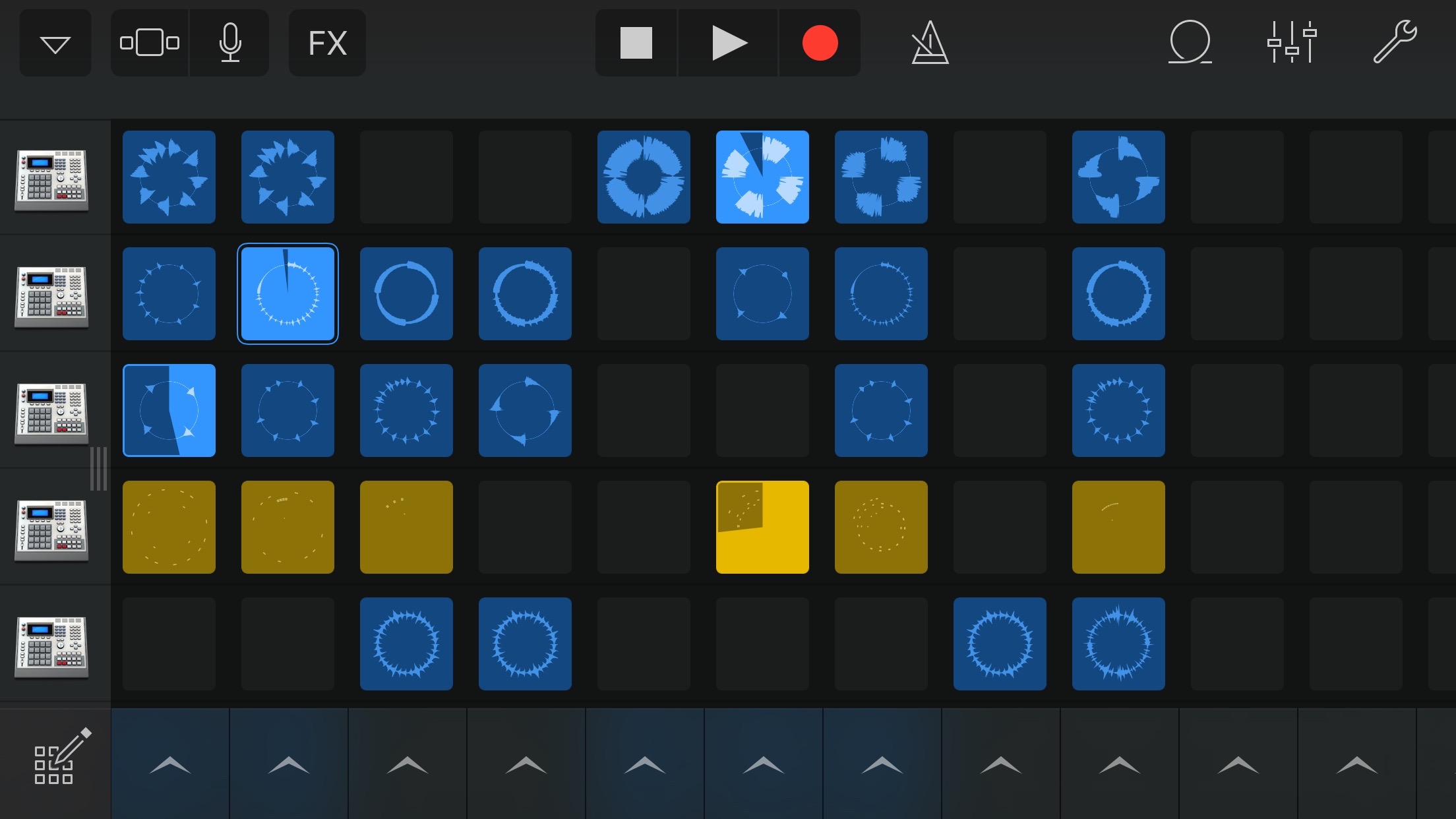 GarageBand on the iPhone 6s Plus - EDM Loops

Although I had a fairly brief look at the music apps, I am concentrating on photo apps currently. Last time I looked at some apps that produce output with artistic effects, but there are also hundreds of apps that have good editing features and are easy to use. A few also have some valuable extras.
One of the editing apps I have had for a long while is Photo Wizard Pro ($2.99), by the nicely-named developers, Pena Colada. First released in late 2014, the latest versions now also offer an app for the Apple Watch, although I find this is a little too fiddly for my fingers.
When an image is imported, either via the camera or from the Photo Library, a range of some 17 tools is available, from filters and effects through to text, censoring and image adjustments.
Photo Wizard Pro: Tools, Effects and Tilt-Shift

Once edited in the app, an images may be saved in the Photos Library or exported via Mail, to social networking sites, or to specific applications (depending on what is installed).
Where
Photo Wizard Pro scores highly for me is that the effects and tools are also available from within the Photos app, so editing may be part of the workflow without the need to leave Photos first.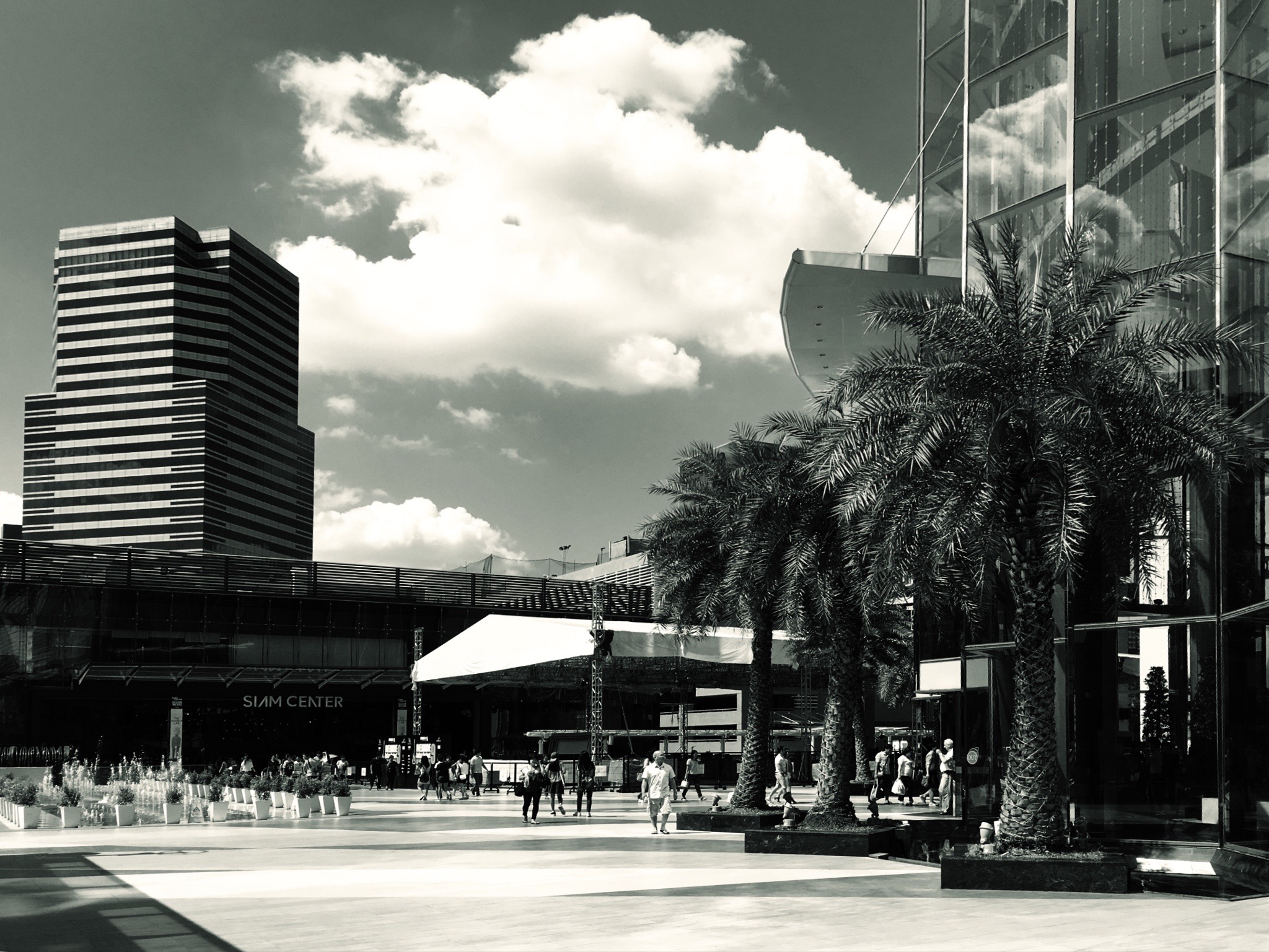 iPhone Image Edited in Tadaa HD Pro Camera - Monochrome and Perspective
One of my finds of 2015 is the free app, Tadaa HD Pro Camera. It is clear that the developers - menschmaschine Publishing GmbH - really understand photography: the filters and tools are well thought-out. Although I believe that choice of adjustment using filters is up to the user, the selection of some 25 filters available has some unusual offerings that I like. In addition, underneath each filter is a slider, so the amount of effect applied to an image can be adjusted.
Tadaa HD Pro Camera: Tools Management and Filters

Including filters, there are 15 ways to adjust images, plus a reset icon. There is also a Manage option to allow the tools to be sorted. This is rare. The free version has several tools already available, but there are in-app purchases for some of the more sophisticated ones. I bought the Colorshift tool ($0.99), but more important the Perspective ($1.99) tool as well.
The lenses in small devices have a small focal length of around 3-4mm so tall buildings appear to lean inwards. This tool enables me to fix that and the ease with which it works, using just one finger, makes it a worthwhile investment.
Tadaa HD Pro Camera: Perspective and Crop Tools

Like Photo Wizard Pro, Tadaa HD Pro Camera may also be accessed from within Photos, but the extension in this case only allows access to the filters. Both apps can also be used on the iPad. Photo Wizard Pro is optimized for the larger device, but Tadaa is intended only for the iPhone, so the display is less effective. I had a problem installing Tadaa on the iPad Pro as the App Store would not show it. I found it by looking at apps "Not on this device", then apps for iPhone only.
Both of these apps produce excellent output from a user's photographs with some lovely effects and easy to use tools.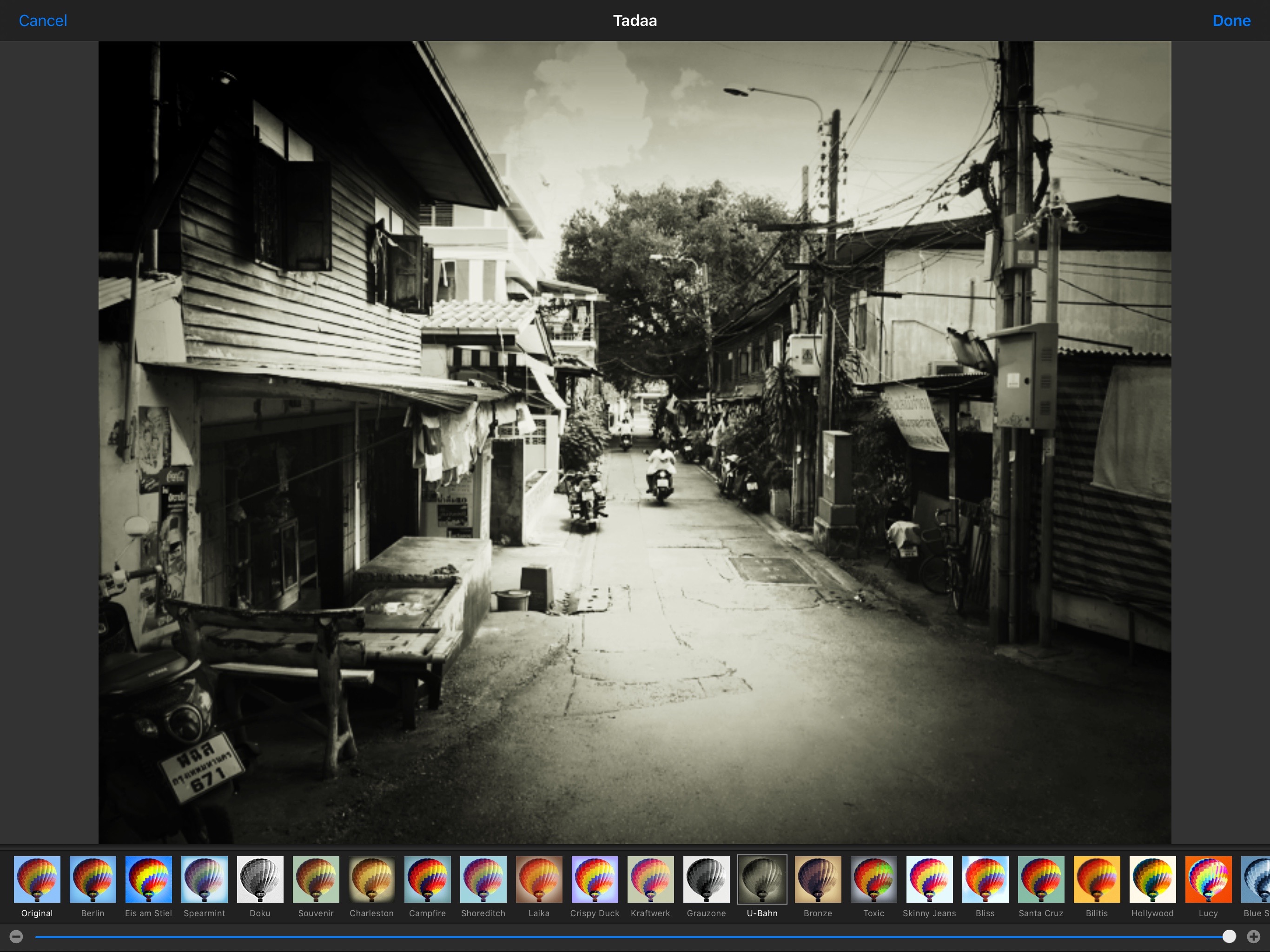 Tadaa HD Pro Camera: Editing from within Photos on iPad Pro
Some Related Links:
Graham K. Rogers teaches at the Faculty of Engineering, Mahidol University in Thailand. He wrote in the Bangkok Post, Database supplement on IT subjects. For the last seven years of Database he wrote a column on Apple and Macs. He is now continuing that in the Bangkok Post supplement, Life.