By Graham K. Rogers
---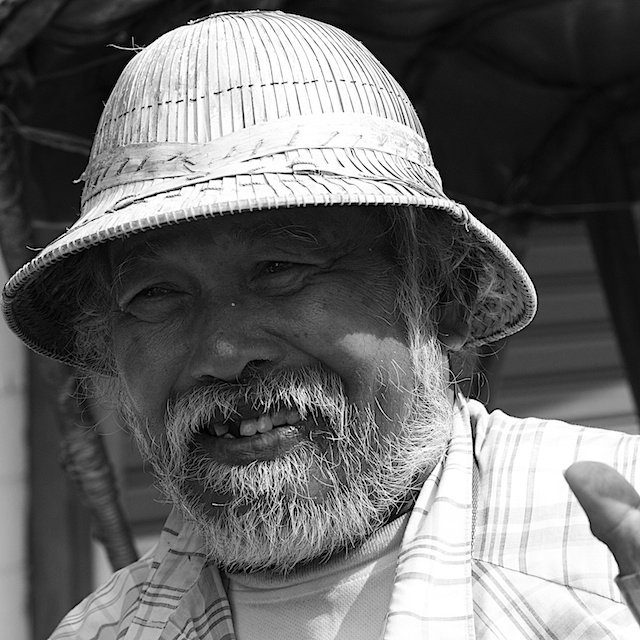 With Apple's World Wide Developers Conference (WWDC) only a couple of weeks away - running from June 8-12 - the rumours have begun. Top (and quite nice really) was that Apple would produce a new rose gold colour for the next iPhone. Another rumour (Fortune) reported how Homekit - Apple's unifying approach to the Internet of Things - is having problems and will be delayed until September.
This produced an unusual rebuff from Apple (Tim Cook is in charge now): Homekit is on track. There are many such rumours and there are those who much prefer the bad news to any denial by Apple. When these erroneous stories are found to be false, however, those who made (and spread) them usually fail to retract.
New release information
On Tuesday, Apple announced new versions of the MacBook Pro and new iMac versions, with the top model some $200 less. The MacBook Pro now has the force touch trackpad (this has been anticipated for a while), better battery life and a faster SSD. The 15" model with over 5 million pixels starts at $1999, while the 13" version with over 4 million pixels starts at $1299.

The 13" versions come with a basic 8 GB of 1866 MHz LPDDR3 memory, configurable up to 16 GB. The 15" ones are configured with the maximum 16 GB. There are three 13" models: 2.7 GHz i5 with 128 GB SSD at $1299; 2.7 GHz i5 with 256 GB SSD at $1499; and a 2.9 GHz i5 with 512 GB SSD (configurable to 1 TB) at $1799. The two 15" models are: 2.2 GHz i7 with 256 GB SSD (configurable to 512 GB or 1 TB) at $1999; and a 2.5 GHz i7 with 512 GB SSD (configurable to 1 TB) for $2499.

Apple information tells us that the new iMac has. . .
a resolution of 5120 x 2880, the new $1,999 iMac with Retina 5K display has 67 percent more pixels than a 4K display, and features a 3.3 GHz quad-core Intel Core i5 processor with Turbo Boost Speeds up to 3.7 GHz and AMD Radeon R9 M290 graphics. The new iMac also includes 8GB of memory and 1TB of storage, as well as four USB 3.0 ports and two Thunderbolt 2 ports that deliver up to 20Gbps each, twice the bandwidth of the previous generation. The top-end iMac with Retina 5K display now starts at $2,299 and features a 3.5 GHz quad-core Intel Core i5 processor with Turbo Boost speeds up to 3.9 GHz, AMD Radeon R9 M290X graphics and a 1TB Fusion Drive.

The new iMac is listed in the Online Store for Thailand: $1999 in the USA and 68,900 baht here. The updated MacBook Pro models are also shown in the online store: 13" (respectively) 43,900 baht, 49,900 baht and 59,900 baht. The two 15" models are shown at 66,900 baht and 84,900 baht.
Also among the releases was an iPhone dock with a Lightning connector. That is shown in the Apple store here for 1,490 baht.

Over the course of a year, I do a lot of writing, including for my website, for work and for the Bangkok Post. Although the text ends up on a computer, that is not usually my starting point. And when I input text by digital means, I never start with a word processor. A formatted screen - toolbars, tabs, font-choice - inhibits the thinking and writing processes.
I start the process in my head: mapping out ideas and creating sentences. Those that have a nice sound to them are written down on paper. Sometimes I plan on paper. When I am testing software, I write directly into a large notebook; and I use this for my first notes when writing. I suggest this to my students who take as much notice of this as when I tell them to back up their data. I have notebooks going back years, including for the 2007 iPhone introduction and the MacBook Air in 2008.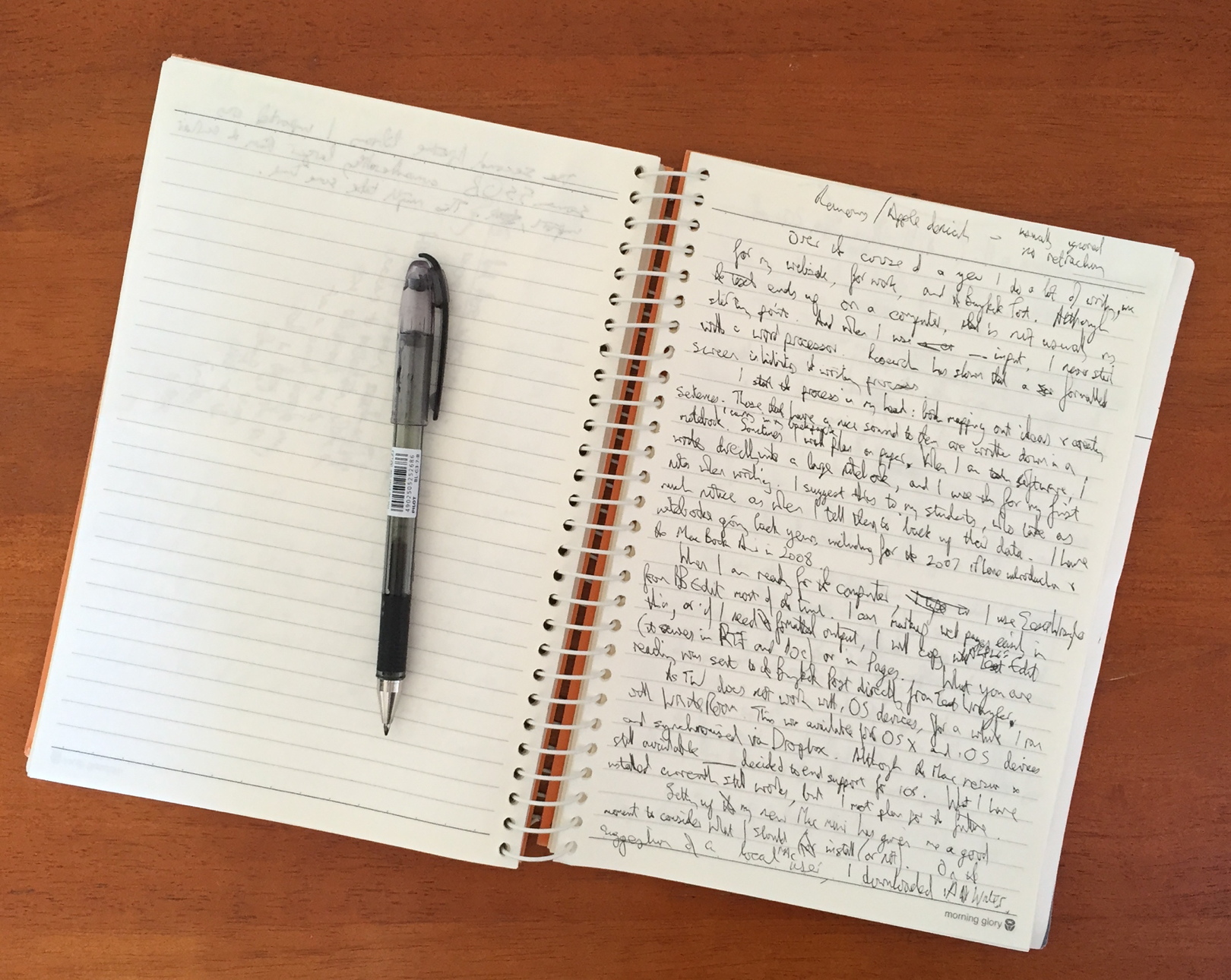 The start of the writing process

When I am ready for the computer, I use TextWrangler from BareBones Software most of the time. I can code web pages easily enough in this; or if I need formatted output, I will copy to Apple's Text Edit (it saves in RTF and DOC) or in Pages.
As TextWrangler does not work with iOS devices, I ran WriteRoom for a while. This was available for OS X and iOS devices and synchronised via DropBox. Although the Mac version is still available, Hog Bay Software ended support for iOS. What I have installed currently still works, but I must plan for the future.

Setting up my new Mac mini has given me a clean slate concerning what to install (or not). At the suggestion of a local Mac user, I downloaded iA Writer ($9.99 or 334 baht). There is also iA Writer Pro for $19.99 (670 baht).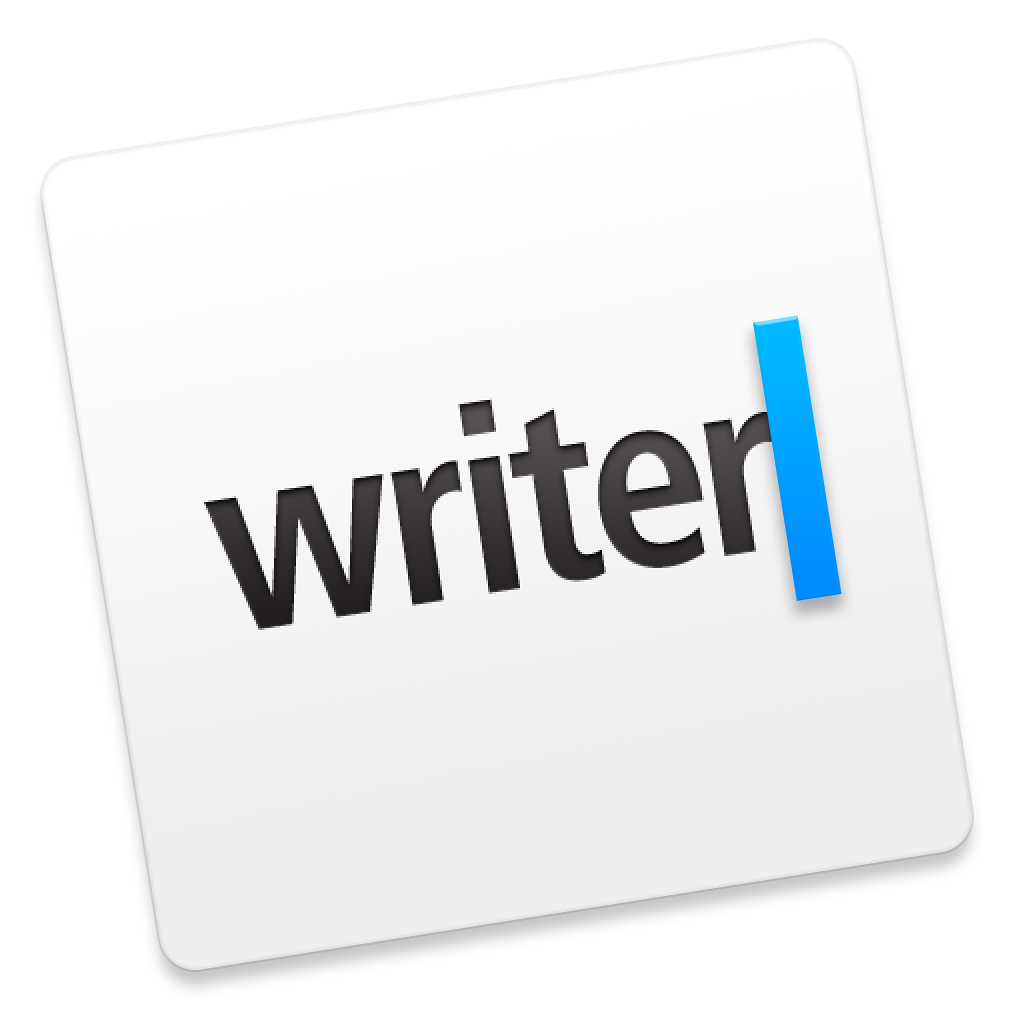 The iOS app is universal (iPhone and iPad) and is priced at $4.99 (167 baht). These can synchronise via DropBox or iCloud. I elected to use iCloud but also activated the link to DropBox on the iOS devices and saved backup copies.
I installed iA Writer on the Mac mini first and started to write this column. I also installed it on the iPhone and the saved text was synchronised in under 30 seconds. As I added text and saved, the open file on the iPhone was updated within 15 seconds.
When I installed it on the MacBookPro, the app opened showing the list of the files available. I altered the test file and saved. That was updated on the Mac mini and the iPhone in 15 seconds again. When I started the iPad, iA Writer was already installed. Once I had nominated iCloud, the test file was available in a few seconds.
Controls are slightly different on each, with file and export icons at the top of the iOS screens. On the Mac, the writing panel was uncluttered: totally blank. There are menus, but remembering key commands saves time. A full screen display removes any distractions: all we focus on is the writing.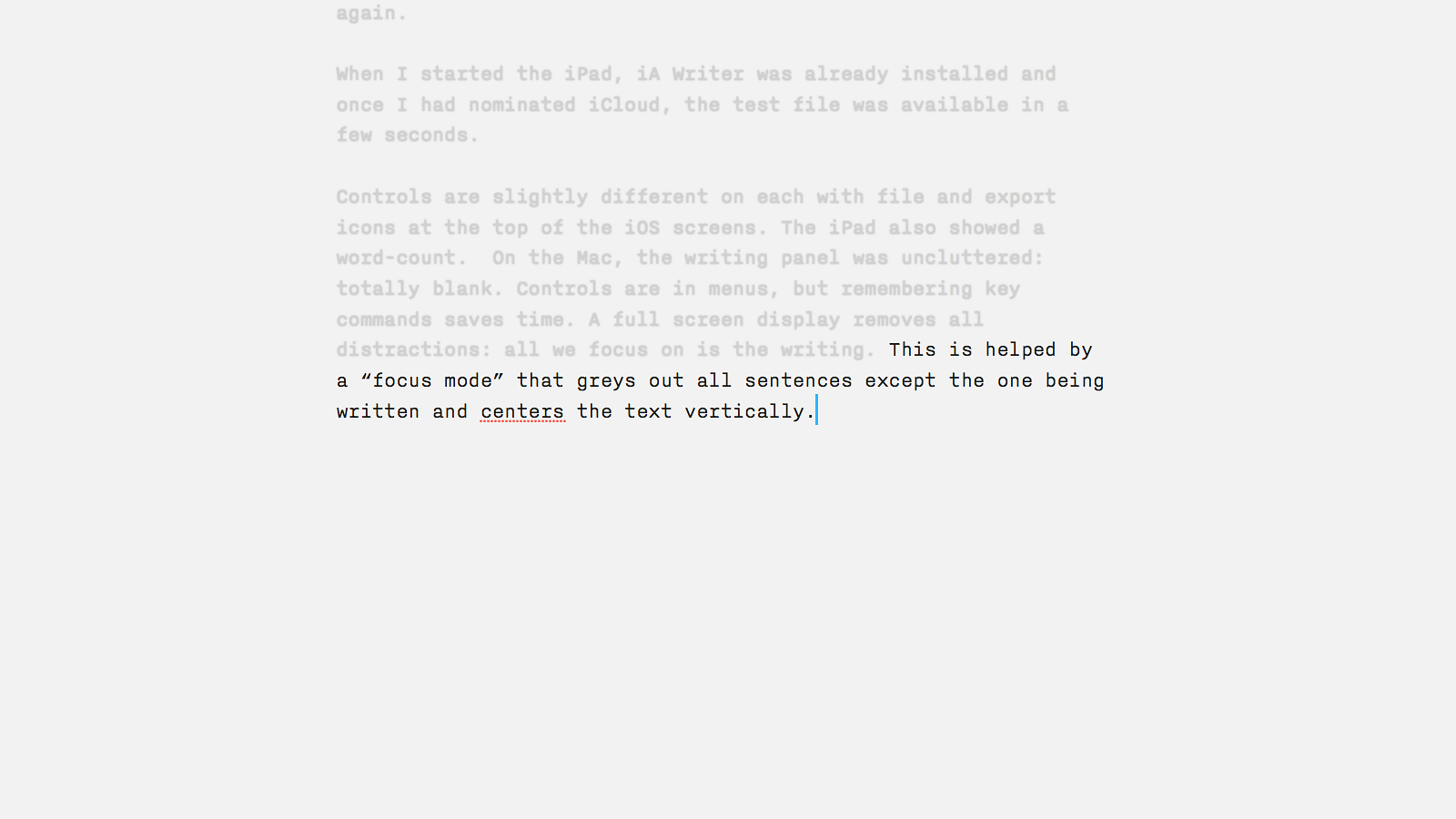 iA Writer - Full screen and in focus mode

This is helped by a "focus mode" that greys out all sentences except the one being written, centring the text vertically: right where the eyes focus. Markdown allows some formatting, including headings, lists and links.
Exports on the Mac are to web format (the coding is added), Word document (DOC), PDF and Rich Text format (RTF). This is slightly different on iOS devices with options for exports to plain text, formatted text and to HTML as well as to apps that can handle the text, to email and direct to print.
Although not officially supported, I was able to type Thai characters in the text and this was handled with no problems.

I may have to keep the new Mac mini at home a little longer. A screen problem just appeared on the MacBook Pro so I will take it into Maccenter: no longer at Siam Discovery. This is now a trip to Fortune Town. Although I bought the MacBook Pro in late 2013, I have AppleCare which extends the warranty to 3 years.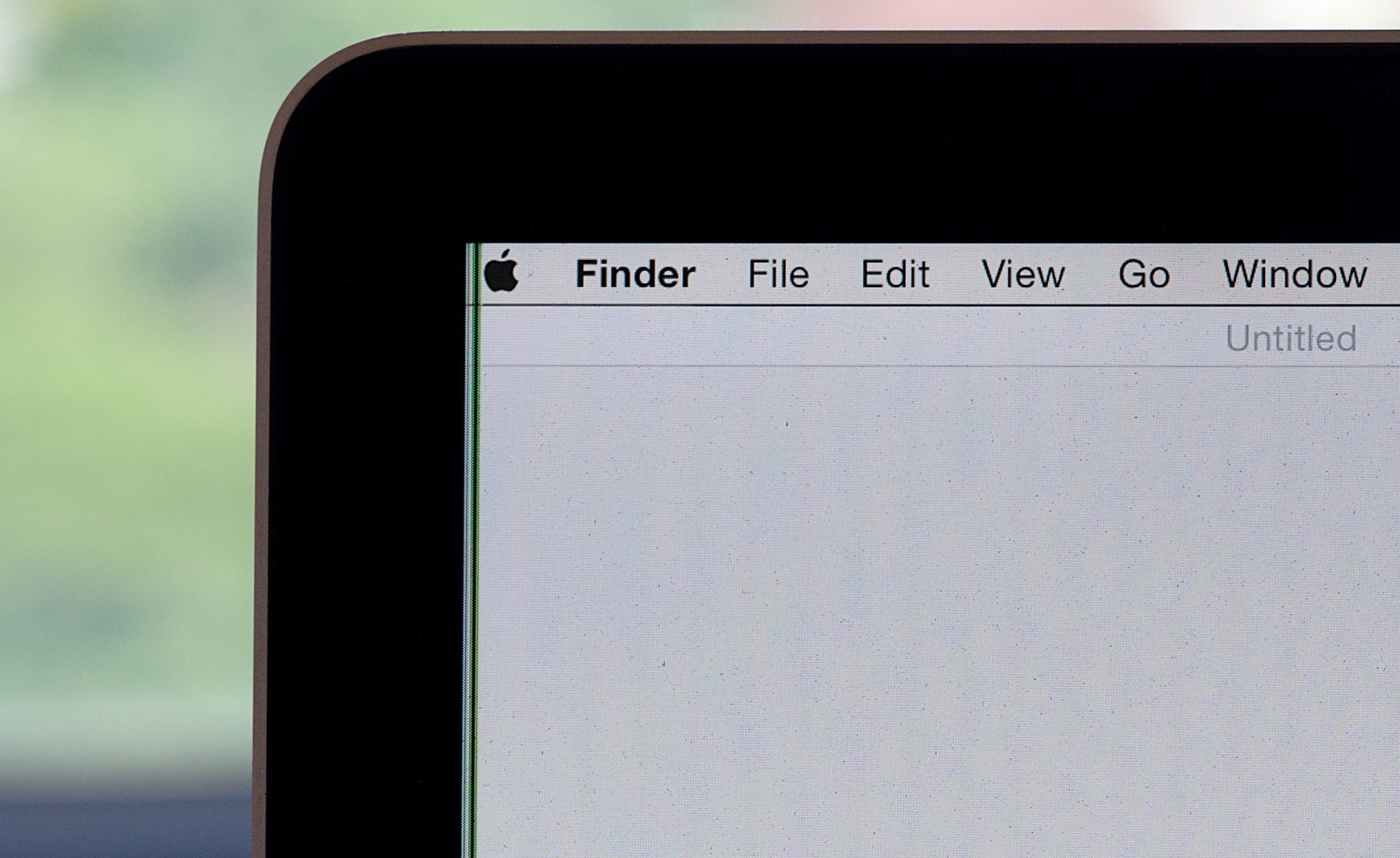 ---

Next time: Image Editing and Synchronisation from Mac to iOS
Useful Links:
Graham K. Rogers teaches at the Faculty of Engineering, Mahidol University in Thailand where he is also Assistant Dean. He wrote in the Bangkok Post, Database supplement on IT subjects. For the last seven years of Database he wrote a column on Apple and Macs. He is now continuing that in the Bangkok Post supplement, Life.