By Graham K. Rogers
---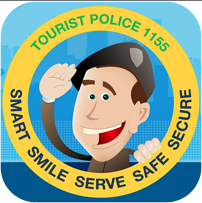 On the face of it, an app to help tourists visting a country where English is not the normal language of communication, is a good idea. The last few years have seen thousands of apps created, most of a high standard; and the numbers of native speakers here should mean that there is no difficulty in producing first-rate English content. Unfortunately the road to app Hell is paved with good intentions and perhaps also lined with a few bosses (and their pals) who have no business meddling in the development process.

I wrote one of my shortest app reviews ever today: in two Tweets. Fewer than 280 characters were enough for me to summarise what I found in less than 5 minutes with the app that was announced in a blaze of publicity and a PR event that was held (according to another Tweet) in a rather narrow space.
Thai tourist police app - a disaster. Mostly Thai. Wants users to register. Lousy map for stations. Not all buttons work. Into the trash

Tourist police app Questionnaire is in English:

Have you ever been serviced by the Thai Tourist police
If yes how satisfied were you
I had some more thoughts about this and decided I would write a longer review to qualify my initial impressions.

The TouristBuddy app is intended to be a point of contact for visitors to Thailand: to provide a source of information and an easy contact link in case of emergency. It claims to be in English and Thai, but when the English (Eng) button is pressed, most of the pages remain steadfastly in Thai, and are thus totally useless for tourists.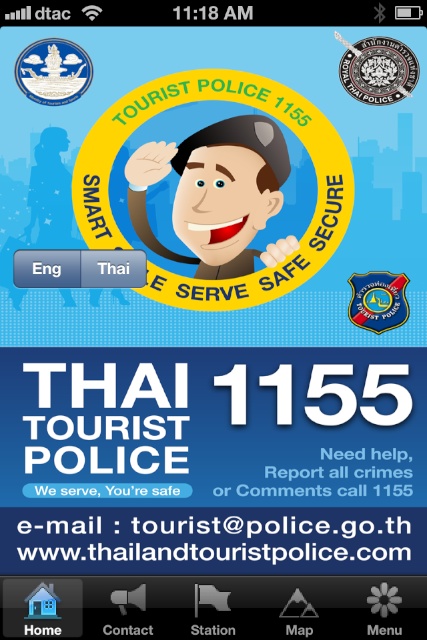 The app opens with a juvenile cartoon representation of a smiling Thai Tourist policeman. As with so many design exercises here, this opening page is overkill: there is just too much information as everything must be shown.
The app as it appears on the iPhone is not the same as is shown in the iTunes app store. Instead there are three logos and a center emblem as well as the Eng/Thai button which ruins any pretence to design.
Perhaps this is a pointer to interference that may have occurred while the app was under development with the additional badges - making sure all agencies are represented - added after the screen shots were submitted as part of the approval process. That Tourist Police badge is smart enough on its own.
Also on the main screen was the Tourist Police name with a useful phone number (1155) written twice, more slogans; then dead email and URL links for the organisation.
At the bottom of the page are 5 icons that link to other parts of the app: Home, Contact, Station, Map and Menu.
Contact
As with every section, the moment a user accesses this section a warning appears "Please register before using application" but when OK is pressed, nothing happens. There is a registration feature in the App. However, that is not revealed until the Menu section (the last icon) is accessed and there is no information about this before. Instead the URL of the website keeps appearing with no live link.

I tried the site that was indicated in a browser. It took a long time to load but it is a half-hearted effort with poorly focused images at too low a resolution and nowhere obvious that one would want to register. I accessed the site using a browser on my Mac and the opening page begins, "Welcome. Good news, everyone! Thailand Tourist Police Introduction message." And this sets the scene for the rest.

It does get worse and almost the whole site consists of placeholder text, which is rather irresponsible if this is part of the strategy for protecting tourists. Only one section appears to be available for users to enter details, but in its current state it is not clear how effective this will be. The app itself - if it is anything more than a back-patting exercise - needs to have registration incorporated when first opened. Other apps have succeeded in doing this effectively for a number of years now.





Back in the app, there is one part that works without needing registration: the phone number. When pressed, a user is asked to confirm that a call is to be placed. I could do this quicker from the iPhone itself. Everything else on that page is in Thai.



Station
Peessing this icon reveals an out of focus Longdo map of the region that has so many pins, so close together that it is difficult to make out some of the individual locations. When brought to a reasonable zoom level - heavens this was slow loading - it was possible to make out some information more easily. Pressing on a pin brought up a useful text box of the location, address and a link to the phone number. Pressing that asked the user to confirm that a call was to be placed.





The map had a button at top right allowing selection of a numnber of different types of app, so I was able to switch to a (better) Google hybrid map or a traffic map. A selection marked "Political" just produced a white screen with the pins on it. The Street map and the Google street map selections were fine. "Grey" really was, but had the advantage that railway lines were displayed too. There was also access to OpenStreet Map, MapQuest OSM and OpenCycle maps.



Map
This section almost duplicated the Stations section so there may be an argument for combining these (too simple of course). Instead of station pins, the map focussed on my location and the pins available showed areas that might be of interest to tourists.



Menu
This is in 7 sections beginning with the Registration. That should have been available at startup not hidden within the depths of the app. Putting it here shows how the needs of the user are not really paramount. There is a Back button (marked with a House icon), but pressing the Menu icon again does not work.

Other sections include
"Important Calls" which provides several useful phone numbers. There should be far more. This only touches the surface.

Cautions is opened with the heading "Guides for Tourist" (sic) and appears to be a list of Do's and Don'ts in English that is in need of some editing. Some of these points have grey arrows to the right. These did not appear to work. Similarly "Previous" and "Next" buttons at the bottom did nothing.

Events was a list of tourist-style festivals and other like happenings that looked as if it had been lifted directly from a website. It began with the Chiang Mai Flower Festival in February and ended with the new year countdown at Central World. The Previous and Next buttons did work, but the five pages available were again in need of editing (e.g. Provience, Cansdle, and others). It takes a native speaker 2 nano seconds to find stuff like this.

News was merely a copy of the information (in Thai) in the Contacts section.

Promotions provided a single PR entry for a hotel. The entire page was in Thai.

Survey. This section has a fairly typical survey tool that is widely used here. There are 7 questions, some Yes/No and some a range of answers. The last asks how much the visitor spent.

The first two questions could have alternative meanings to some visitors as the meaning of the verb, "Service" can also have a bawdy interpretation. A native speaker would have got that. A Thai colleague told me that the questions were directly translated: always a risk.
Comments
There are several things at play here. Tourism is a major industry in Thailand and with a recent spate of attacks, on tourists, particularly in Phuket, the government needs to be seen to be doing something. The first contact point for may tourists in trouble is the police and Thailand has its own Tourist Police: the officers are available (in theory) to help tourists. An obvious extension of that is the app as many tourists will presumably have smartphones.

Theory is one thing; execution is another. It looks as if TouristBuddy has been created in a rush with incomplete links (especially that website) and much information that should be for tourists is in Thai - utterly useless for those who do not read the language: tourists. Why wasn't anyone competent asked to look over the English content?

Like the content of many websites here, it looks as if the bosses have made a decision to go with an app and given a command from on high. On the way, not enough attention has been paid to what is truly needed, other than making the bosses look good. TouristBuddy does not work well, it looks amateur, it has suspect links and is under-developed.

Into the trash with this.



Graham K. Rogers teaches at the Faculty of Engineering, Mahidol University in Thailand. He wrote in the Bangkok Post, Database supplement on IT subjects. For the last seven years of Database he wrote a column on Apple and Macs.